We've decided to switch our day 5 itinerary to our day 4 so we can manage our money well and fix our luggage early.
We first went to Bukchon Hanok Village to check on different traditional shops. Apparently, some shops were still closed because we were too early so we've decided to just look around and took a quick picture of the shop.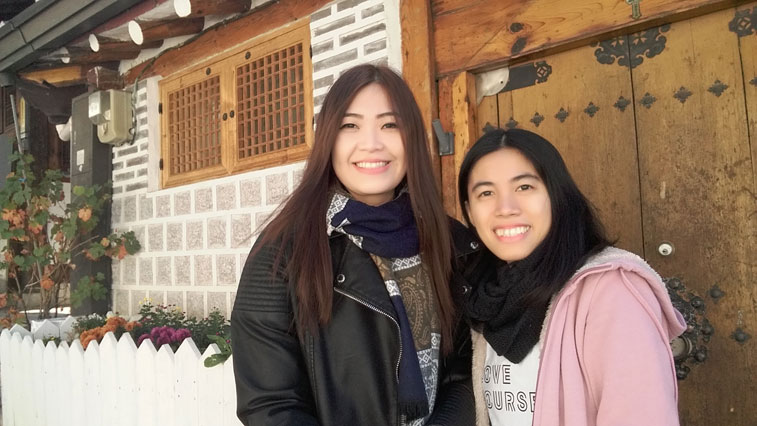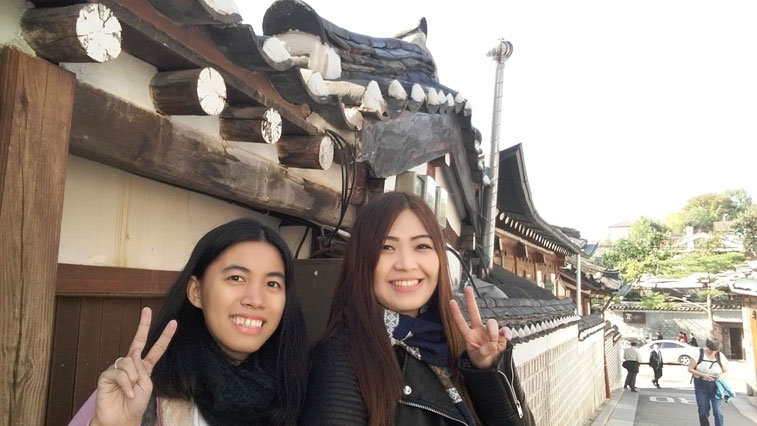 Gyeongbokgung Palace
Then, we took a taxi going to Gyeongbokgung Palace. Actually, Gyeongbokgung Palace was just a walking distance from Bukchon but the weather was too hot and we were tired from walking so we've decided to take a taxi.
It was actually funny when I told the taxi driver "기사님, 경복궁 가주세요" (Please take me to Gyeongbokgung). I mispronounced Gyeongbokgung as "Gyeong – bok – gong". The driver didn't understand what I am saying so I just showed him the picture and told him "여기요" (here). The taxi driver tell us "Ahh… Gyeong-bokgung' ". So I told him "내" (yes).
Tip: If you can't pronounce the name of the place, just show the taxi driver the picture of the place where you want to go and he will take you there. Do not ride the English taxi (black taxi) because it was really expensive.
We got off at the entrance of Gyeongbokgung Palace. By the time we were about to pay for the entrance fee, we were told that it's for FREE for the day because there's a Korean event happening. OMGEE, we were SO LUCKY!
As most of you know, Gyeongbokgung Palace was one of the five grandest palaces in Korea. It was really nice and refreshing inside. Like you can really feel like you were in a real palace. Like as if you exist during the Joseon Dynasty.
When we entered the palace, we saw those tourists wearing hanbok. Actually, you can enter different palaces for FREE if you wear hanbok. 🙂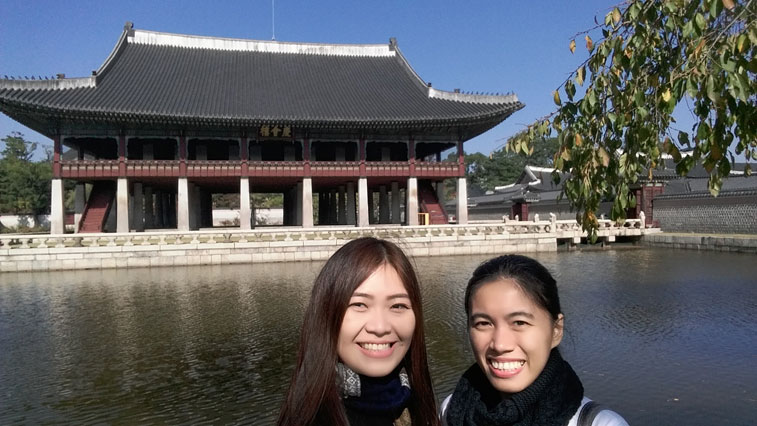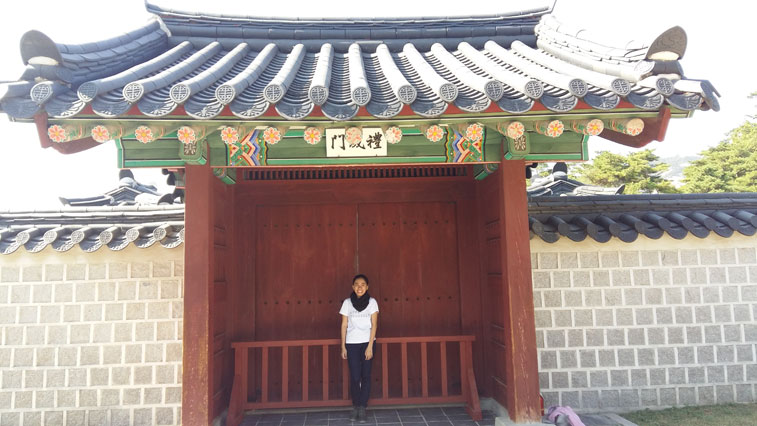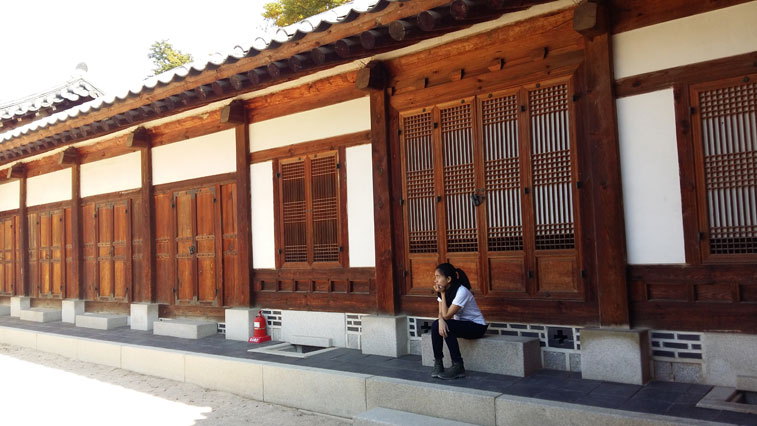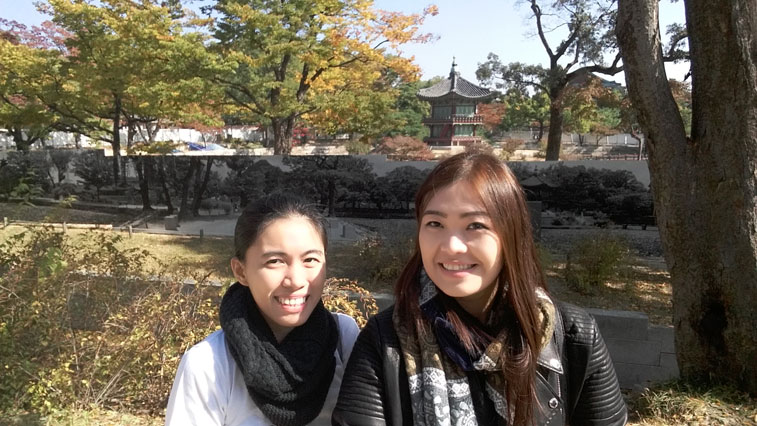 We proceeded outside when we've regained our energy to catch the royal change of guards. Then after that, we've decided to go to Insadong to shop. 
Shop at Insadong
It was already lunch time when we reached Insadong, small alley surrounded by galleries, traditional restaurants, and cafes, so we've decided to look for a place to eat. 
We saw this restaurant inside the first alleyway near the entrance of Insadong. I forgot to get the name of the restaturant because we're really hungry and our only focus was on the menu. (please comment down if you know the name of the restaurant.
I ordered the pork cutlet and ate Paola ordered the cheese pork cutlet. We also added rice because the rice included on the food we've ordered was so small like it was just a scoop of rice. We a rice person so we needed more of it on a lunchtime. It costs us around 40,000 won for the food.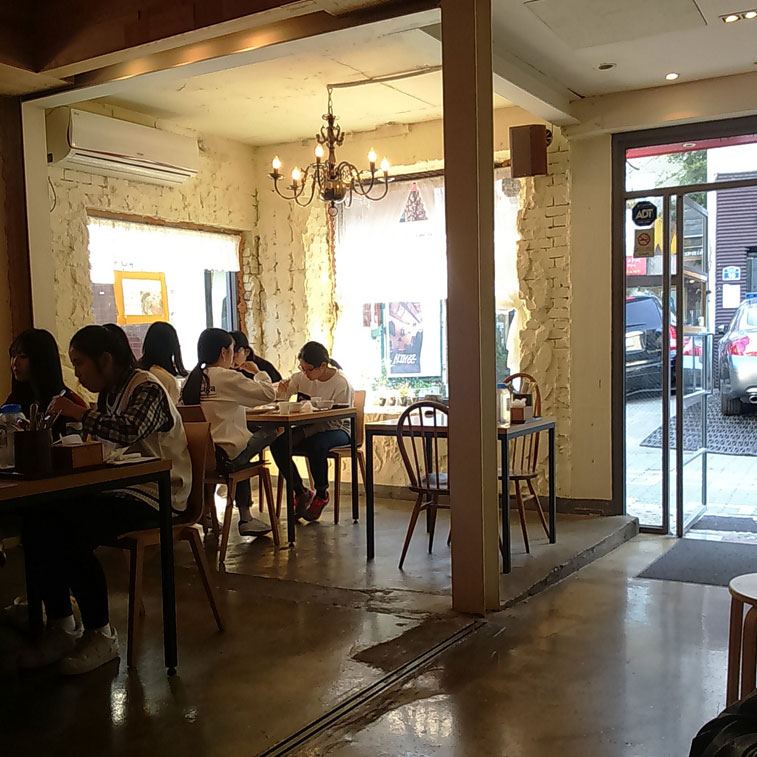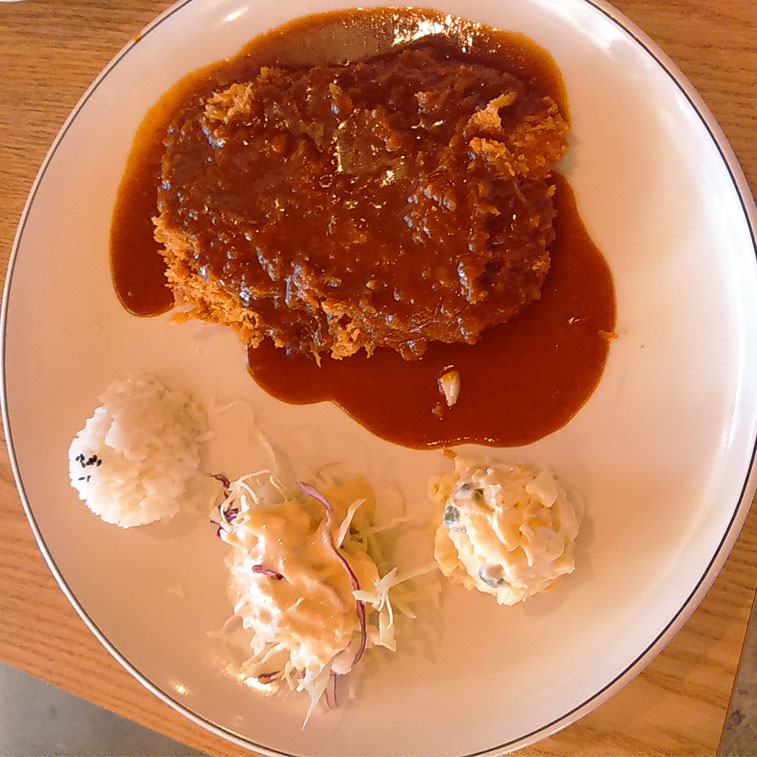 Once our tummy was happy, we look around and hoard for bags. Haha I always hoard bags whenever I go to Insadong because it was soo cheap and durable. Each bag only costs 10,000 won or Php 500.00.  I still have the bags I bought from last year and it's still good. 
Lotte Mart – Seoul Station Branch
After I hoarded bags, we headed to Lotte Mart near the Seoul Station to buy food pasalubongs (souvenirs). We booked a locker to keep our things for us to shop easily near the entrance. It was free for the first three hours so it was good!
Then, we got a cart for 100 KRW. You have to pay for the cart when you wanted to use one on your shopping! We bought Lotte food products, Korean non spicy ramyeon, Cafe Mond (coffee flavored almonde), Honey butter chips *my favorite*, and tteokbokki chips.
When we were actually paying for all of it, I'm shocked that there were no bagger man on the counter and the cashier lady didn't put it on a plastic bag so I was like, "How do we bring this to the hotel?". I was lost in my thoughts when ate Paola saw a "Boxing Section" in a corner where people pack and put their groceries inside the box and sealed it. She pulled me and led me there.
So, we followed those people and do what they were doing. We got 2 medium boxes, seal the bottom of the box, put our groceries there, sealed it, and tie it with a ribbon plastic. It was really heavy. Imagine four medium boxes plus the bags we hoard from Insadong. Whew!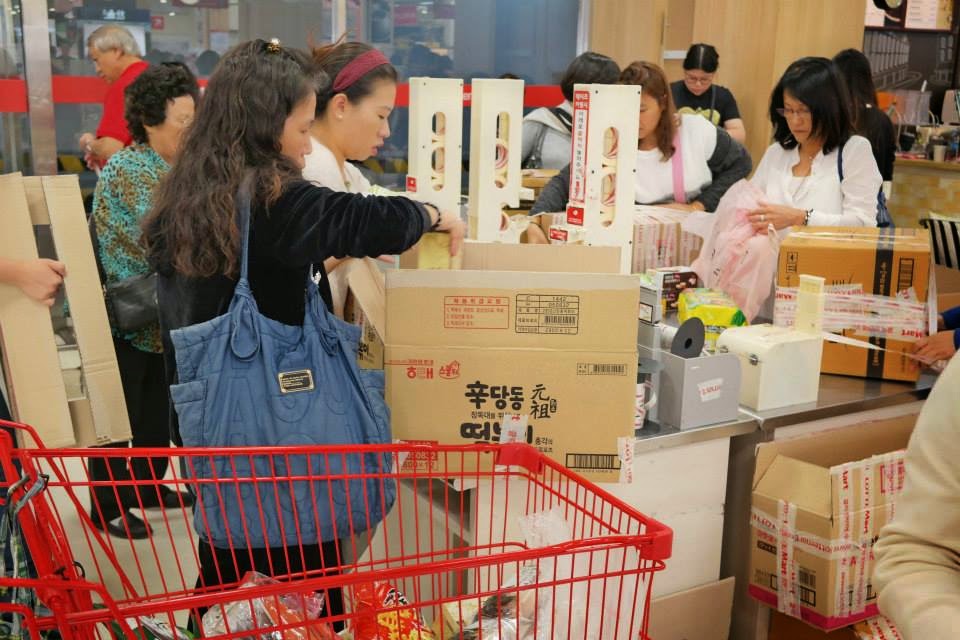 We carried all of it all the way to the taxi station which was very far from the Lotte Mart. Our hands were shaking and we felt like we carried two sack of rice each.
We were really happy when we reached the hotel, because we will be able to rest our feet and our hands. We ate ice cream inside the room and watched videos on how to go to Namsan Tower which will be our last itinerary for Day 4.
Namsan Tower
The weather was getting colder at night so we wore our jacket and scarf before we hike up to Namsan Tower or N'Seoul Tower. We actually followed the video on youtube on how to go to N'Seoul Tower easily from our hotel and we ended up hiking up there.  
The trails led us to Namsan Park, and then from Namsan Park we hike up the stairs going up to N'Seoul Tower. The stairs was steep and there were no lights on some portion of the stairs so it was scary. Good thing, there were Japanese people hiking up there as well so we felt at ease at some point.
I didn't count how many steps we've took to reach N'Seoul Tower, but we've felt like it was more than 2000 steps. We didn't take a cable car. We really hike going up. We can see N'Seoul tower going up there but every time we've taken a step we realized that we were still far from the tower … It's a funny weird feeling.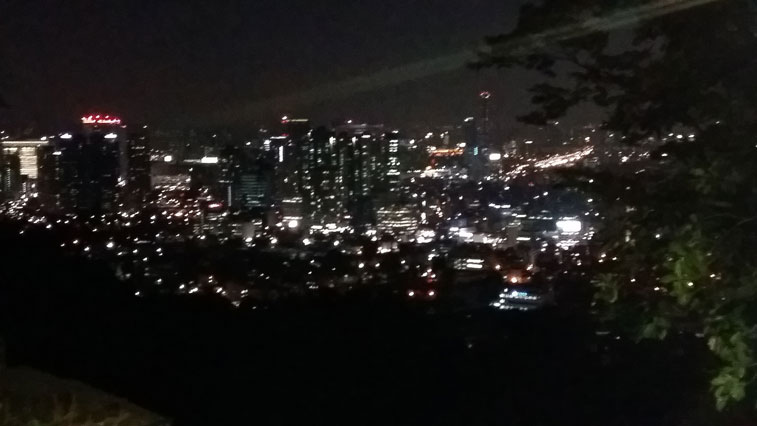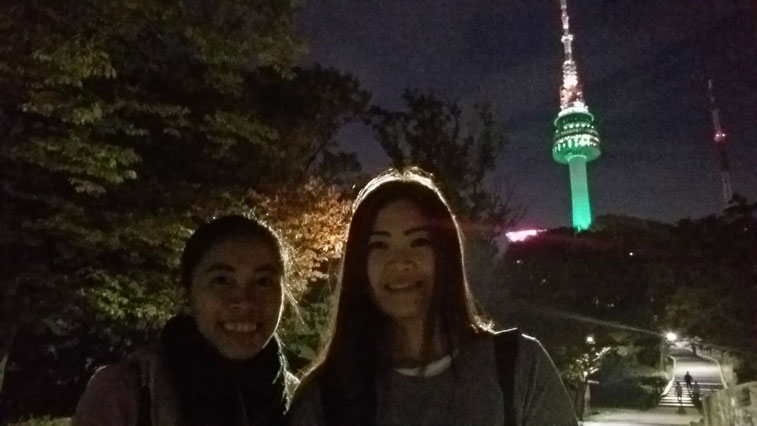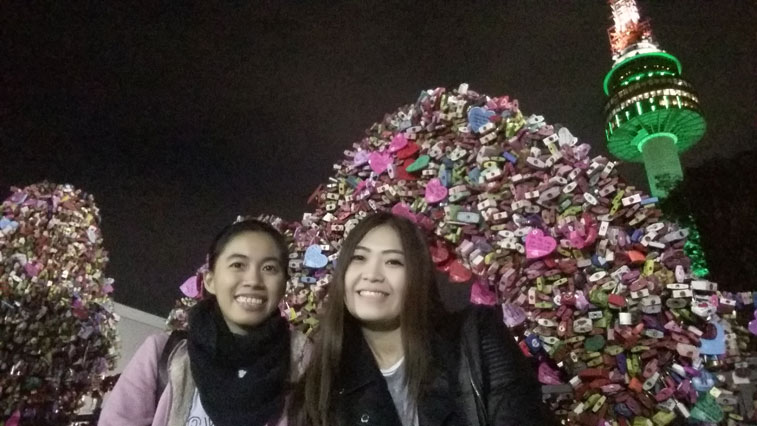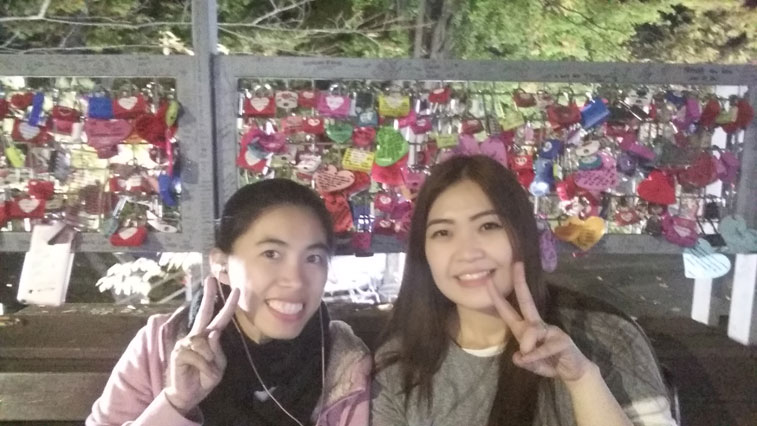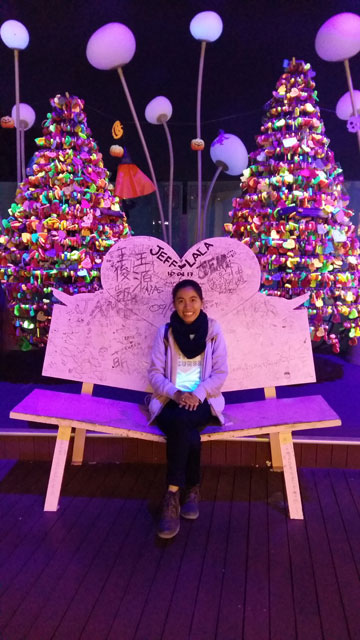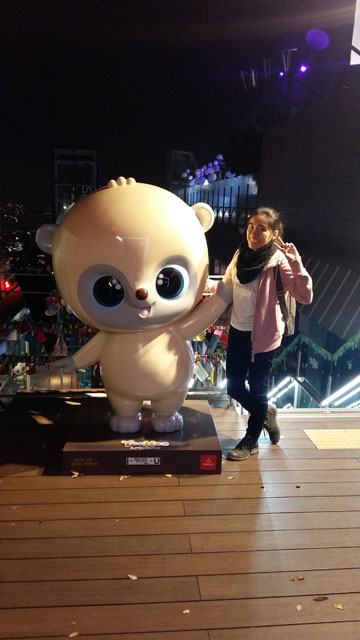 We've rode in a cable car going down. It costs around 6,000 won for a single ride. Then took an elevator to go to the exit area and walk to Myeongdong.
Tip: The exit area was just a walking distance from Myeongdong so if you were planning to go to N'Seoul Tower it was best to go to Myeongdong. You can also take a bus if you don't want to walk far.
We went to Myeongdong Nature Republic (the big nature republic with green grass aesthetic) to buy SF9 and JJ Project Verse 2 albums on the third floor. The third floor was an official music store so you can buy your favorite artists album there! I prefer to go here over the one inside Myeongdong Station because it seems more legit.
There you go, see you on Day5! 🙂
---
Day 1: TRAVEL GUIDE: 6 DAYS AND 5 NIGHTS IN SEOUL KOREA
Day 2: SM TOWN DANCE WORKSHOP + KPOP STAR ROAD
Day 4: VISIT HISTORICAL PLACES, SHOP AT LOTTE MART AND HIKE AT NAMSAN TOWER
Day 5: PETITE FRANCE & NAMI ISLAND