My cousin and I were in Gateway yesterday for #MotteinManilaConcert when I received a text message from Rakso Travel Agency saying my cousin's Korean visa application was 'Denied'. I felt confused, heartbroken, and shocked when I found out so I send her a reply to ask why". She said that my cousin "failed to qualify to the visa category applied for".
At first, I really don't know how to break the news to her because I know she will be sad as she really prepared for this trip. I called my friends that time asking for advise on this:
Should I tell it to my cousin before the concert so she can let it out by shouting GD's fan chants and singing GD songs during the concert? ; or
Should I tell it to my cousin after the concert so she can enjoy the whole concert?
Majority of them voted the first option, so I broke the news to her while we were looking for a restaurant to eat before the concert. I showed her the text message as I say this: "hey, I have something to tell you, it's okay to cry and let it out! Rakso texted me and she said your Korean visa application was denied. I know it was hard. Let's check later how we can appeal to the embassy, okay? We'll research on it! Now, let your feelings out on the concert? GD was your bias right? Maybe this was GD's way of saying: do not go to my country just yet, I'll bring YG artist in the Philippines instead." I really tried my best to sound emphatic but I think this didn't make her feel  better.
Denied Visa Application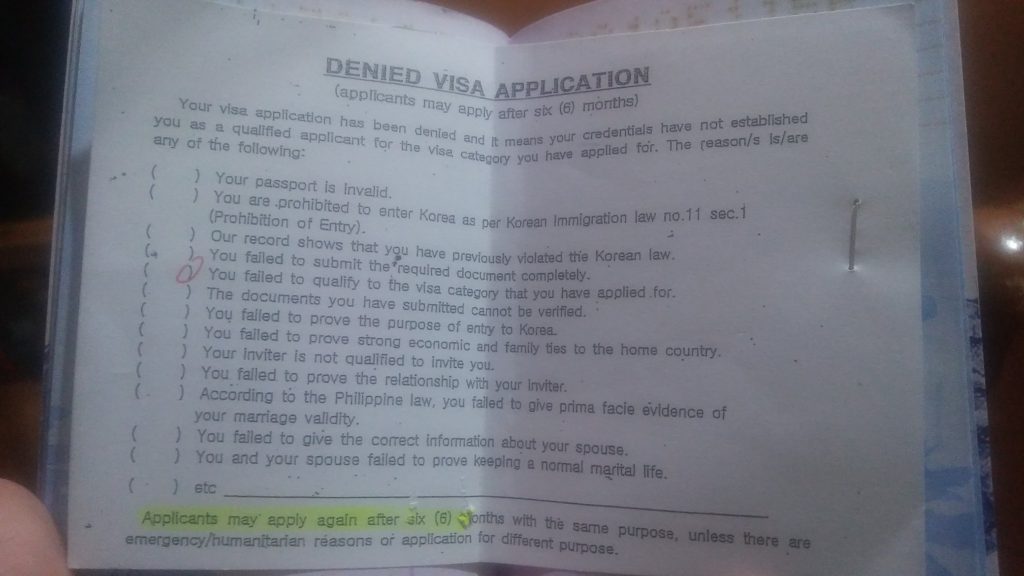 Denied Korea Visa Application : Stapled On Her Passport.
After the concert, we tried remembering her visa requirements and checked where she lacks so we can fix it for our appeal to Korean embassy. Visa requirements were as follows:
| | |
| --- | --- |
| Requirement List | Notes |
| Application Form | Check |
| 1 piece of Passport size colored picture | Check |
| Original Passport (should be valid for more than 6months) | Check |
| Photocopy of Passport Bio-page (page 2) | Check |
| Original Certificate of Employment (must include applicant's position, date hired, compensation, office address, HR landline number(cell-phone number is not allowed), HR e-mail address) | It was her company's trunk line numbers that were written on her COE instead of HR number. |
| Original Personal Bank Certificate (must include account type, current balance, account opening date, ADB) | She only opened her bank account a few months before the visa application, and her current balance I think was just enough for a 6-day trip to Seoul with just a bit extra. |
| Bank Statement (original or certified true copy of bank statements/passbook for the last 3 months) |  Check |
| ITR(Income Tax Return) or Form 2316 Copy | She only passed her Form 2316 since ITR was only given when you already were one year with the company. And she was only 8 months with the company. It was her first job too! |
Our speculations why she was denied…
Overall, the reason why we think her visa was denied and marked as "failed to qualify to the visa category you have applied for" were because of the following:
She failed to submit the requirements that will verify her financial capacity to travel to Seoul for 6-days.
She failed to proved her travel frequency since she haven't traveled outside the country yet. This will be her first *if it was approved*.
She failed to proved her employment income and details since she didn't passed an ITR and there were many contact numbers that were given which makes it hard to verify her employment details.
She tried fixing her requirements for an appeal but given the time constraint she has (one week) and their company's strict attendance system, she wasn't able to absent and appeal her visa. 🙁
Update 10.26.2018: Cebu Appeal is now stricter too! Unlike before that it's easier to apply for an appeal in Cebu, they are now strict and there's no guarantee that all appeals will get approved. So, it is still a risk.
Lesson We Learned When Applying a Korean Visa
One lesson that we learned when applying a Korean Visa for the first time was "research for visa tips first". This was what we failed to do as we only followed what I did last time when I applied one which was just to submit the needed requirements.
With that, we wanted to help you travelers to avoid our mistakes and share few things that we have researched:
Book your hotel/hostel/guesthouse first. You will need to write the address and contact details of the place where you will stay on the visa application form. Don't worry about the cancellation as there were hotel, hostel, or guesthouse that accept reservations with no down payment, so if ever you get denied, you will not get worried of cancelling your reservation.
Save money for your trip. Let's say you will travel in Korea for 6-days and the budget needed for the trip was Php 45,000 (USD 877). Have at least Php 60,000 (safe bet) in your bank account 6 months before your visa application. Well, assuming that your maintaining balance was Php 10,000. Of course you don't want it to be just exact to avoid issue on your travel cost. Also, be realistic with your travel cost, make sure that what you write on your travel cost on the form must be equal or lesser than the fund in your bank statement or bank certificate. If you think your fund was not enough for your stay in Korea, ask for sponsor, but your sponsor should of course was capable of supporting your trip.
Get an explanation and sponsorship letter and have it notarized. If you are like my cousin who has just enough fund for the trip and have no ITR submitted, you may submit a notarized explanation and sponsorship letter explaining why you only have a Form 2316, an exact amount on the bank and also tell that a family member will sponsor your trip, airfare, hotel. Of course, this needs to be accompanied by your sponsors bank statement and ITR.
Travel to non-visa countries. It was a plus if you travel to other countries in the last 5 years since it will somehow prove your financial capability to travel. Don't worry though if your stamps were in your old passport, you can just photocopy it and submit it along with other requirements on your visa. Easy peasy!
Hope you can have hassle free visa application!
Have you experience getting your visa denied? What did you do to appeal it? Or Do you have any tips to avoid it? Let me know in the comment section below!