Today, I'm gonna share with you my August Favorites…
I can't believe we're approaching "BER" months tomorrow. Time flies soo fast right?
But then I wanted to list down all my favorites for this month…
AUGUST FAVORITES LIST:
(1) Cybird Ikémen Series – I've been obsessed with these three Otome games : Ikemen Sengoku, Midnight Cinderella, and Ikemen Revolution. Just having those prince's / warlords as my suitor gives me inspiration. Basically, I'm the main lead of the story, choosing suitors and all but what interests me to the game is the story line.
Ikemen Sengoku is my personal favorite out of the three because the story line is well written. The words really gets to you that you can't help but smile and giggle as you read the story.
If you're interested to play the otome games I've mentioned above, you may download it here: Cybird Ikemen Series
Warning: Don't read no. 2 if you think the "F" word is offensive and triggering
(2) The Subtle Art of Not Giving a F*ck book by Mark Manson  – I love this book because it helps me work on my weakness. One of my weaknesses is taking other people's comments personally. I used to down myself because I care so much about what other people think but after reading this book, it helps me change my perspective. Like, it makes me understand that we should not give a f*ck about everything. We can always choose what things we should give a f*ck about.
We should not give our energy to things that don't matter. If we give our energy, it should only be about 2 big things that we really have to focus on or something that we genuinely care about because if we focus on small things, it will just drain us and stress us out which is not a good thing.
THE BOOK
It is not about avoiding problems. It is about choosing the right problems.
It is not about avoiding hurt. It is about what pain are you willing to suffer for.
Do you give a f*ck about everything? What are the things that you give a f*ck about that you shouldn't be? Comment down below.
(3) Netflix Stay Here! – I love watching home make over reality shows. I don't know why but seeing the before and after look of those homes seem so satisfying. Like for me it gives me that success story feels — from zero to hero! From flop to fab! 🙂
So, Netflix Stay Here! is a home make over show wherein designer Genevieve Gorder and real estate expert Peter Lorimer show property owners how to turn their short-term rentals into moneymaking showstoppers. Their designs and marketing insights are so on-point that you can apply it also on your business.
(4) Snacks – I love eating snacks!!! Who doesn't right? Haha Most people who knew me knows that I always have a snack with me. Like there's no way, I would go out without bringing any snacks because of just-in-case situations. My cravings varies from time to time, but right now my favorites are Meiji's YanYan and Hello Panda, and Loacker. Our refrigerator is filled with those snacks and I don't get tired of eating it almost everyday. It's soo yummy!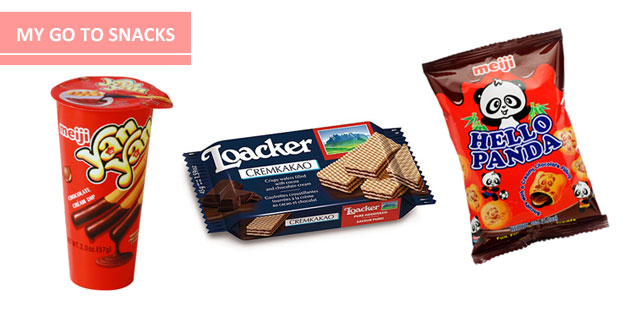 (5) Kpop Music – I have a lot of Kpop music favorites this month – iKON – Killing Me ; Seventeen – Oh My! ; Coco – Sugar Cake ; Stray Kids –  Awkward Silence, and My Pace ; BTS – Idol ; and Ashley's Here We Are. It's my go-to good vibes song whenever I need a boost while doing my freelance work. 🙂
Alright, that's it for my August favorites…
What's Your AUGUST FAVORITES?
Comment down below, I would love to hear from you!