It was 6 o'clock in the evening where all ticket holders gathered at the entrance gate of Araneta Coliseum yesterday for Got7's First Fan Meeting in the Philippines. Everyone was very nice and cooperative and just lined up properly in order to not hurt their fellow IGOT7s. By the time we got inside, SVIP and VIP ticket holders were asked to proceed to a registration area to claim their freebies. While those who were with Gold and Silver tickets were asked to proceed to their designated entrance sections.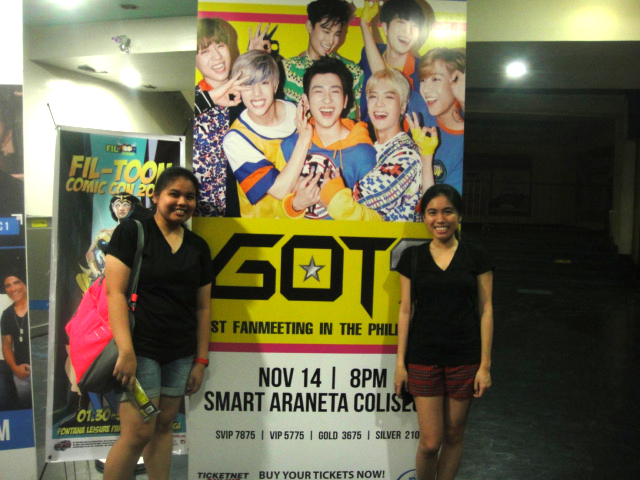 Photo at the Ticketnet booth
GOT7 Fan Meeting Performances 2015
While waiting for the concert to start International billboard songs like "Nae Nae" and "See You Again" to name a few were being played at the concert hall. Yes! You read it right, it was English songs they were playing and not Got7 songs. So, everybody were a bit quiet while seats were being filled-in. It's perhaps for us to saved our voice and energy for the Big Performance. 🙂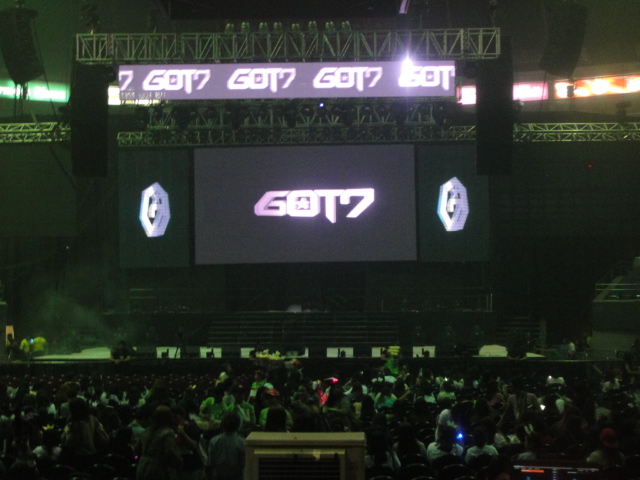 A view of Got7 First Fan Meeting in the Philippines stage.
We were seated at VIP Patron 115 at the back of the sound system. It's a great view indeed. "Kitang kita talaga namin yung buong stage performances ng Got7!" <3 <3 <3 (We really see the whole performance of  Got7).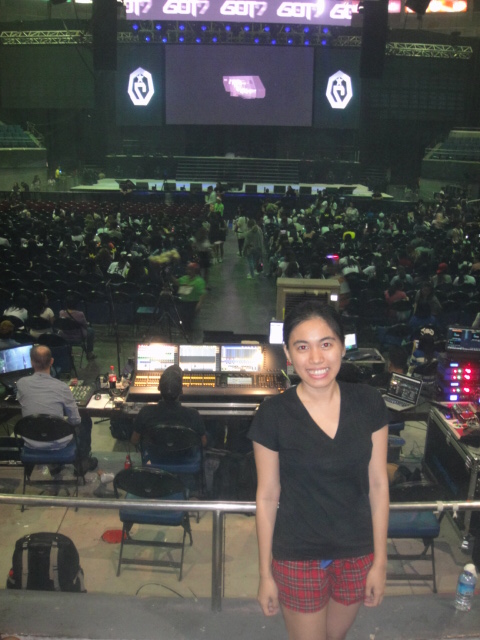 Karen Meets World at #Got7FirstFanmeetinginthePhilippines2015
video credits to all youtube owners I compiled here.
I'm really not sure what time the event started. We just instantly shout our hearts out when the lights went off and an "IF YOU DO" VCR appeared. The shouts grew louder and louder when Got7 performed Stop Stop It as intro followed by Girls Girls Girls.
After the first two performances, Got7 introduced themselves as a group. Sam Oh, Magic 89.9 Dj and Got7 host for Got7 Fanmeet introduces the members as they sat down for a talk and Q&A portion. Seating arrangements were Bambam, Junior, Mark, JB, Jackson, Youngjae, and Yugyeom. The bar-like chair were actually high for them knowing they were tall but because it's really high, Jackson even joked and said "The chair is too high for my short legs!" and the crowd laughed. Knowing the contagious funny charisma of Jackson. It gives us real joy. His tagalog "Gusto ko kumain Mangga" (I want to eat Mangoes). Bambam also shares his favorite Filipino food "peanut soup" or in our country we called it "Kare-Kare"! Next time, I will tell my mom to cook peanut soup for me. Para sosyal! hahaha And Oh! Mark has too Dried Mangoes and Pigs Feet which is "Crispy Pata". I'll bring you guys dried mangoes when I visit Korea. 🙂
14 lucky IGOT7s were chosen to play Musical Chair with the Got7 members. Imagine how those girls felt when their biased sat on them. A girl were actually shocked when all of a sudden Mark sat on her lap that she slightly pushed him. XD Youngjae got eliminated and he was like "Oh My God! Oh My God! I'm So Sad!" Youngjae's English were really adorable and good. 🙂
On the second part of the Fan Meeting, Got7 sang and dance one of my favorite songs, JUST RIGHT while successfully lighted the whole Araneta with our JUST RIGHT OCEAN. I know you all loved this song too. Along with their current album title track If You Do. They were too hot and sexy dancing to this song. I just can't hold my feelings that I get *kilig* with the chorus and "It's up to you if you want to breakup part". <3 The members take a rest backstage while their Music Video (MV) were playing which IGOT7s happily sang along. They boys went back after the MV was done and discusses their title track. Each members also reenacted their parts on the MV.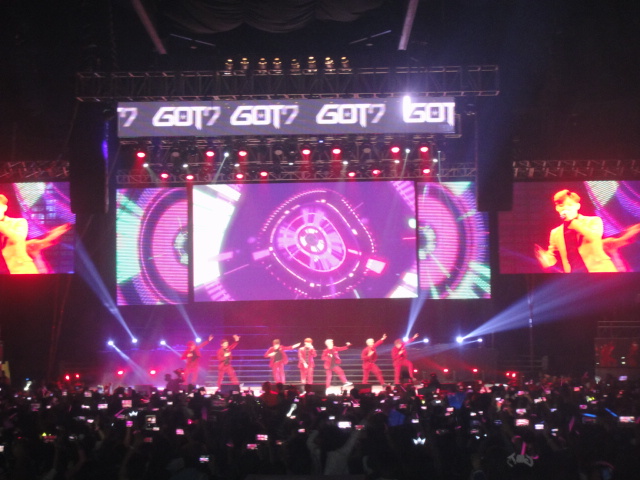 Got7 performing JUST RIGHT.
We all go crazy when Bambam sing Ronnie Liam's song "Ngiti" and he was really good. It capture a lot of Filipino IGOT7s hearts. Of course, mawawala ba naman ang surprise ng IGOT7PH sa GOT7! Siyempre hindi diba… (Will we even forgot to give them a surprice of course not!). IGOT7PH and GOT7SUPPORTPH has prepared this heartwarming video message for all GOT7s. Like Bambam and Jackson whose trying to hold their tears away. I got teared up too. You will know how I feel when you watched the video below.
video credits to: got7supportph
Last two games namely: Telepathy Game and Shake Shake Game were done before they began the Fan Message Board Requests. The host was rushing the members I don't know why so Jackson lifts up the mood by reading energetically all the tasks: Marks says "Mahal Namin Kayo!"; Junior did a super duper sexy dance, there's heart on my eyes while watching him doing that!; Bambam gorgeously did a girl group dance with  twice's debut single "Ohh Ahh"'; Yugyeomie dances "Sexy Back" while Jinyoung sang the chorus and Jackson beatboxing. Since It's Yugyeomies' Birthday, IGOT7PH prepared a birthday cake for them and sang a Happy Birthday Song;  JB were asked when will be his next Kdrama, he said that "We, IGOT7s will be the first to know if they will be having a new drama"; Jackson was asked what his ideal type and he answered "You!"; and while the host have forgotten Youngjae, IGOT7s were soo sweet to shout Youngjae which then leads to him dancing "Hit the Quan" with Bambam leading it.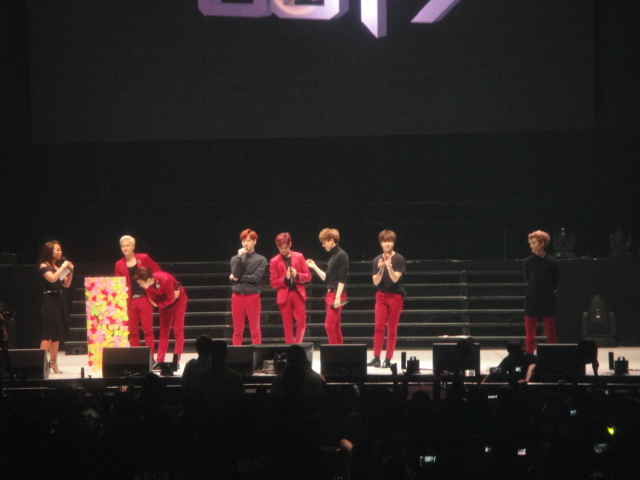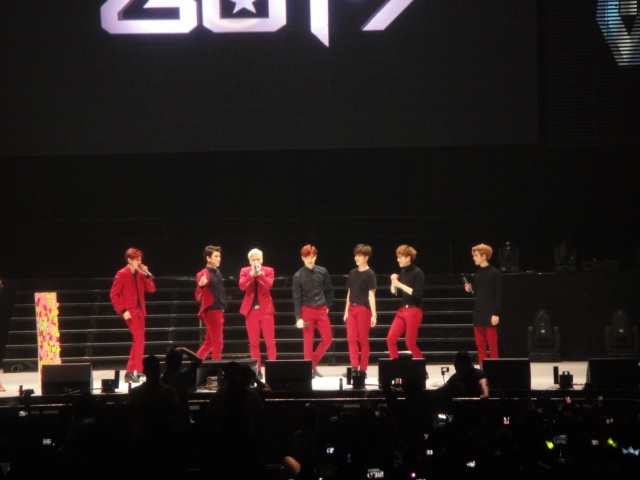 Got7 Junior Picking a Message and About to Start his Sexy Dance
After the message board, GOT7 performed their last 4 songs, during these last songs, we noticed that all IGOT7s including me stood up to sang along with their Playground. The energy of the crowd went wild when Got7 members show their rhythmical moves in Magnetic, Bounce and for their encore A.
2 Things that Shocked Me During Got7's First Fan Meeting in the Philippines
It's my first time attending a Fan Meeting and an event being handled by AAP. I really enjoyed the entire show because of Got7 and IGOT7PH but there were things that I'm really shocked and disappointed about.
(1) Technical Difficulties – I've handled events too before back in college. I know it was hard preparing for it and technical difficulties can really happen on the D-Day itself. A faulty microphone, and a delayed sound of MV and audio. Once, Twice, Thrice can be acceptable but to have that faulty mic for most Got7 members during many stage performances were quite disappointing.  I'm not really sure if it was tested during the rehearsal last Friday or not.
What to Do Next: I hope they will have each microphone signal checked really well, especially if it's a wireless mic. Wireless mic were prone to error as it was more sensitive. I hope they start playing all Got7 songs in the beginning while everyone was going inside the venue just to check how the audio will went well on Got7 songs. Or better yet just provide a microphone with lapel. (I'm not really sure what it was called, its a tiny mic where you stick to your face).
(2) Fireworks Effects – When Youngjae was being hit by the fireworks effect, It was the last straw of our patience. Aren't the operator aware that there was a man standing close to it? Was it automatically operated? Or were there a man controlling it? We really don't Know. We're really just thankful that Youngjae wasn't hurt badly.
What to Do Next: I hope they will put a bit of barricade to where the effects passes, so it will not harm artists. Or inform them to avoid that area as much as possible.
I hope this serves as a lesson to AAP to double check everything and ensure the safety of the artists that they will bring to our country.
Did You Enjoy Got7 First Fan Meeting in the Philippines
Overall, I enjoyed the Fan Meeting. I still can't get enough of them. Watching fancams all over and get soo much feels. Got7 promises to comeback the soonest; I have a gut feeling that it's about a concert. Wieee 🙂 🙂 🙂 I will definitely watch and I hope it will all be better next time. How about You did you enjoy it too. Share your stories on the comment section below. I would love to read it.
Note: All photos are owned by Karen Meets World unless I've mentioned that it is from other source, please do not take out photos without proper credits. Thanks!