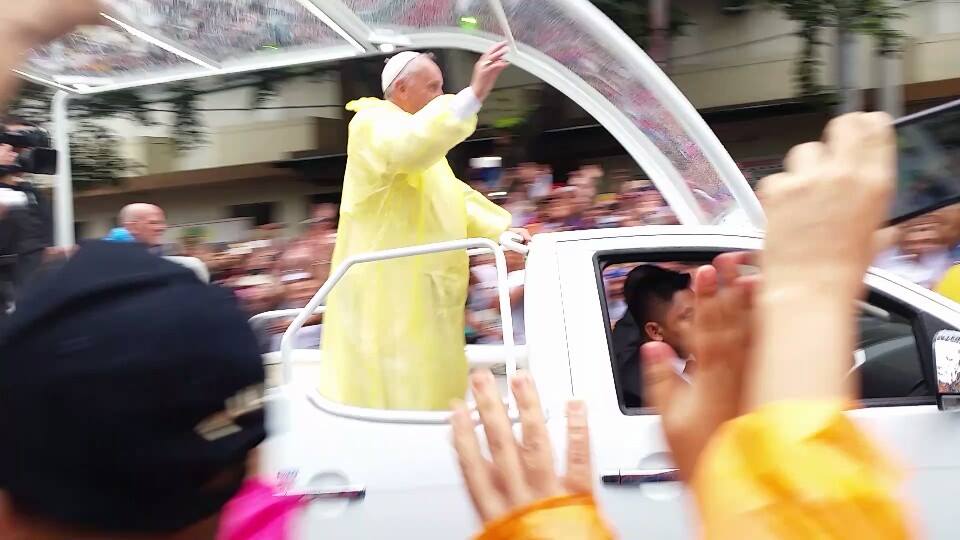 Pope Francis visit to the Philippines is a great blessing to the country and the Filipino people. By the time his airplane landed last Thursday, everyone including myself was very excited to see him. His first genuine smile behind the airplane's window and his first wave outside the airplane brought us to tears — tears of joy. With his presence in the country, we feel blessed, honored, loved, thankful, hope, and strengthen all at the same time.
—000—
For the past three days, I've been following him on television and on social media accounts, and like many others who wish to be there at the historic – blessed event, I am also wishing to get the chance to take a glance of him in person. Gladly, my cousin have asked us to join her on following the Pope's Sunday itinerary.
Since it's also a day where we hear mass, I immediately say "yes" to the plan and looking forward for that day to come. Though, came Saturday night, my cousin said that our oldest cousin, who will be our guardian for that day, wasn't responding to any of her text messages.
My mom, knowing what the situation was, she wasn't allowing me to go, because she was worried that a stampede might happen. So, I backed out. I really feel sad, disappointed, and guilty for backing out. I want to go see the Pope, but I can't! I am really troubled. My heart and mind says 'yes' but fear was striking me out.
I pray that night, I was really sorry, but deep inside me, I am hoping that something could happen that will change the situation and that I will be able to see the Pope. I really wanted to. True enough, my prayers were answered. By the time I was preparing to go to bed, my cousin texted me that we were on — "we were going to see the Pope at University of Santo Tomas or (UST). Receiving such text made me want to stay up all night and wait for the morning to come.
Pope Francis heartwarming smile. Sunday came, and I am really excited and ready to see the Pope. I prepare myself for the crowd, the pushing, the long lines, and the rain. We're going to see the Pope and nothing can stop us. 🙂 Inside the UST, the crowds movement separate us from each other — my oldest cousin was alone, my 2 other cousins were together and me and my cousin, and my other cousins, cousin were together. We don't know where the others were. Our only concern was how to get close to the area where the Pope will pass, to be able to see him. We get to the fourth row of the crowd, patiently waiting for the Pope. By 10:15 am the Pope paraded in front of us, the people has put up their phones, ipads cameras and other gadgets to capture the moment, but me being small have needed to look for holes in between their arms to see the Pope, and I did see the side of him. It was quick though. After the parade we look for our cousins, because there was no signal within the area. we meet outside the exit area and asked each other if they saw the Pope they said "we did, but only his arms, his lips and back". Given that, we decided to wait for the Pope along the road, and to our surprise, only few people were there, because some were still attending the event for the Pope in UST. We got ourselves on the first row of the line, near enough to see the Pope again. By 12 noon the parade of the Pope started. And by the time the Pope passed in front of me, my world seems to be in slow motion. I saw his smile, his heartwarming smile — I cried my heart out, I don't know why but I cried. I feel like it was only the Pope, Jesus and me were there. It was like a dream, a sweetest dream, a 10 seconds dream. Everything were fast yet my brain processed everything slowly, I'm in awe, I'm blessed, I'm reborn, I'm happy, I don't know how to express my happiness seeing the Pope, but I'm really really happy. I could say that, that was one of my most memorable events that happened in my life. And I will never forget that day.
Today, the Pope left the country. It was sad to see him go back to Rome, but it was also joyful as he blessed our country and us all. His visit revive our faith, refreshes our entire soul, and unite the Filipinos together. I hope that today, we practice what the Pope has told us "to have mercy and compassion for everyone; to value family, to believe in our dream, to live in simplicity, and to learn how to weep". Because if we do. I believe, we will have a better nation — the nation that we long aspire; and the nation that future generation will thank us for.
Thank you for visiting our country and thank you for touching our lives, Lolo Kiko. I LOVE YOU. And We will Pray for you. See you again in time. #PopeFrancisinPH #PopeinPH #TYSM #BlessedbythePope #WeLovePopeFrancis #LongLivePopeFrancis