Yesterday, I made one of the best decisions in my life: to buy Bigbang MADE Tour Concert tickets here in Manila! 🙂
After it occurred to me that Gen Ad and Upper Box tickets have been sold out in ticket booths. I already accepted the fact that (1) I won't be able to attend the concert anymore and be just a Team Office, Team Audio Stream, and Team Fancam, and (2) I can't afford buying the remaining available VIP tickets. I've been telling this sentiment to Debby, my officemate since last week. I really wanted to watch, I already failed to watch their ALIVE Galaxy Tour Concert, and this is my only chance. Even though I accepted the fact that I won't be able to attend, it breaks my heart thinking that I won't be there and they might be gone because they will be enlisted in the army. *cries*
I keep myself busy at work to forget about the concert. It's working. Until Tuesday evening came, I was chatting with Khristine, my cousin at our couch about Bigbang and Got7 when I received a chat message from Debby saying "Karennn!!! Nagtweet si happee may GA daw ata bukas? Pero di ko super sure yung details" fireworks started popping up inside my head, light bulbs were blinking soo bright, and my smile was wide. It's time for a celebration. They wanted me to watch. It's my chance now. I told my cousin that even though its only an Obstruction View ticket, we should watch it. It's a once in a lifetime opportunity, we shouldn't miss it. And I'm so happy that she was willing to join me. VIPs stick together forever. 😉
July 29, 2015,Wednesday: I'm overly excited to buy Bigbang MADE tour concert manila tickets, so I looked at SM tickets website to check if they were already selling it. Only to see that it's unavailable, I also called their hotline to find out why and the CSR told me that they won't sell Bigbang MADE tour concert Manila tickets anymore. Hearing that sentence was double kill. "Do not lose hope, Karen" I told myself. I tweeted Happee Sy to get my hopes high. I'm still hoping, yes that's how I love Bigbang. I've waited three hours at the office before I received a message from Happee and SM tickets, telling me that I can buy tickets at SM outlets from 10am onwards. The only SM branch that's near my office was SM Makati, I don't know how to get there and how to go back at the office from there. But I'm so thankful to my 7M officemates' for telling me ways on how to get there and for sketching it for me. 🙂 Because of it, I've been able to buy the tickets. Holding two concert tickets make me scream in delight. This is it. My first concert experience
ever will happen!!! Oh yes! I haven't watched any concerts since I was born. So, this will be my FIRST.
D-day: Bigbang MADE Tour Concert Manila!!!
We arrived at Mall of Asia Arena (MOA Arena) around 5:30pm. VIPs were roaming around with their lightcrowns, it's so cute we want one. I ask our fellow VIPs where did they buy and they point us to the parking lot. So, we went there. While we were looking over the sides of the parking lot, the most unexpected yet unforgettable thing happened. Bigbang just got out from the van and we saw them all, someone called GD from our side where we were standing and GD look at us smiling. I felt that everything went in slow motion. It was a close encounter, he's so handsome. But I love Taeyang Oppa more. hahaha (I know, bias ako) A fifteen seconds encounter. No wonder, people were flocking in at the parking lot. I thought there were there because its the line to the entrance. XD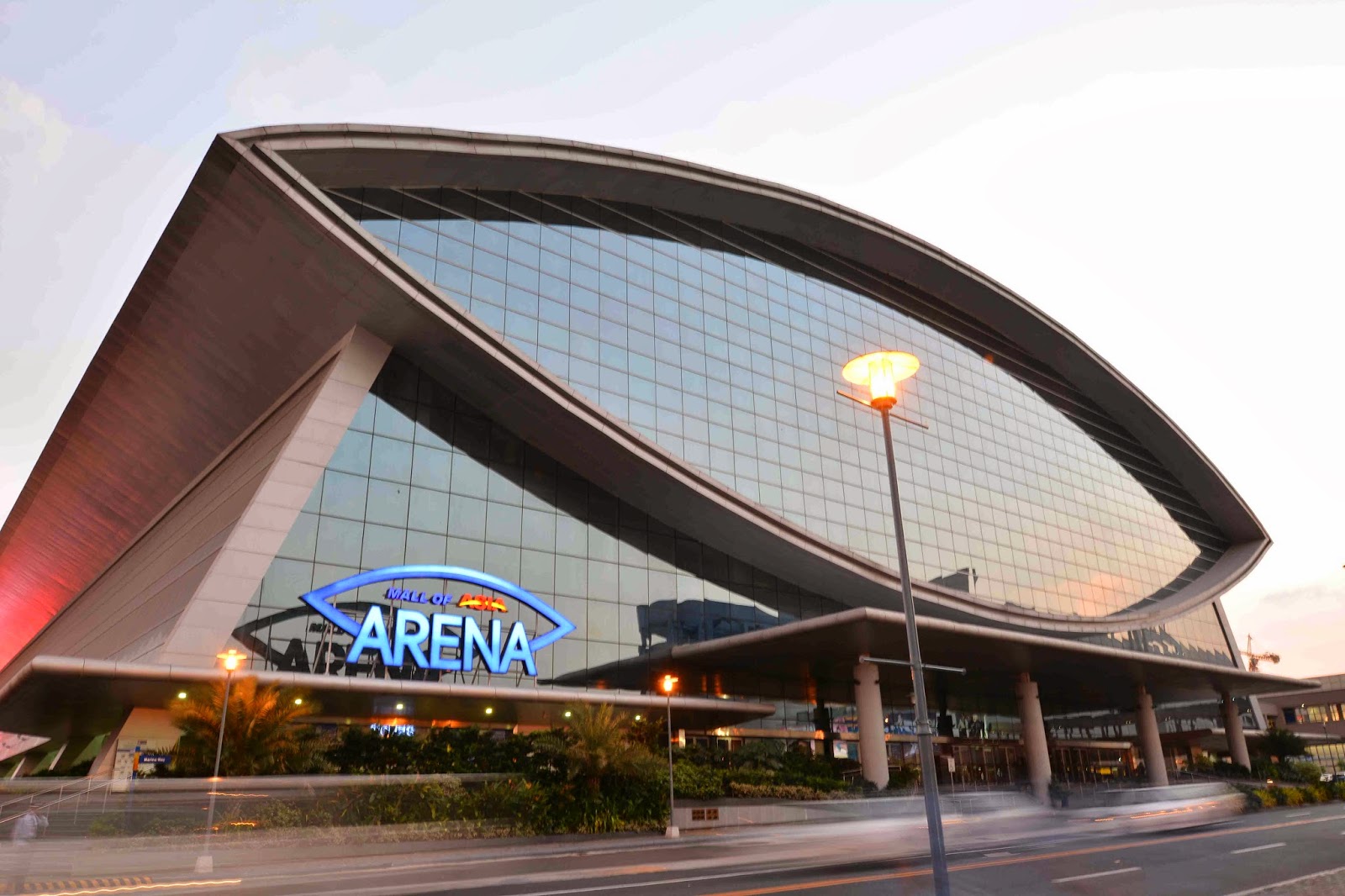 After I got back from my senses, we walked towards the area to find the lightcrown, but we failed to buy one, instead we bought a long light stick.
On the way to the entrance gate, we saw this huge photobooth from @enjoyglobe. As a remembrance to the concert my cousin and I took our selcas there with the @enjoyglobe banner tag and Taeyang's head. #GlobeKPOP #NextLevelKa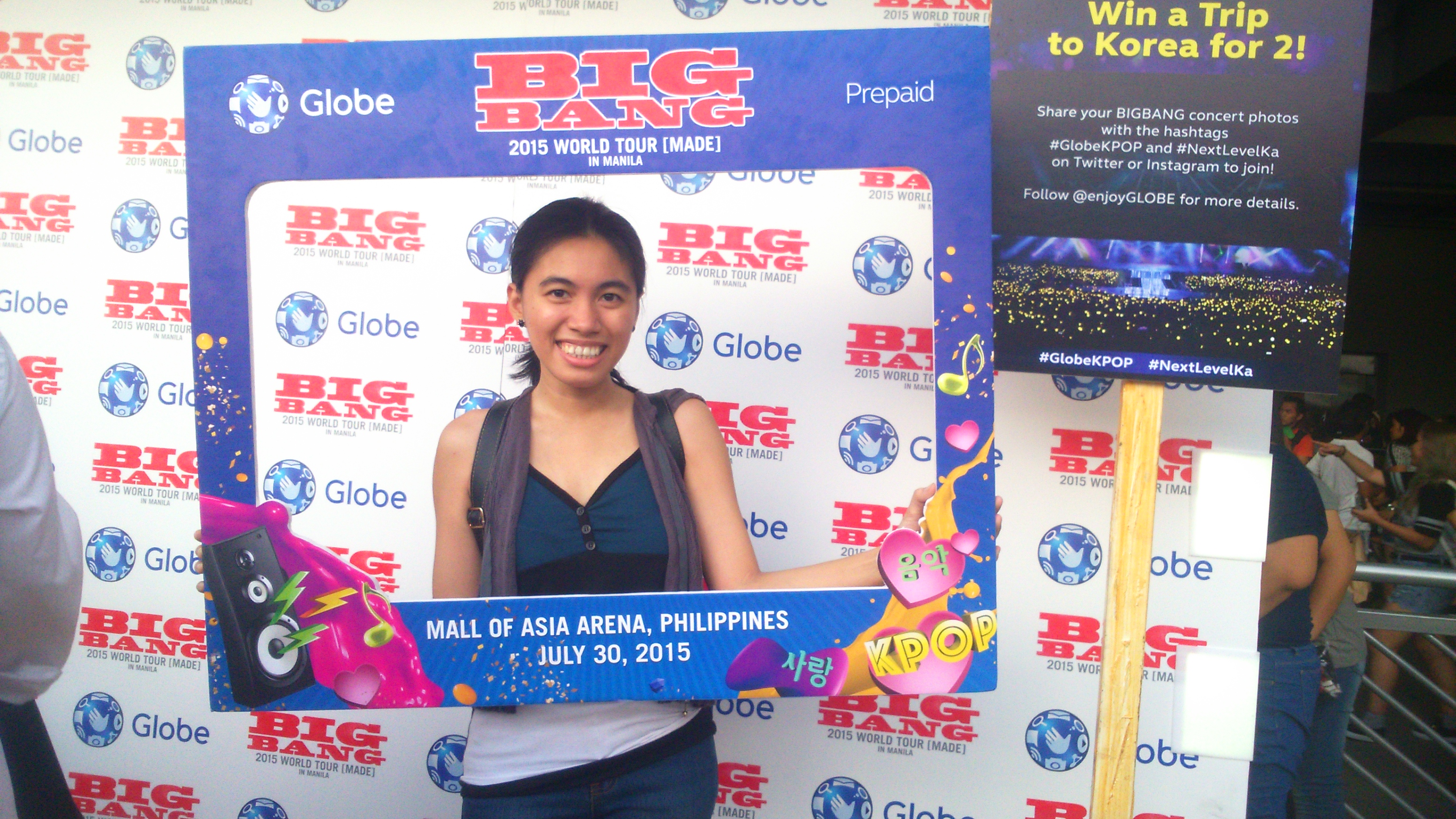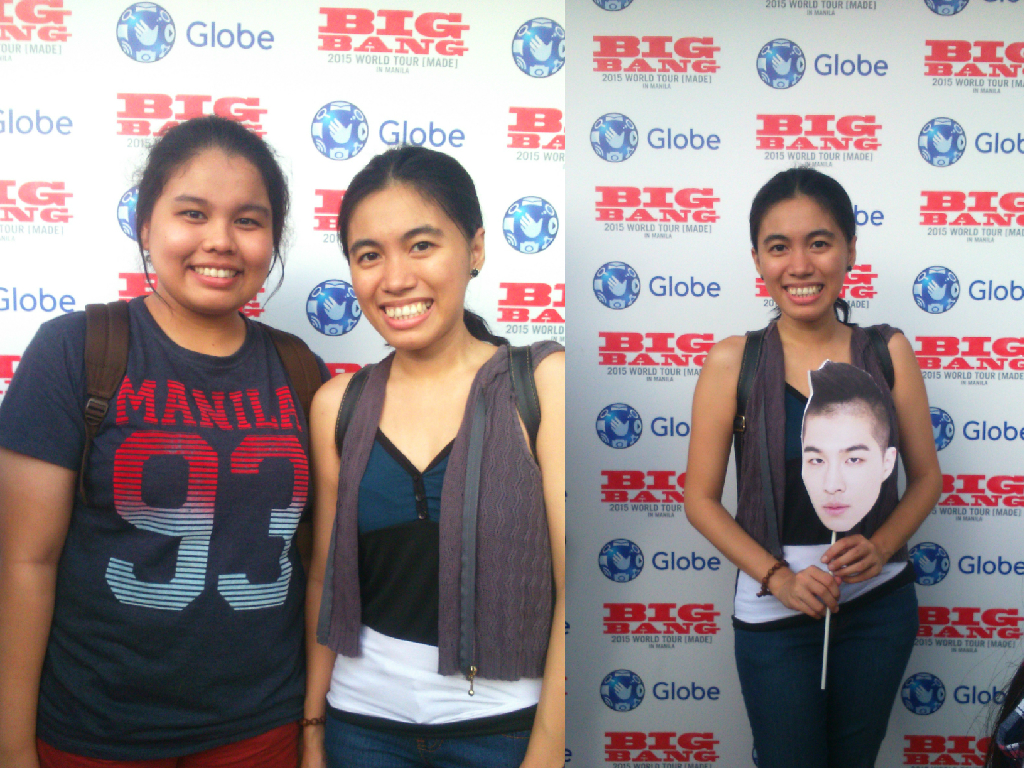 3 Things I Should've Seen Coming from the Bigbang MADE Tour Concert in Manila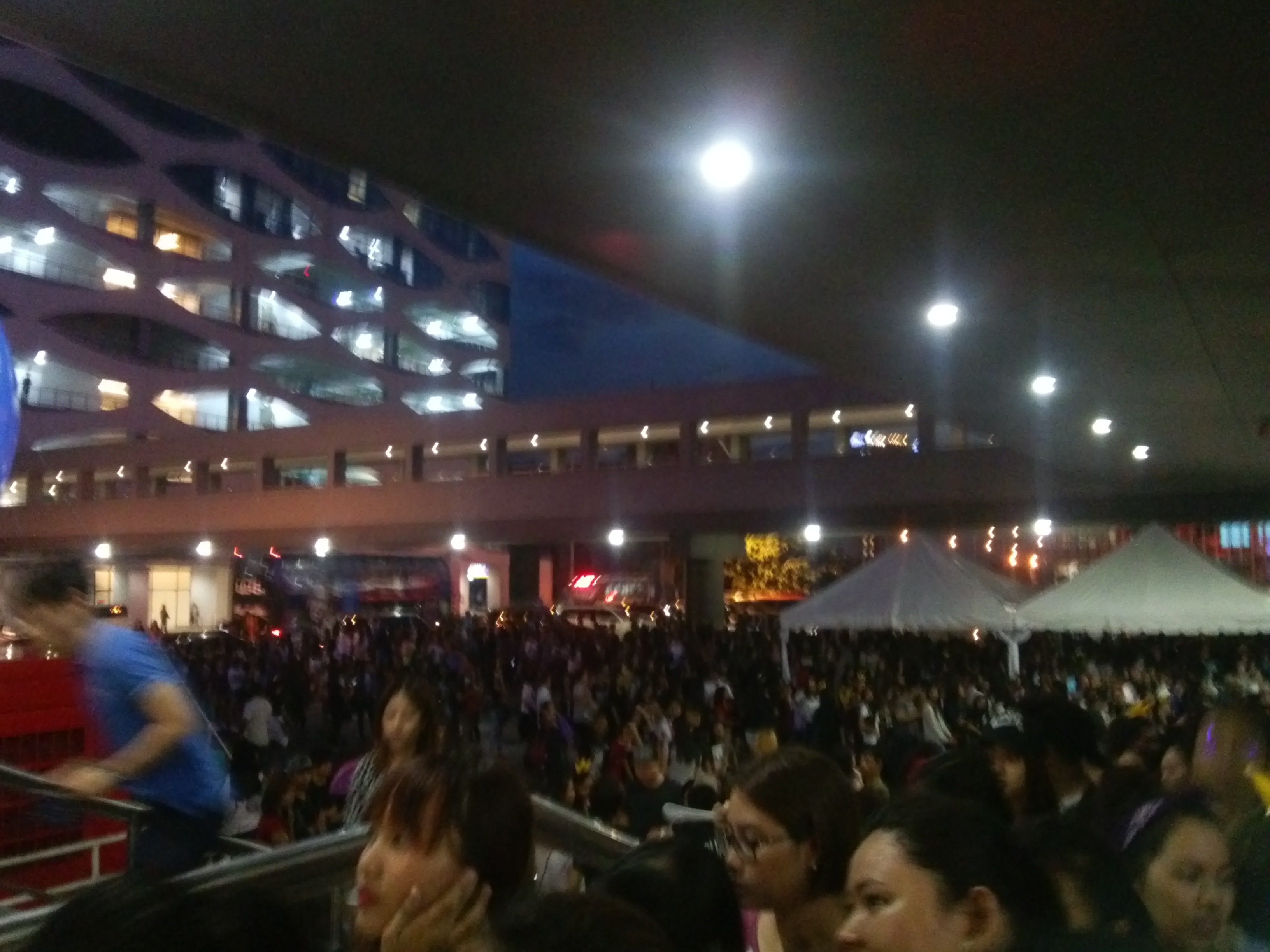 This was my first time watching a concert, so I don't know what to do or expect, except from the fact that food and professional camera were not allowed inside the concert hall. It's also my first time going inside MOA Arena, so it's quite a challenge, but I survived. Woohoo! However, there were things that I didn't see coming, these were:
(1) Lining Up at the Entrance Gate was a Struggle. We were already in line at around 6:00pm. All the VIP ticket holders both Royalty and GenAd were lining up on the same line. I don't know why it wasn't organized, maybe they thought we have our own entrance gate. I really don't know. I'm expecting that even though we fall in line for hours we were arranged properly according to our tickets (Gen Ad, Upper Box, Lower Box, Patron, VIPs, and Royalty). I felt bad for the old people like the mothers that were attending the concert, and there was also a pregnant lady that was being squished around because we were really struggling to go inside while we were getting wet from the rain, its like going inside the MRT on a rush hour. Can you imagine it? Good thing VIPs were really nice to give a way for them to go inside first.
What to do next time: I hope the organizers will have someone to organize the line at the entrance gate, so everyone knows where to line up. The bouncers or guards assigned should not only look at the concert goers but also should direct us up to fall in line properly. All concert goers also must not push around at the entrance gate and just be patient in line to avoid hurting someone.
(2) Light Sticks Bought Outside the Entrance Gate were also not Allowed Inside the Concert Hall. We tried our best to buy light stick outside, so we will be able to wave something inside the concert area. Apparently, the guards doesn't allow us to bring it inside too. Instead, he gave us a number and asked us to leave it at the counter. We understand that its for safety reasons but some people were allowed to bring their light sticks at the concert area because it was bought on the merchandise booth located inside the hall.
What to do next time: Do not buy any merchandise outside the concert hall. Just buy these things on the official merchandise store inside the concert area. And read all the rules posted by organizers on sns before going to the concert (I admitted, I never got the chance to read it thoroughly).
(3) There was NO SPEAKER at the Gen Ad Area. We had a hard time hearing what Bigbang was saying throughout the concert because there was no speakers at the Gen Ad section, especially when Us,VIPs  screams and sings. We need to ask each other "what did they say?" to be able to understand it. Nonetheless, we still enjoy it.
What to do next time. MOA Arena, I guess was still working on improving the whole concert hall. But in case, there was none. You should braise yourself to watch fancams after the concert for you to be able to understand the "Talk portion" of the concert.
Bigbang MADE Tour Concert in Manila Begins!
People started to come inside the concert hall at around 7:30pm. Actually, what we got were standing tickets. So, we forced ourselves to go inside early to be able to find a good seat. And we found one. It's a best spot because we can see the entire stage. Woohoo! 🙂
Everyone shouted when Bigbang MADE La Shoot and Red introduction video flash into the screen signaling the beginning of the concert. It gets louder when the members of Bigbang enters the stage singing Bang Bang Bang. We sing our hearts out along with the members "B.I.G yea we bang like this modu da gati Chong majeun geotcheoreom Bang! Bang! Bang! Bang! Bang! Bang!". It was then followed by a crowd vocalization and performance for Tonight and Stupid Liar.
Bigbang Made Tour Concert compiled by Jana Marcelo and Ivon Diaz
The whole concert area was beautifully lit up with bright yellow ocean by VIP-Philippines while singing the chorus part of HARU-HARU acoustic version. It was a project of the VIP-PH for Bigbang.  VIP cries out in delight when individual videos of each members appeared in between performances, I think T.O.P has the most VIP fans here in the Philippines.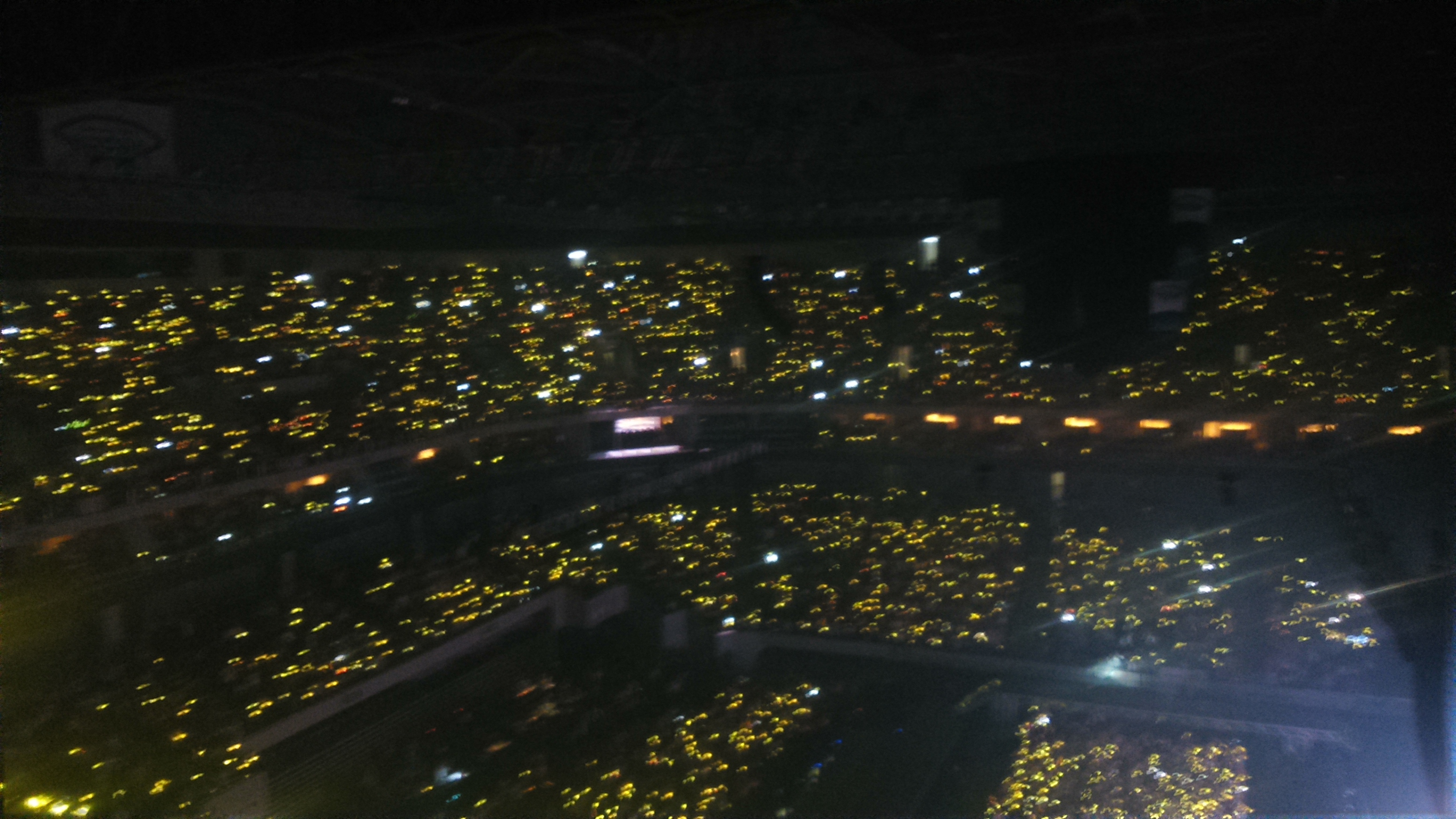 We were a winner by attending the concert, it's soo much fun. I don't really care if my throat will be hurt and I will have a cracky voice by tomorrow, but I shouted and sang LOSER with them. A blue ocean compliments the melodic voice of the boys as they performed BLUE.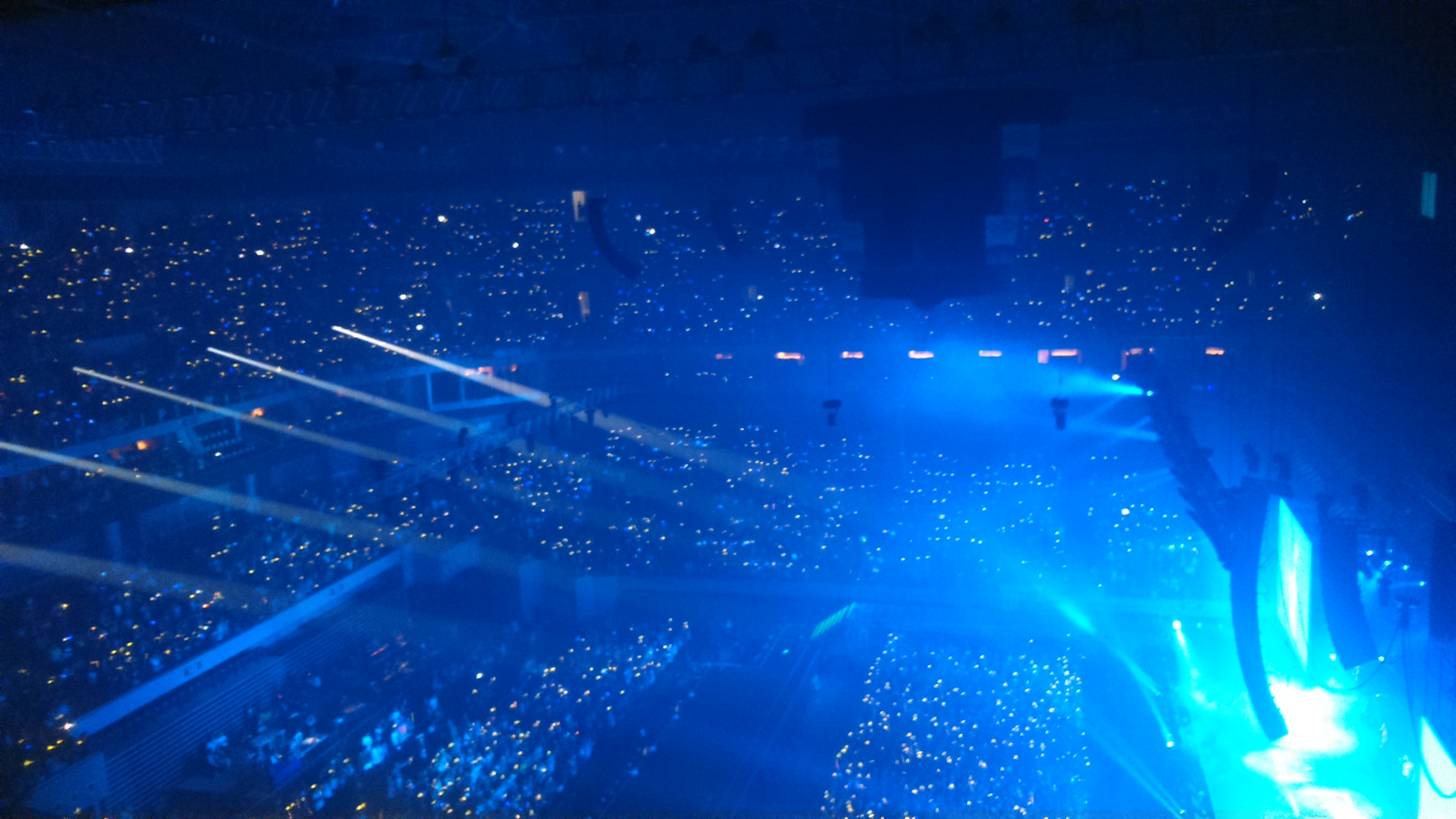 To spice up the night, our beloved Bigbang sang Bad Boy, If You, and Lies. It was then followed by individual performances by each members starting from Seung ri with Strong Baby and Let's Talk About Love along with Taeyang and GD. Daesung with Wings and T.O.P Doom Dada (when the chorus part doom dada dida, 2ne1 member and PH Krungkrung Dara were shown at the screen). VIPs sang along to Taeyang's Eyes, Nose Lips, MAMA song of the year. All was hyped when GD started to rap and performed Good Boy with Taeyang, it was followed by Gdragon's solo with Crooked. Daesung strummed the drums as intro to Sober and Bae Bae as fan video was flashed on screen.
The concert ended with short clip and three song numbers: Fantastic Baby, We Like 2 Party and Hands Up.
Share Your Bigbang MADE Tour Concert Experience in Manila With Me.
The whole concert was GREAT!!! I will never forget this day! It's a real blast. Everyone was full of energy from start to finish, I'm proud of Philippine VIPs. Maybe this will not be the last time I will attend Kpop Concert. It's soo much fun! Thank you to Pulp Live World and to our lovely Ina Happee Sy for bringing BIGBANG in the Philippines. 🙂
My favorites during the Talk were Seungri's Pabebe, Daesung's You Know What?', VIPs shouting "Sample" and GD giving us a glimpse of MADE "E Series". I also heard that they brought along here their parents. Aww. It truly makes us special. 🙂
Did you enjoy the concert too? Share you Bigbang MADE Tour Concert in Manila with me on the comment section below. I'd love to hear your feels. 🙂