Weeks before Motte in Manila Concert, every VIP in the Philippines (PH) got the biggest shock of their lives : IME announced that Philippines was included on Taeyang's White Night in Manila. I literally shouted "Oh My God!" the moment I read it on IME Facebook page because it's Taeyang's solo concert. It's like one of my dream concert ever!
Taeyang was BIGBANG's (my #1 group in the world of KPOP) vocalist and was known for his groovy body movement and soulful voice. He was also my bias in the group! I'm gushing over as I write this, please spare me… Haha And he's the reason why I am into KPOP.
*****
I'll give you a brief history: Back in 2009, my friends joined a dance contest and they chose to perform Taeyang's 'Wedding Dress'. I was with them during their practice so this song was on repeat all throughout the day. I got curious to it so when I arrived home. I immediately search the video and damn I fall for Taeyang. It was love at first sight. Since then, I followed Bigbang, became a VIP and started liking Kpop.
*****
I was really excited for this concert but my wallet was crying already because I bought Motte in Manila Concert and Seventeen Diamond Edge prior to its announcement. But I cannot let this pass. Bigbang will be enlisted in the military next year and who knows when he will be having a solo concert again. Being a Bigbang fan, I decided to buy it and lessen my outdoor activities until I'm able to cope up with the amount I stashed on my savings! Yes, that's how I love him!
Taeyang White Night in Manila Concert!
I've arrived at the concert hall a bit earlier so I've met with my fellow VIPs to chat about Bigbang, Taeyang, and other YG artists promotions. We also roam around and bought a White Night T-shirt (unofficial merchandise) as a souvenir for the concert! I have to keep a souvenir for this tour because it was truly memorable for me.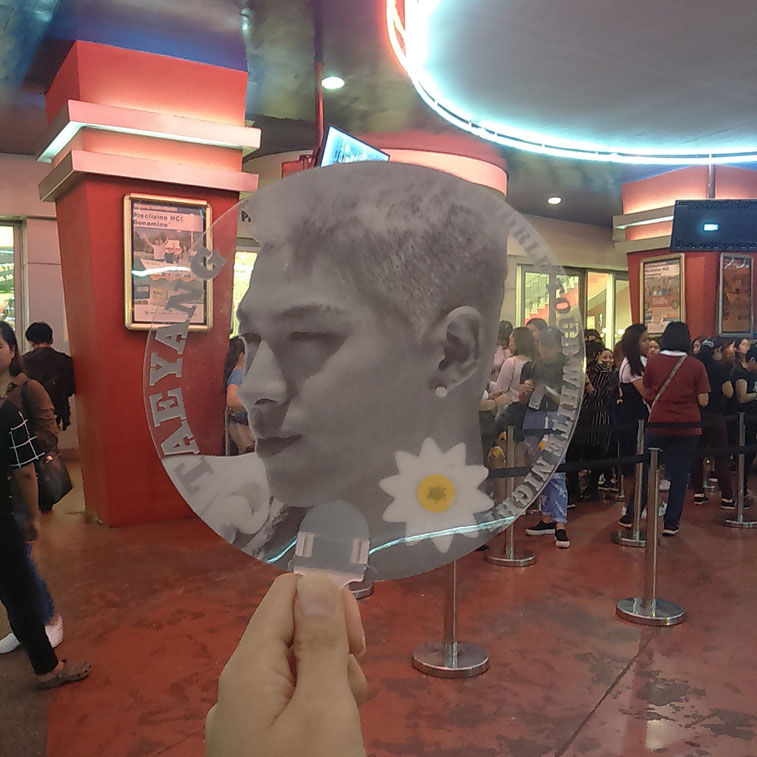 By the time I got inside, the first thing I did was to take a picture with Taeyang's poster. I needed to do it before I went to my seat because it will be flooded by VIPs if I took it  after the concert.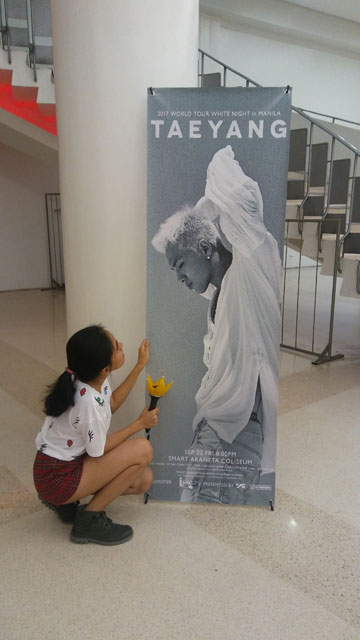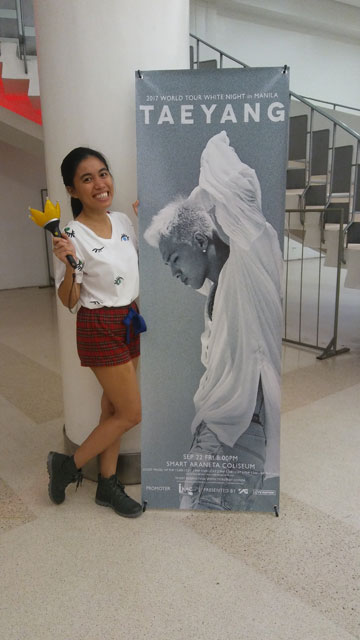 I was surprised and happy when our seating arrangement changed. We actually bought an upper box ticket but we were transferred to a VIP seated section just near the stage. Oh men! The view from my seat was so awesome. I can clearly see Taeyang's face closely. It's like all the stars collide on my side that time.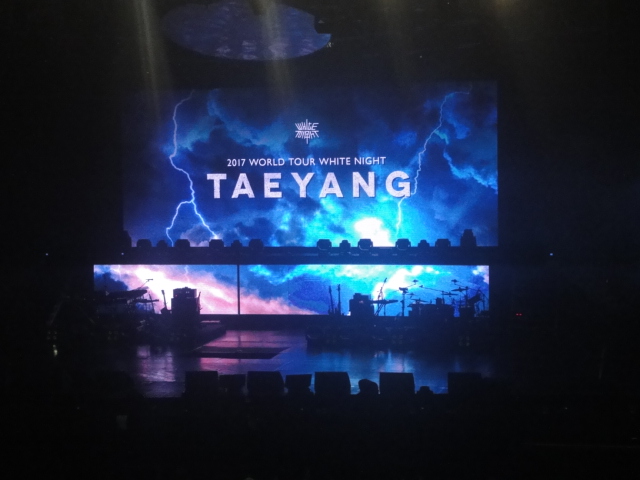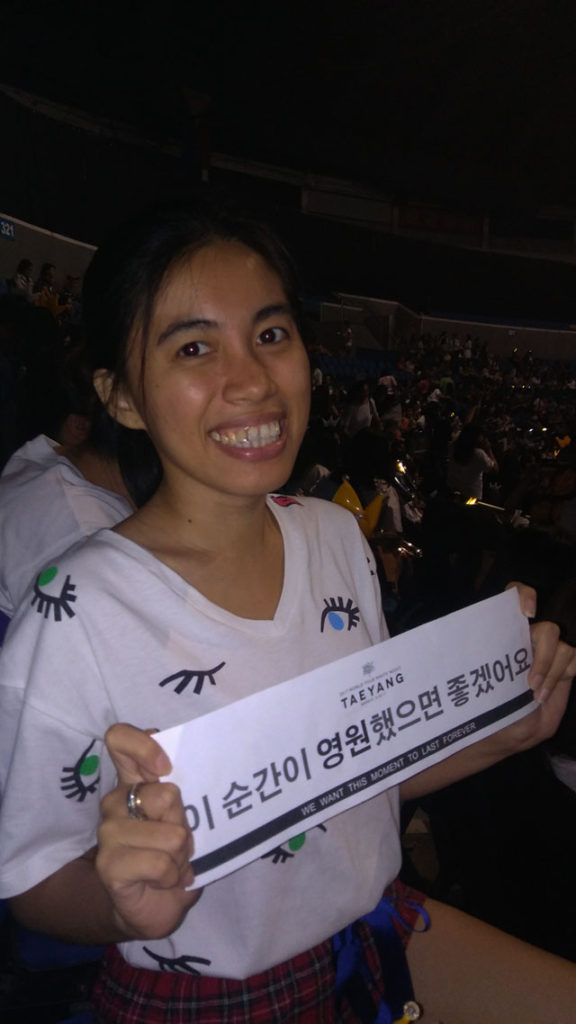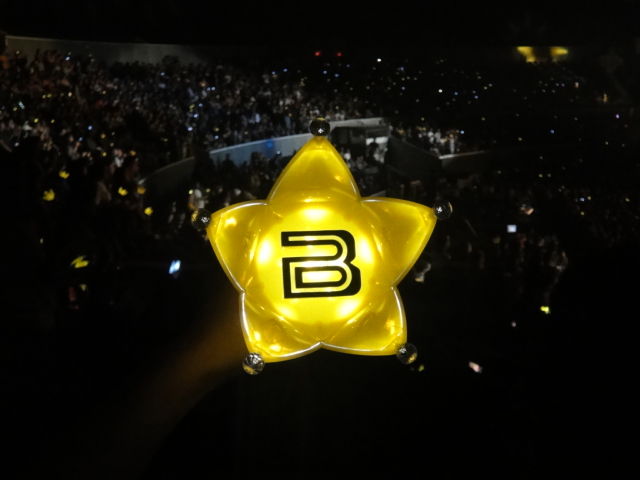 White Night in Manila Performances
Unlike any KPOP concerts I've attended, I didn't take photos of Taeyang for White Night in Manila but I only took a few videos. I am so in the moment that I don't want to see him on just the lense. I savored his performance and sang along with him while waving my Bigbang crown light stick the entire night! I also shout my hearts out during his talks!
Taeyang performed a lot of his good songs, but my favorites were: Only Look at Me, Wedding Dress, I Need A Girl, (these three songs were the songs I really wanted to hear LIVE because it's on these songs that I fall in love with him more!), Empty Road, Good Boy, Stay With Me, and Eyes Nose Lips.
Of course, we got to hear Bigbang songs like Last Dance, Bang Bang Bang, and Fantastic Baby. The whole performance was so lit that we can't help but jump and party with him!
Everything on this concert was so much fun. Okay, I say this a lot in every concert but it was. Taeyang knows how to put on a show. He was everything. He was amazing. His voice Ugh! It's so good that he like ate his CD. It feels like I'm listening to a CD but it's live. Do you get me?
Honestly, I still feel the Taeyang effect and it makes me speechless that I can't help but gush over it! I don't think I will get over it soon. I think this would last for a month or even more. I know that's the same case for you too? 🙂
I love him! I love everything! 🙂 <3
Taeyang Instagram Update: White Night in Manila
White Night in Manila Set List
here's the setlist for #WHITENIGHTinManila 😊 pic.twitter.com/Bh9qvLbJ5s

— ♛ ♥ LEONOR CHOI ♥ ♛ (@iloveleonony) Setyembre 23, 2017