Since it was a Sunday during our Day3 tour in Korea, we first went to Myeongdong Cathedral to attend a mass. Being a catholic, it's very important to attend a mass every Sunday to pray and ask for forgiveness or to give our thanks to Jesus Christ.
I'm actually in awe to see how packed the Cathedral was during that Sunday as I thought at first that majority of Koreans were Christians. Also, you get to see a lot of Filipinos there.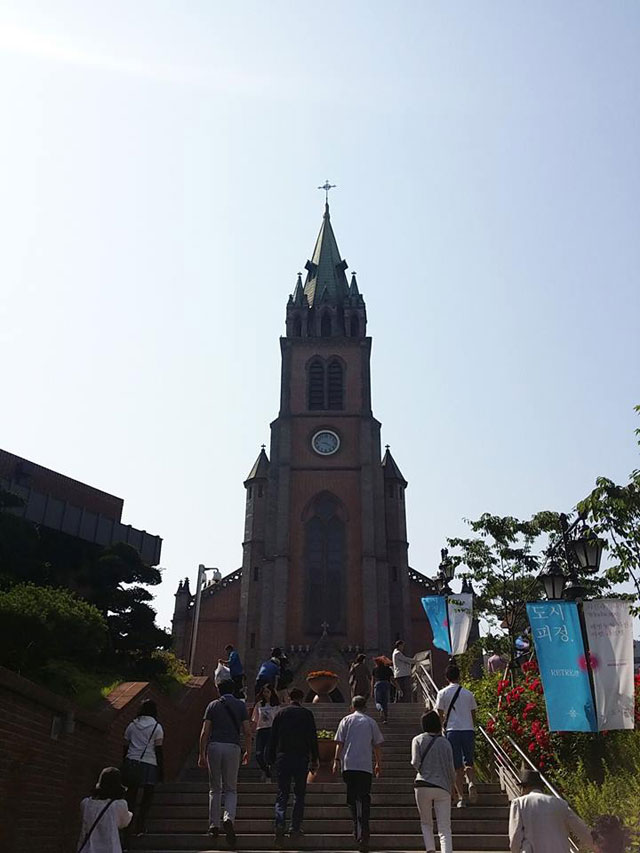 KPOP TOUR: JYP x SM x FNC ENTERTAINMENT
After the mass, we took a taxi and went to Kpop Entertainment Agencies. I'm really excited for this tour because you know, ever since I became a Kpop fan way back 2008, I've been dying to see the entertainment agencies of my favorite KPOP idols.
1. JYP ENTERTAINMENT CENTER
We first head to JYP Entertainment Center. It was so amusing that by the time I got off from the taxi, I literally blushed and cringed. haha I can't believe that I'm in front of JYP Building. It was so surreal.
I also felt giddy when I saw the Dunkin' Donuts. It's not just a regular Dunkin' Donuts. It's the legendary Dunkin Donuts! If you have been following JYP Artists, you'll know how legendary it was. It's where most artist buy their snacks and where fans flocked to wait for their favorite artists to come out of the building.
Note: Dunkin' Donuts only allow fans to stay there if they would buy snacks every after 1 hour.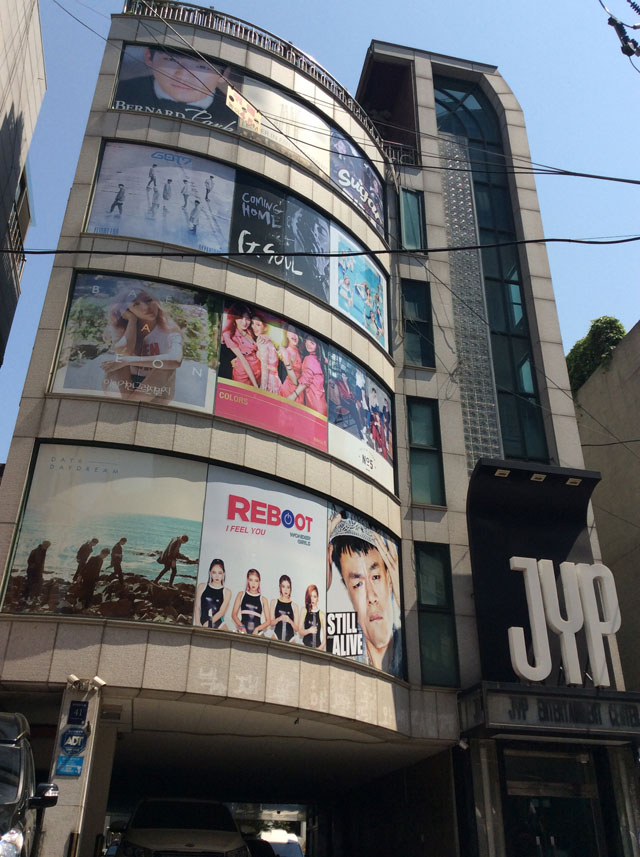 After I calm myself down, Debby and I decided to go inside Dunkin Donuts to eat breakfast. We were the only young customers that time, maybe because JYP artists were either out of the country (Got7 was in Toronto) or practicing at the new JYP building.
We ordered a 'Chicken Cheese English Sandwich' for about KRW 3,500.00 and asked water instead of buying a coffee, *whispers* because you know what coffee can do to your tummy (there's no 화장실 near here). XD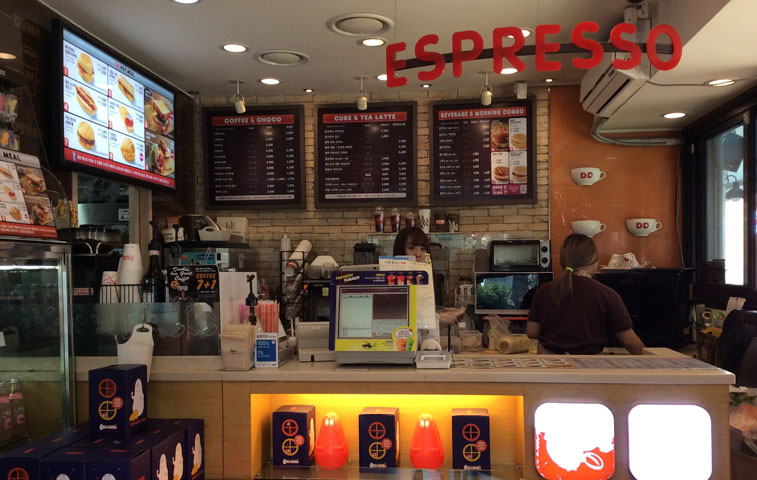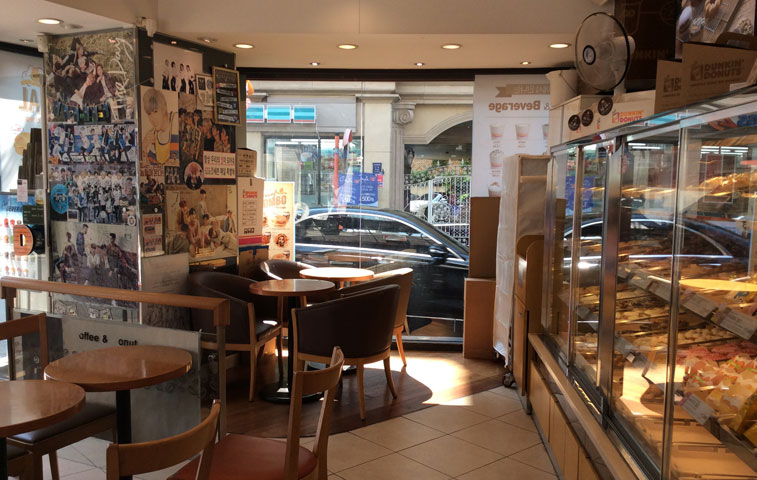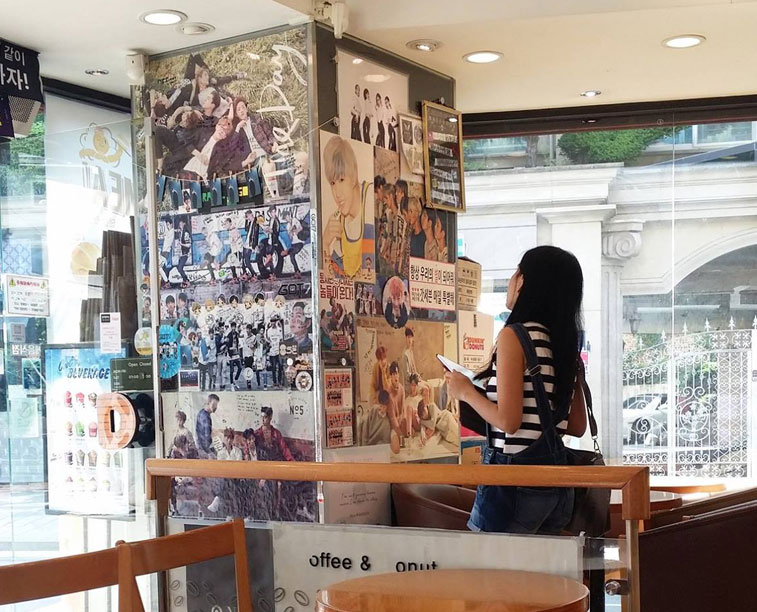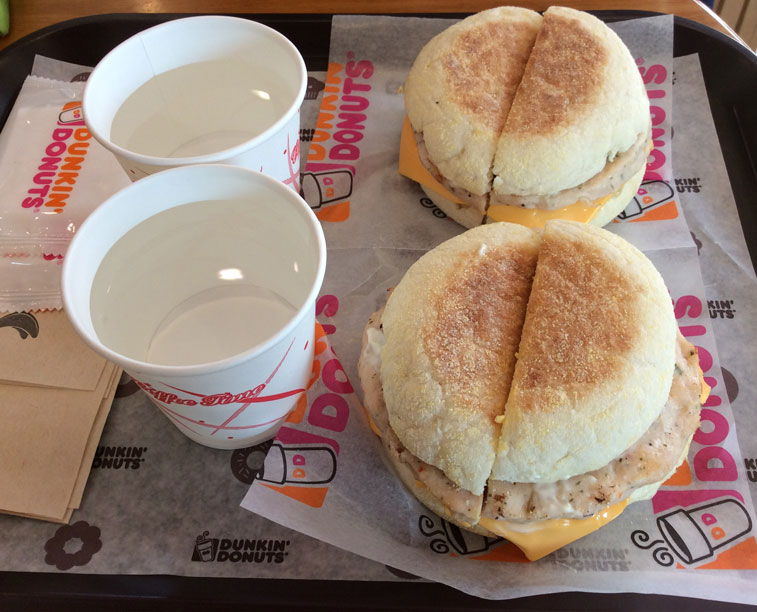 Of course, our tour will be incomplete if I haven't taken a picture with the agency. I took a lot of photos but this photo was my favorite. I don't know if it's good that there's no artist that time because I'm able to freely take pictures of the building or it's better to see an artist there? Hopefully, when I come back next year I'm able to see one.
Side Note: I posted this picture on my Facebook with a caption: "I'm going to audition at JYP" as a joke and my mom took it seriously. She asked my cousin why am I auditioning. I'm laughing the entire time as I explain to her that it was just a joke.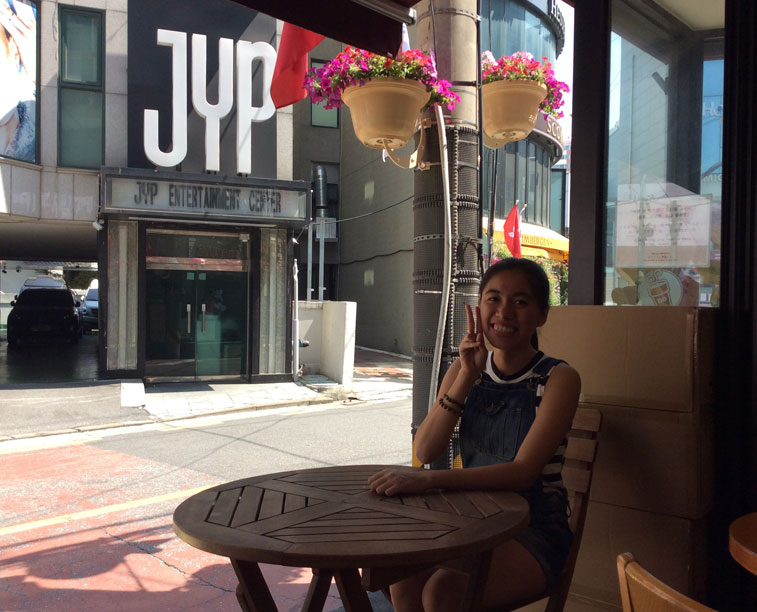 Before we proceed touring at other agencies near JYP Entertainment, I bought first 2 Homerun Balls snacks at GS 25 Mart and the Unnie was so nice to give me an additional pack. I'm not sure though if its a buy 2 take 1 thing or it's just their promo for a tourist like me.
Directions to Entertainment Agencies Near JYP Entertainment Center
There were two agencies near JYP — SM and FNC. It's really near like you can actually walk from JYP (see photo below for reference). No wonder, most idols can easily audition from one agency to another.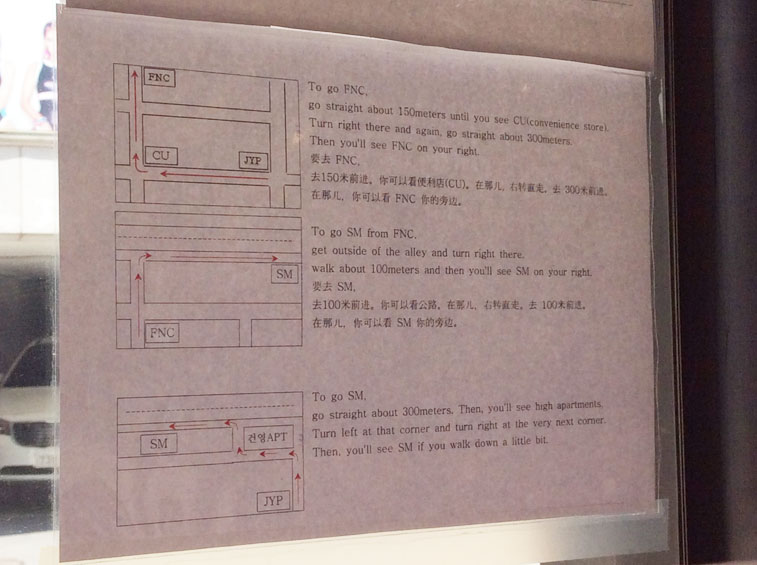 Here's how you can go to FNC and SM:
To go to FNC, go straight about 150 meters until you see CU(convenient store). Turn right there and again, go straight about 300 meters. Then, you'll see FNC on your right.
To go SM from FNC, get outside of the alley and turn right there. Walk about 100 meters and then you'll see SM on your right.
To go SM, go straight about 300 meters. Then, you'll see high apartments. Turn left at that corner and turn right at the very next corner. Then, you'll see SM if you walk down a little bit.
2. SM Entertainment
I've known SM Entertainment because Gdragon trained there for 5years. They said if you wanted to be good at dancing and singing, you have to train in SM Entertainment. Among the three agencies (SM, YG, and JYP), SM was the one who have good programs for trainees. Oh! Look at Taeyeon and D.O's vocals as well as Sehun and Ten's dancing skills as evidenced.
SM Entertainment Building was so tall that you need to sit like a frog just to take a photo of the whole building.
And while JYP have Dunkin Donuts in front of their building, SM have a public park where you can rest and wait for idols. When we were there, a very nice ahjumma were taking us to sit down at the park while fanning us.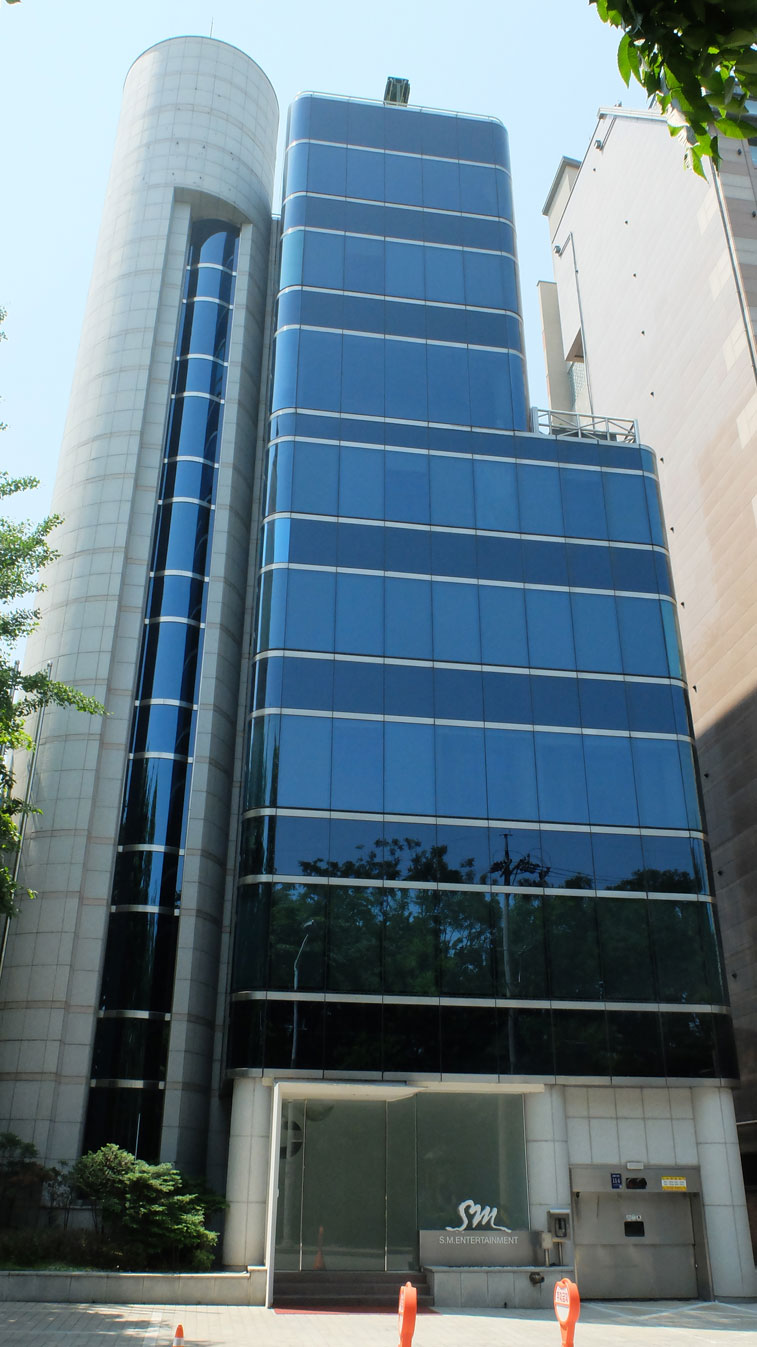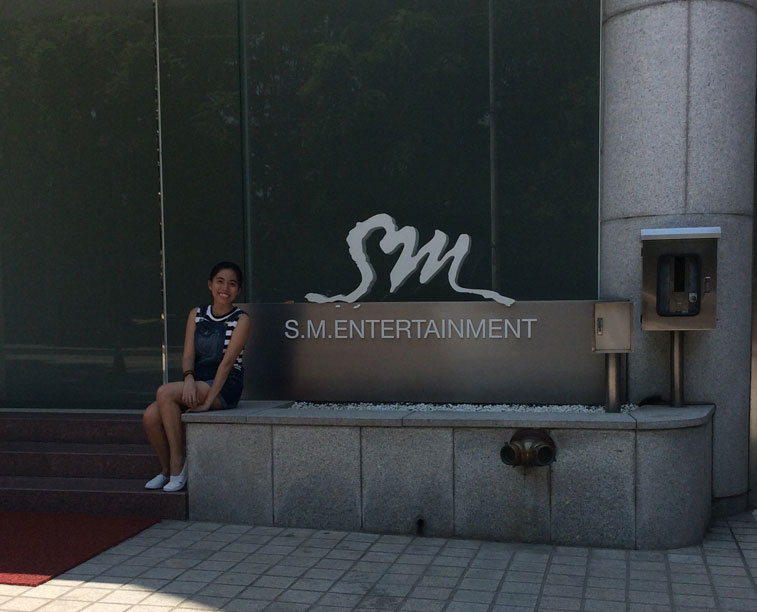 3. FNC Entertainment
Since FNC Entertainment was just around the corner, we've decided to passed by it as well. Honestly, the only artist I know from FNC were CNBLUE and AOA. I love Min-hyuk and Jimin!
Also, unlike JYP and SM Entertainment Buildings that were very open, FNC has it's gate which makes it a good backdrop for OOTDs and pictorials.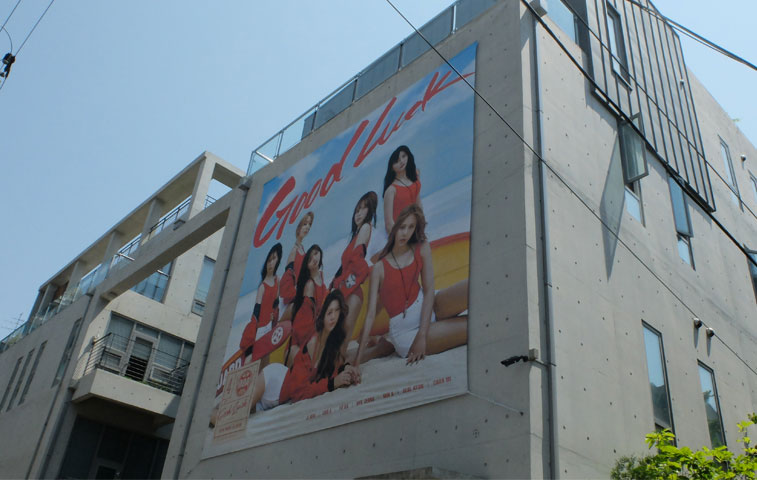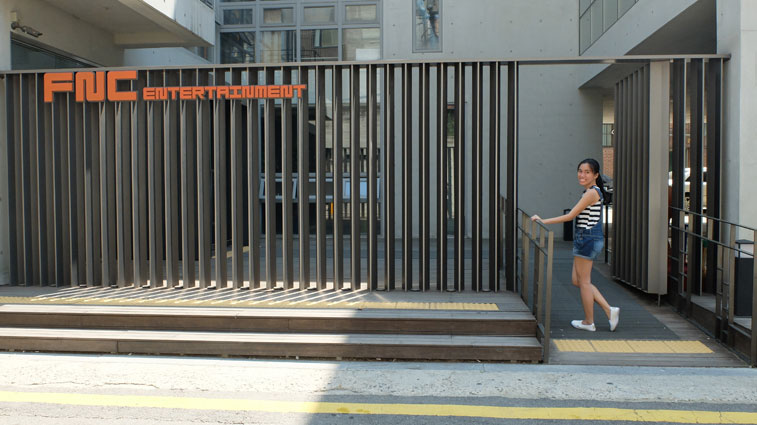 SMTOWN COEX ATRIUM
Next we went to SMTown COEx Atrium to look for SM Artist merchandise and goods.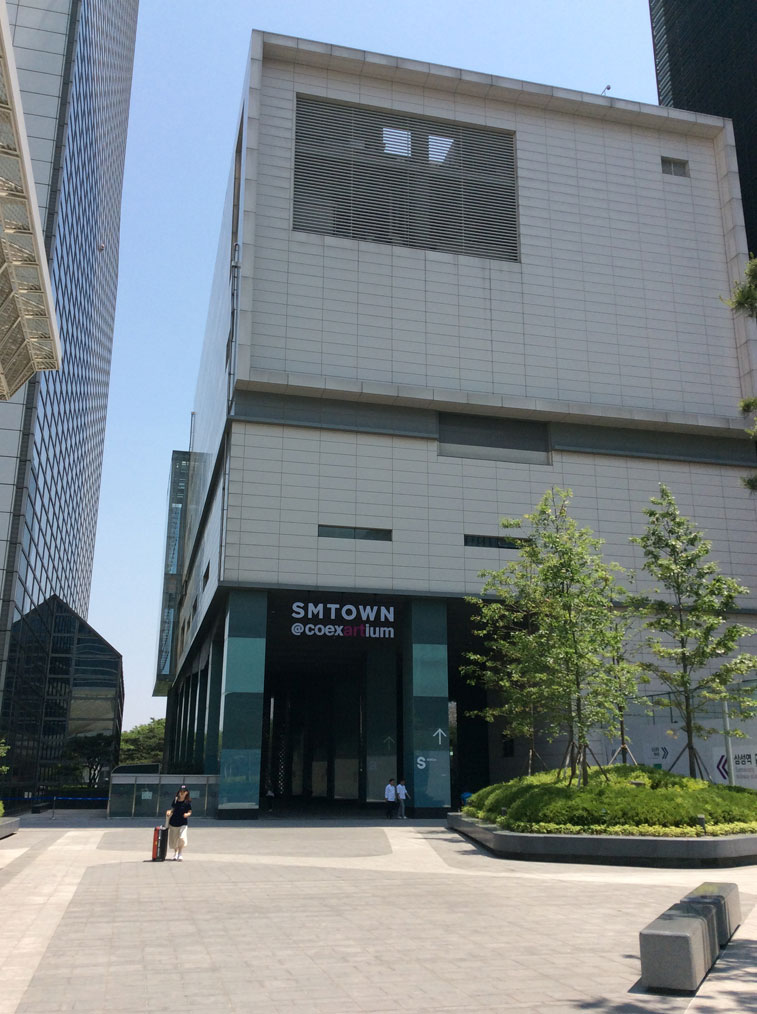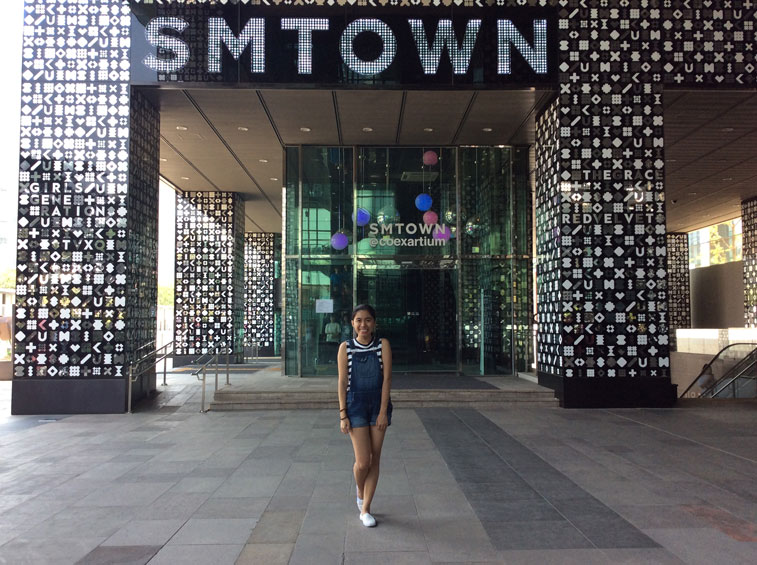 Right by the entrance you will see these cute Shinee and EXO paper toy displays where you can take pictures at.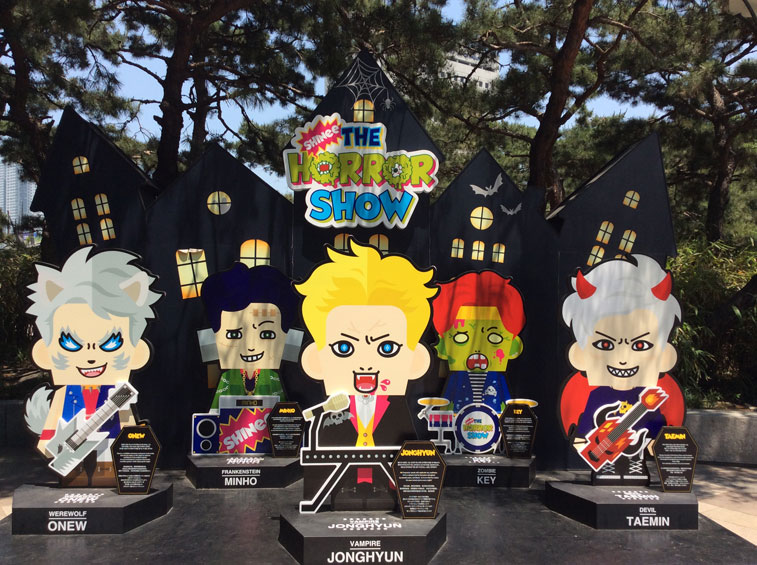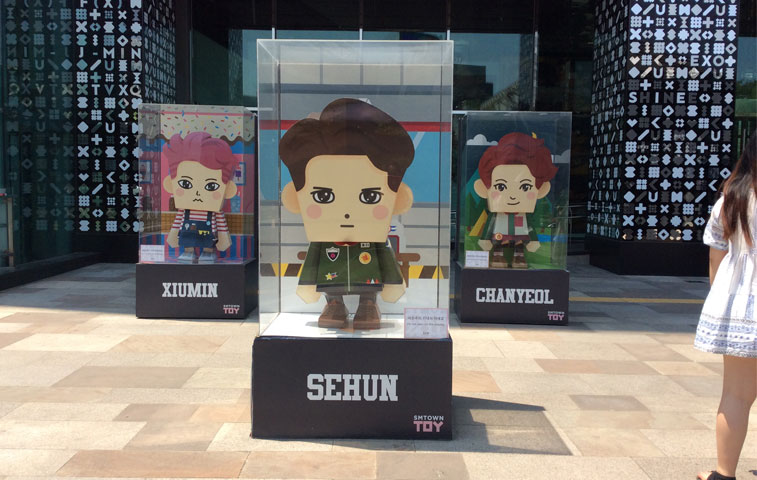 Let's Go Inside the SMTown CoEx Atrium Building
We take the escalator up to the second floor where the SUM (Celebrity Shop) was located. The merchandise store has everything SM artists fan desires — from official artist goods, products endorsed by SMTown artist to random products that celebrities enjoy. Take a look at some of the items available below: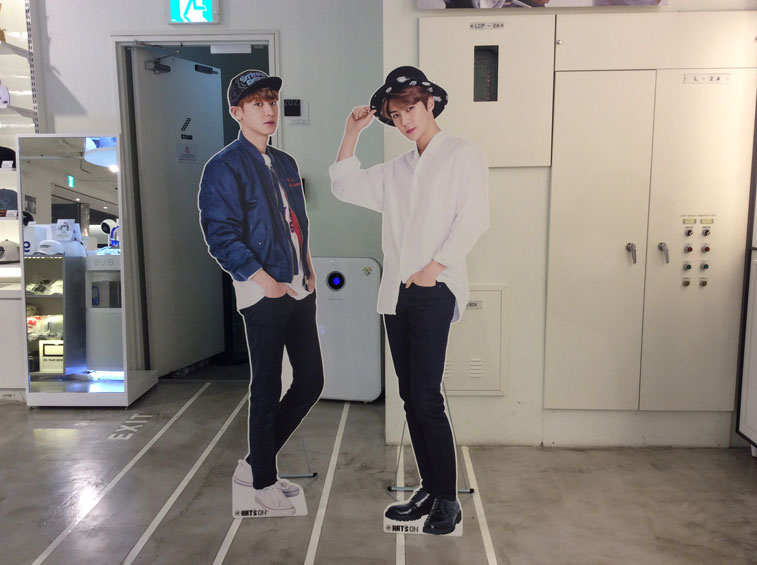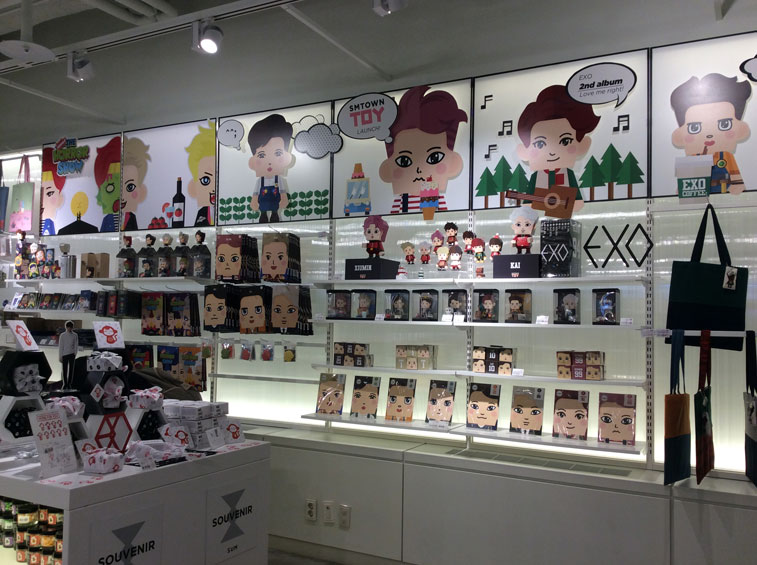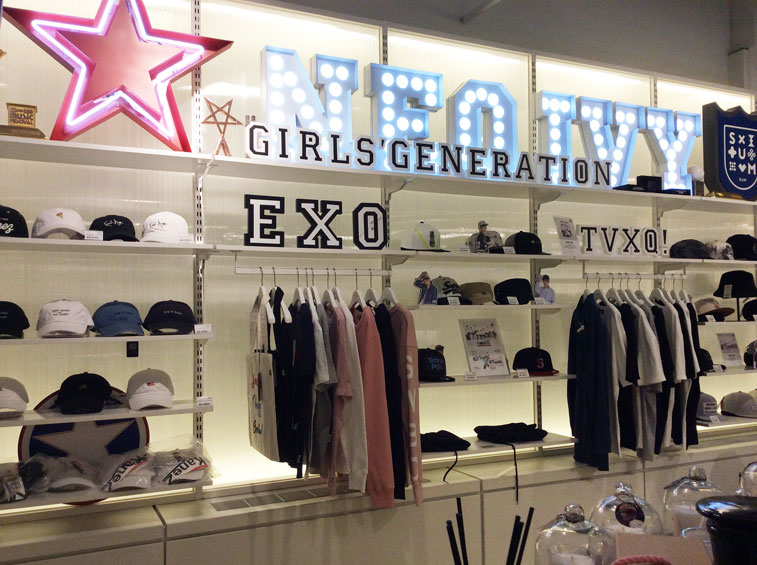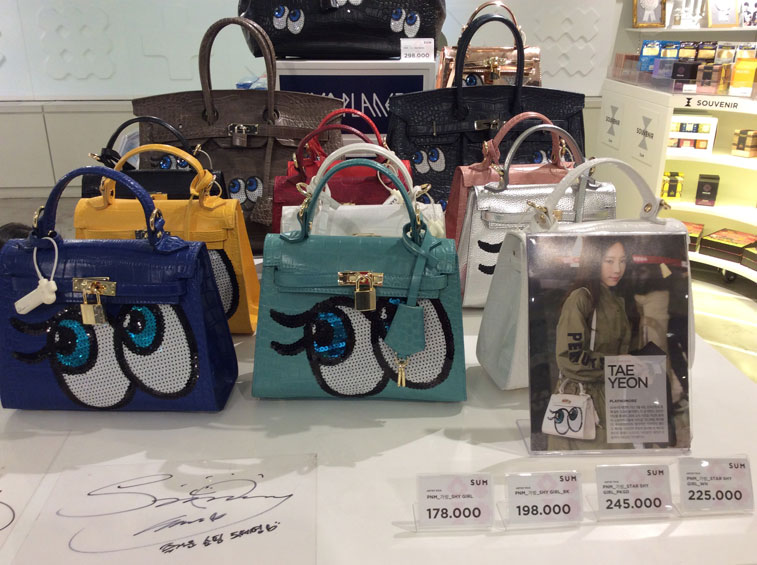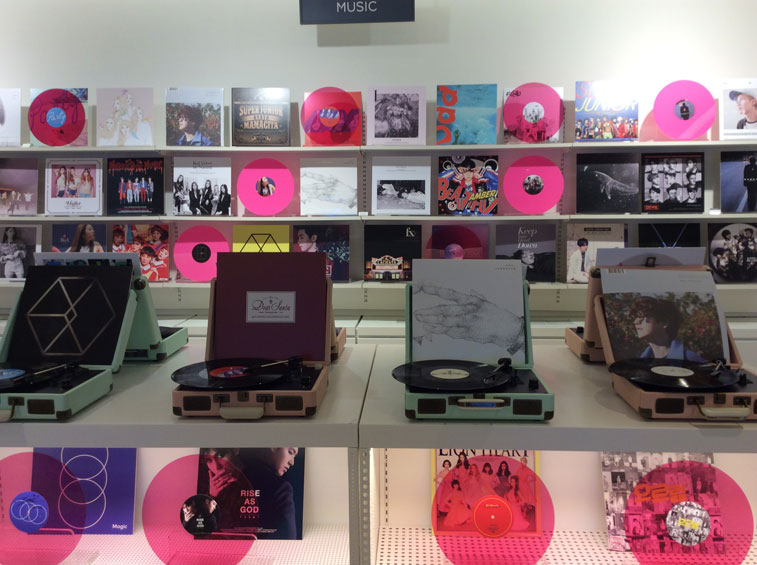 On the third floor, there can be found the SM Town Studio, a place where you can experience being a KPOP artist. Inside it there's a training studio, recording studio, music video studio, and photo studio. In order to experience this, you will need to pay to make a reservation.
If I remember correctly, this was also the same venue where they hold KPOP Dance Experience. It's an event by Seoul Metropolitan Government where you can learn  SM Artist  popular dance routines from SM Entertainment professional dancing instructors.
I really wanted to experience it. Unfortunately, the program already ended last March. I will join if ever they will open it next year and I hope I'll be lucky enough to get picked.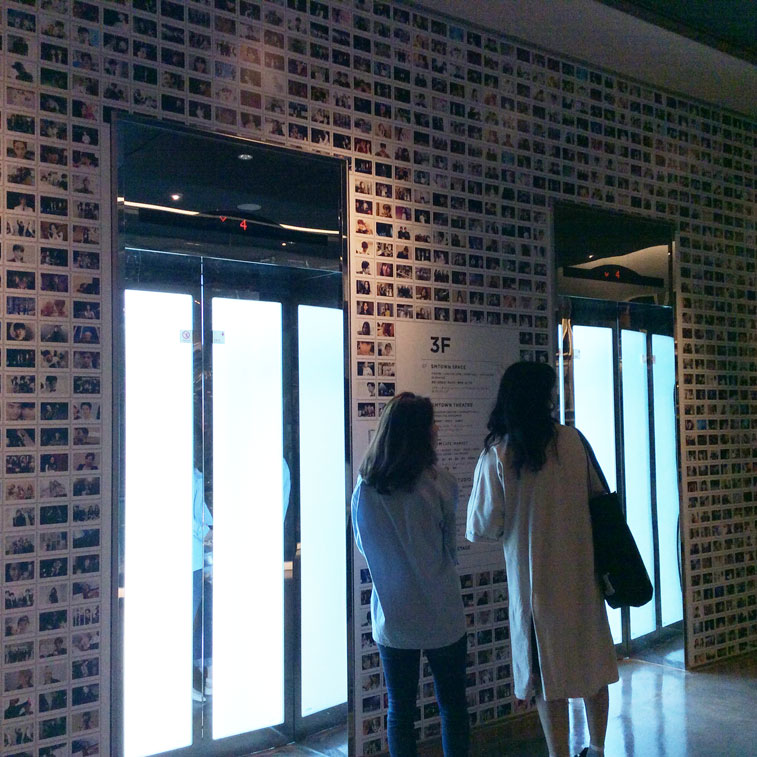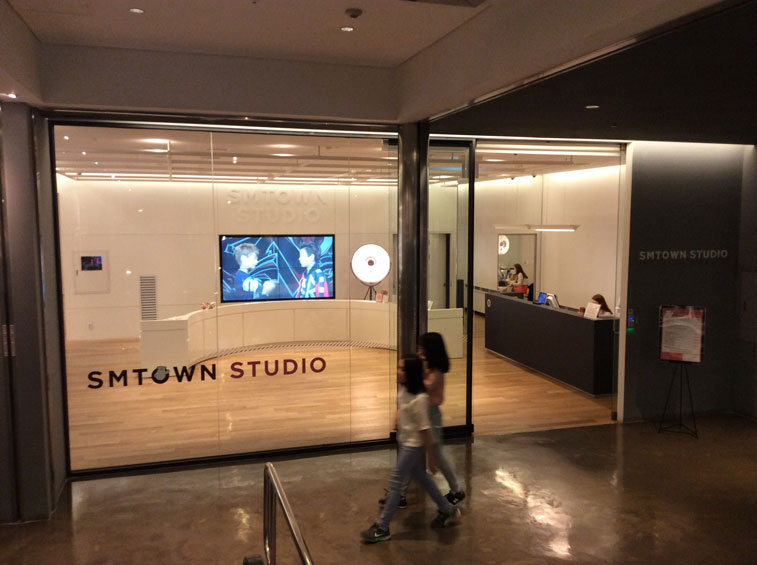 If you are tired from shopping, you can relax  and dig in to sweet treats while listening to SMTown artists songs inside the LIVErary Cafe at the fourth floor.
The cafe serves sweet treats like cookies, cupcakes and more. But if you wanted something special from the cafe, you may order the "artist ades", fruity carbonated drinks named after SM artists.
We were still full from our breakfast so we have decided to just buy chocolates and chips for our friends back in Manila.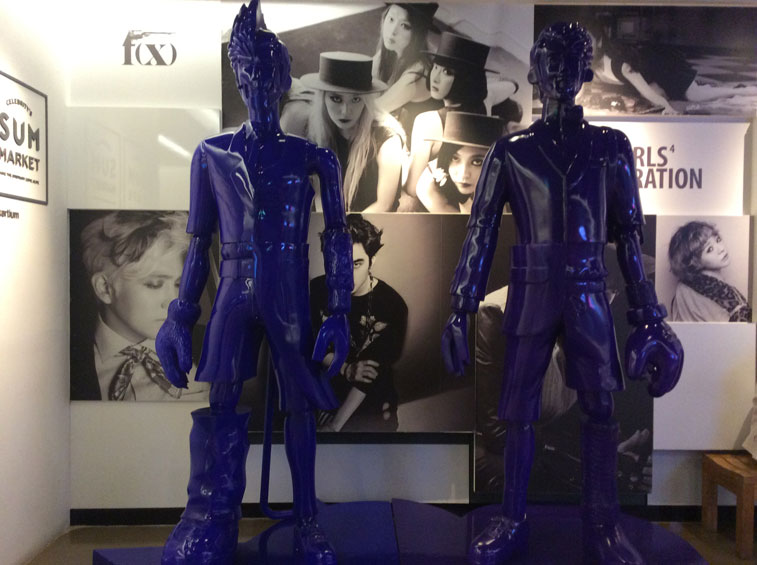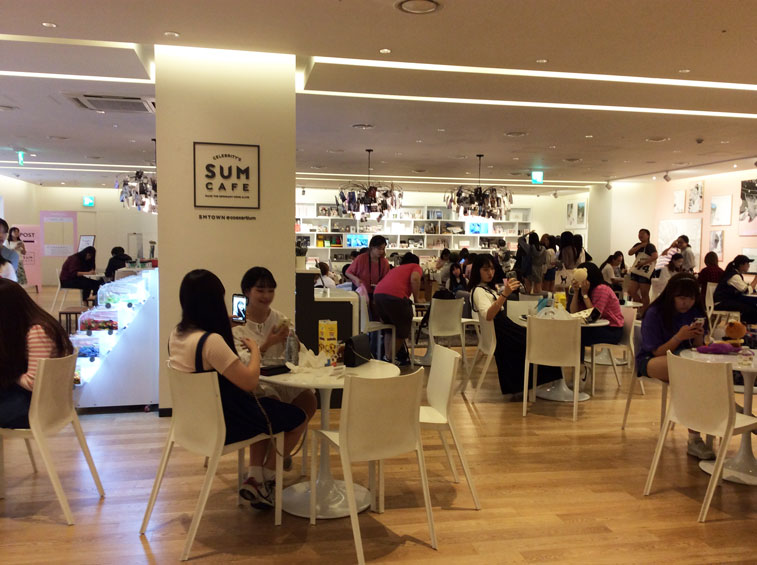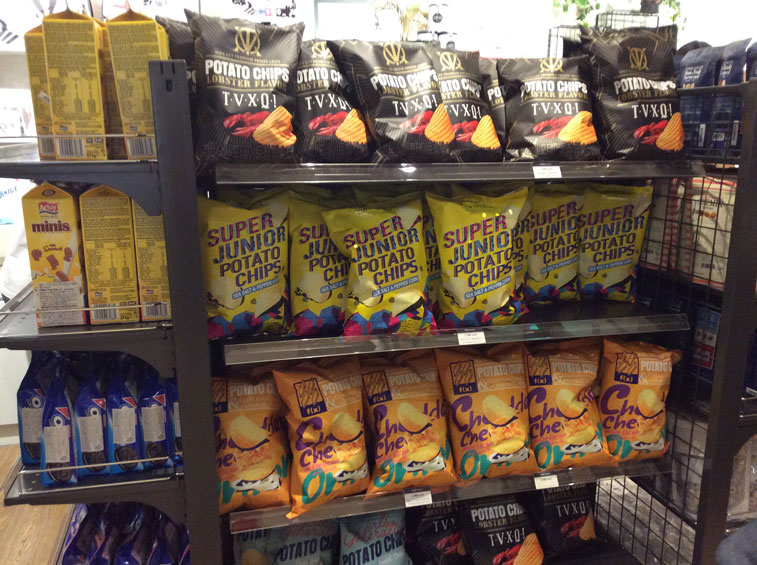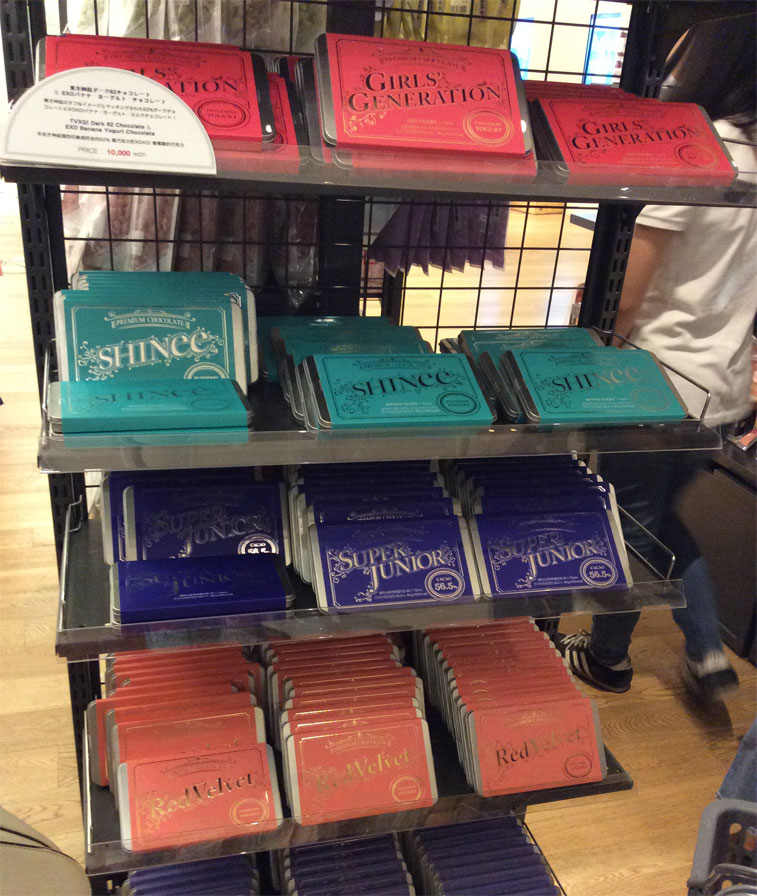 After securing food souvenirs for our friends, we've decided to visit "SM Gallery" at the fifth floor. There, you will see this big SMTown Artist concert photo cards at the center which you can browse. I'm not sure though, if you can take pictures with it as we didn't try it.
Instead we headed to the photo wall (as I call it) where I'd taken a lot of photo opportunities with my favorite SM Artists.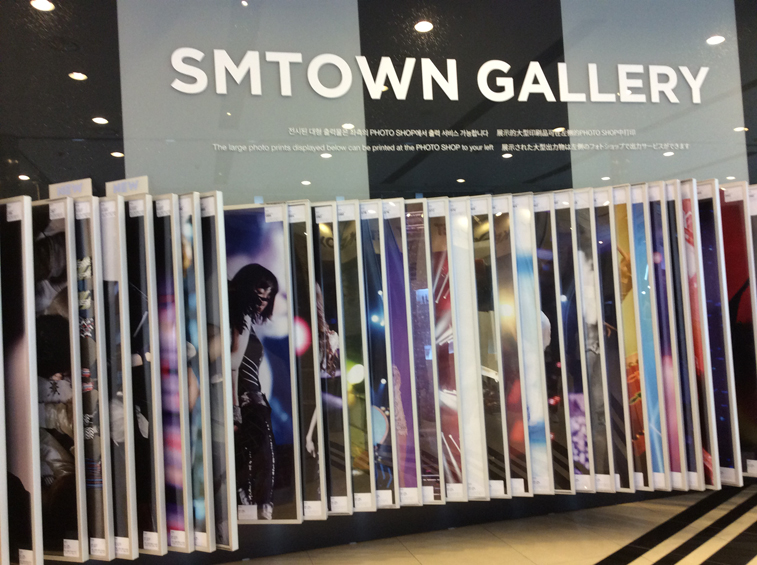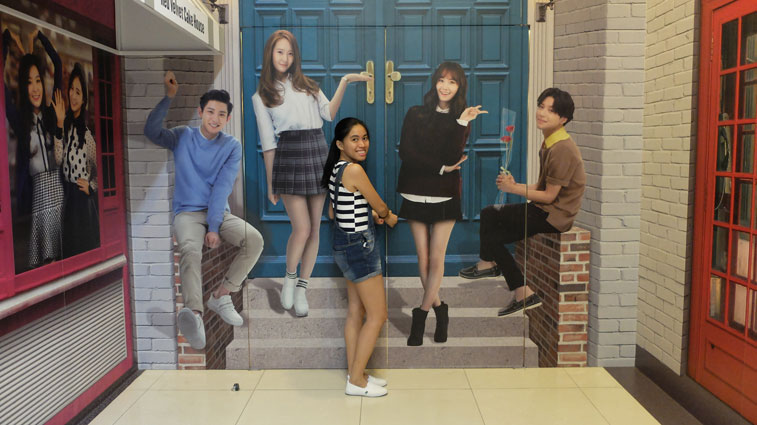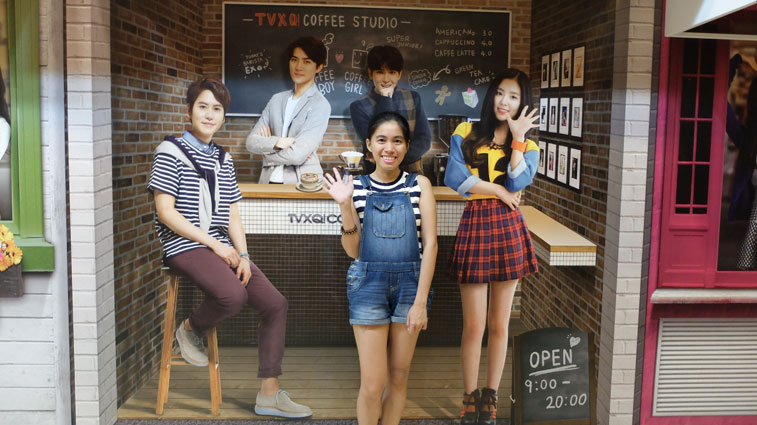 GETTING LOST AT YG Entertainment
It was past lunch time when we've decided to go to YG Entertainment and we were so hungry! So, from CoEx we took a subway ride to Hapjeong Station. I couldn't believe it's far from that area. I thought all agencies were just close to each other, but the area where SM and JYP were, were too far from where YG was. I think we were on the subway for like an hour.
We looked for a restaurant as soon as we've touched down Hapjeong Station. But there were only a few restaurant near the area so we continued following the trails on the GPS. We kept on walking and walking and ended up getting lost. Luckily, we got lost at what I called "food street". It's like a street surrounded by cafes and restaurants!
The 통근구이 Restaurant
We passed by an open restaurant named "The 통근구이" and had our lunch there. It offers a good deal for Samgyeopsal (pork belly bbq) pricing at KRW 10,000 each. It was actually cheaper than other restaurants who offers KRW 14,000 – 20,000.
We cooked our own Samgyeopsal and the Ahjussi laughs at us because we burned a few pieces of it. We wanted to cooked it well, but we cooked it really well that it got burned. We felt shy. But since it was our first time, we just make fun out of it. haha The pork belly was really delicious that we refilled our lettuce wraps twice.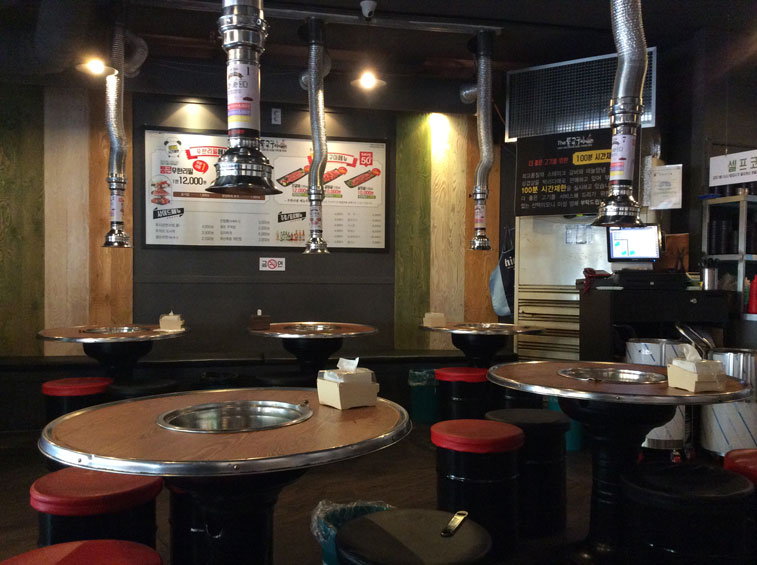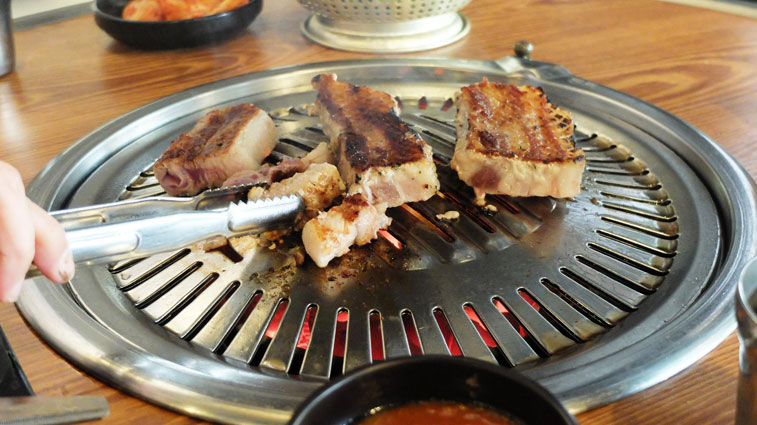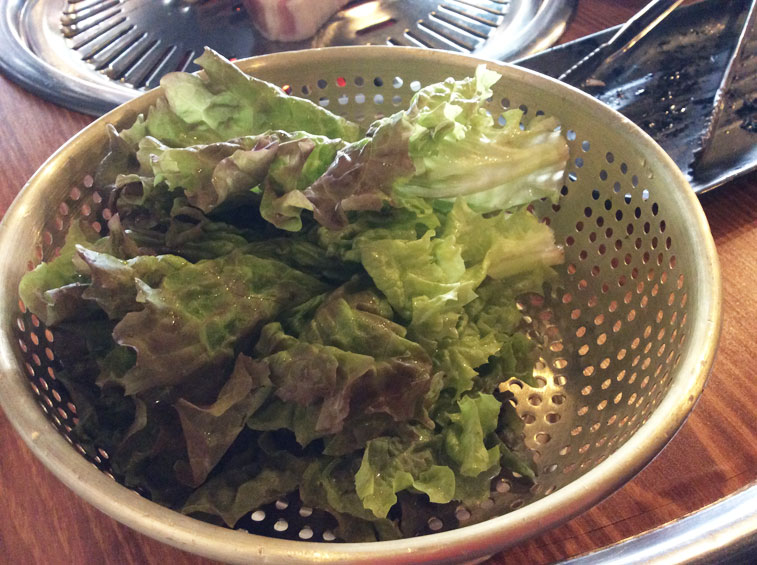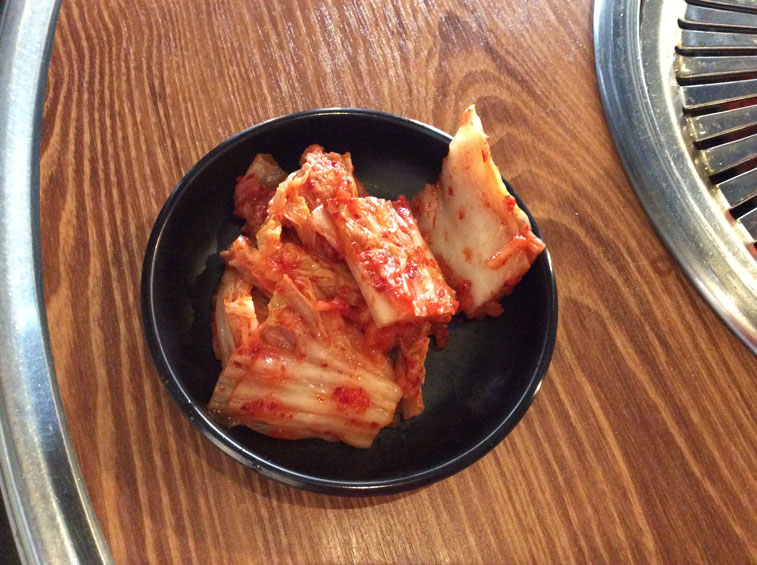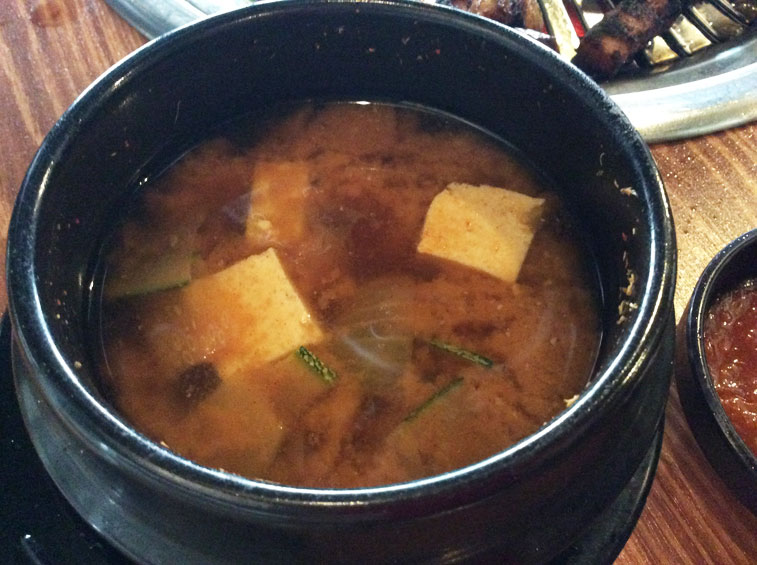 Korean Tea & Time, Cafe 오가.다
Do you know what comes next after lunch? Of course, it's DESSERT!!! And with Korean dessert, the first thing that came to my mind that time was  Patbingsu, a popular Korean shaved ice dessert with sweet toppings.
The Korean Tea & Time, Cafe was just a walking distance to where we had our lunch. So Perfect right? We ordered their best seller "Five Grains Ice Flakes" for KRW 8,500. It's really tasty! I recommend for you to try this too! Great for the hot weather!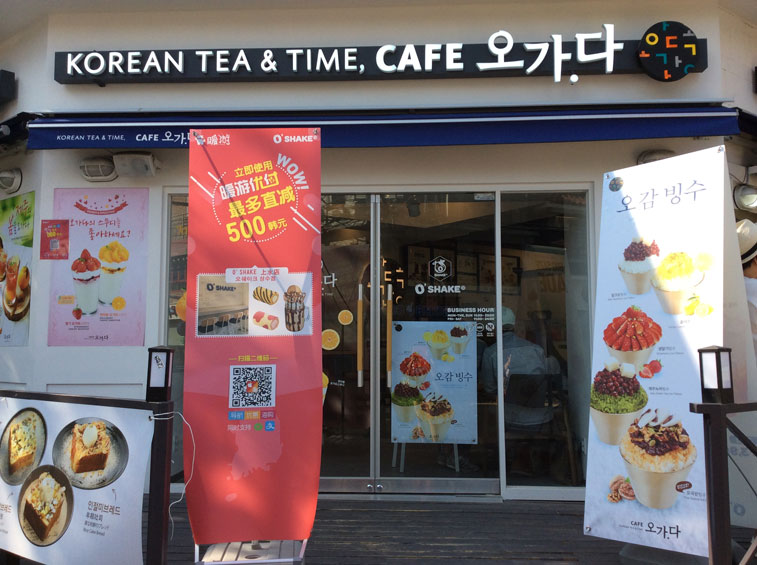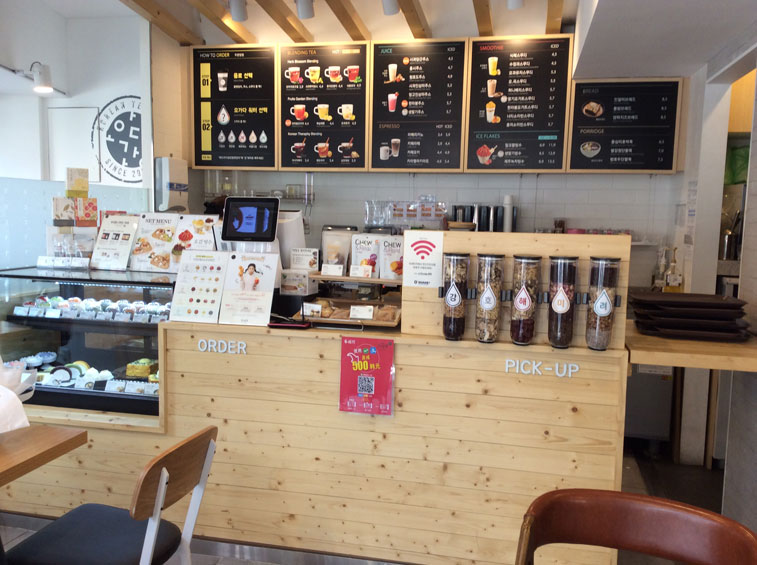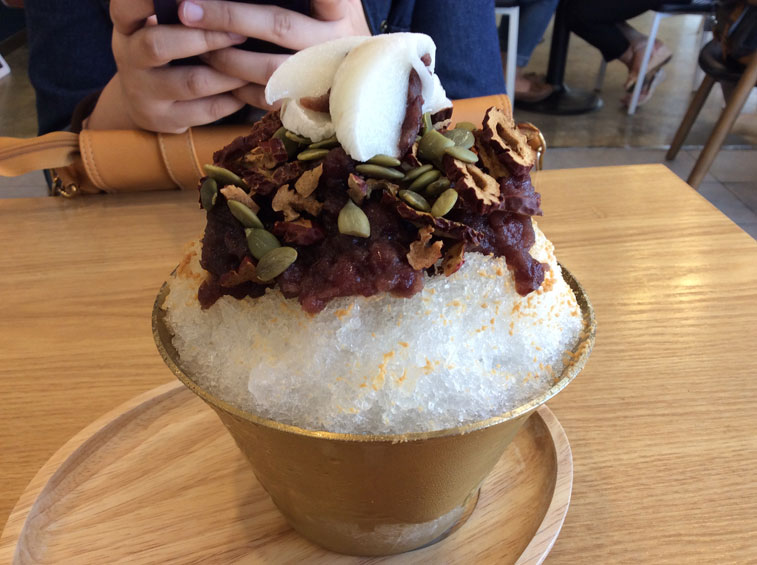 4. YG Entertainment
We saw on the GPS that we're still a bit far from YG Entertainment Building. And because we kept getting lost over and over, we've decided to take a taxi.
The street where YG Entertainment Building was located was really creepy. Well! The street was secluded like it was a dead end. It was also quiet with no people around. It really gave me goosebumps. Like it Takes Guts to Go to YG Entertainment Building.
But I don't mind it, because it's YG Entertainment! It was my favorite entertainment agency. Too bad, I didn't saw Bigbang that time. I think they were the only YG artist that was Korea that time. They almost had a free Anniversary concert but was cancelled last minute. 🙁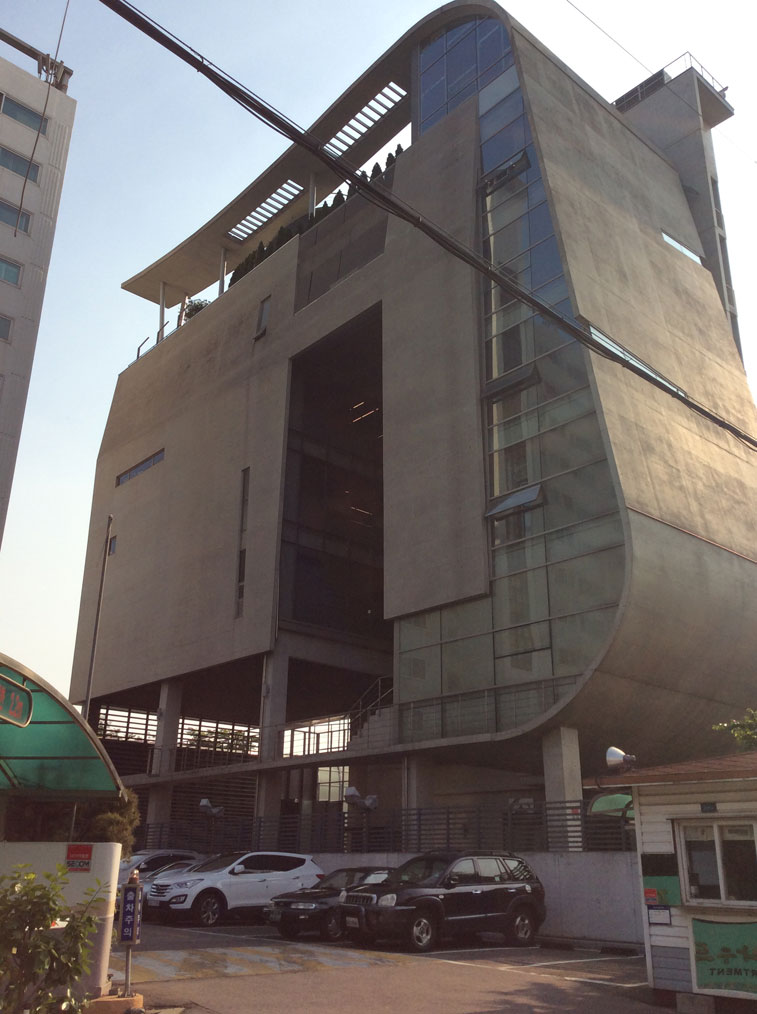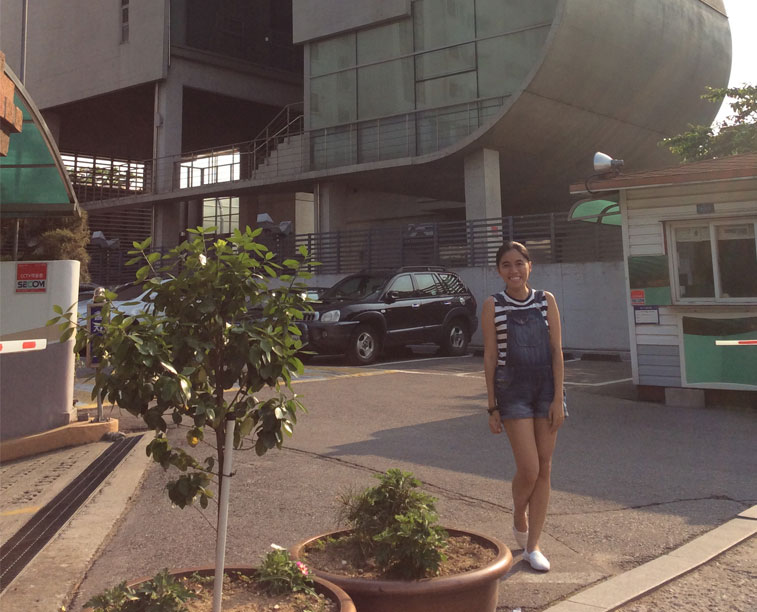 All the entertainment agency looked really like what we saw on TV and I'm really happy that I'm able to see the big three with FNC. My target next year, if given a chance will be Bighit Entertainment, I hope I'll get the address of both of its new and old building. Haha
DONGDAEMUN DESIGN PLAZA
Our last stop was Dongdaemun Design Plaza (DDP). I really admire its architectural structure. It's so unique and beautiful. Zara Hadid Architects really did a good job! I bet it looks even beautiful in an aerial view.
Inside DDP, there were five halls: Art Hall, Museum, Design Lab, Design Market, and Dongdaemun History and Culture Park. Some of the halls have entrance fees while some which were free were packed by tourist. We've decided to enter Design Market where all the design shops were located.
Next thing I knew, Debby and I ended up buying those pink and white bag. Or what we called Our OTP – Friendship bags… haha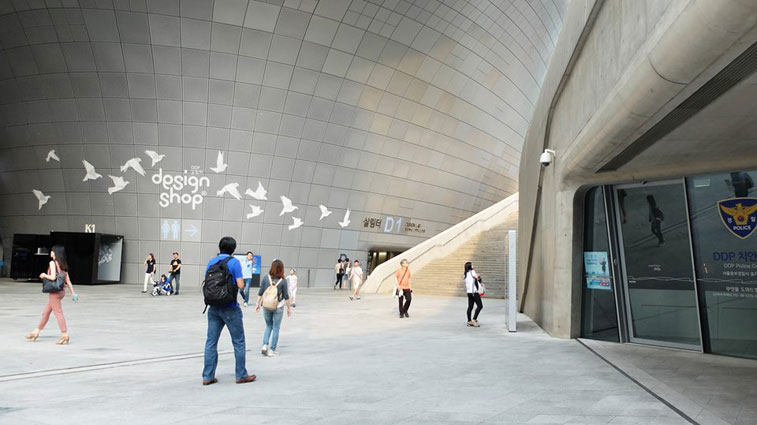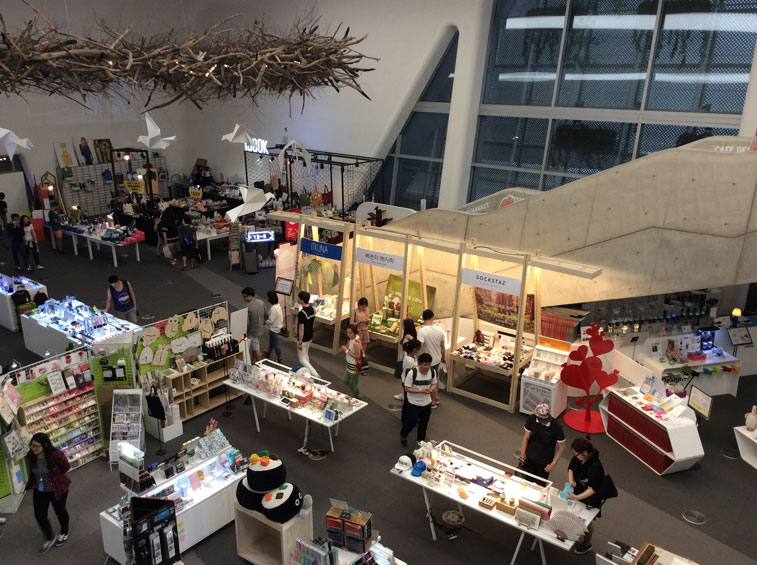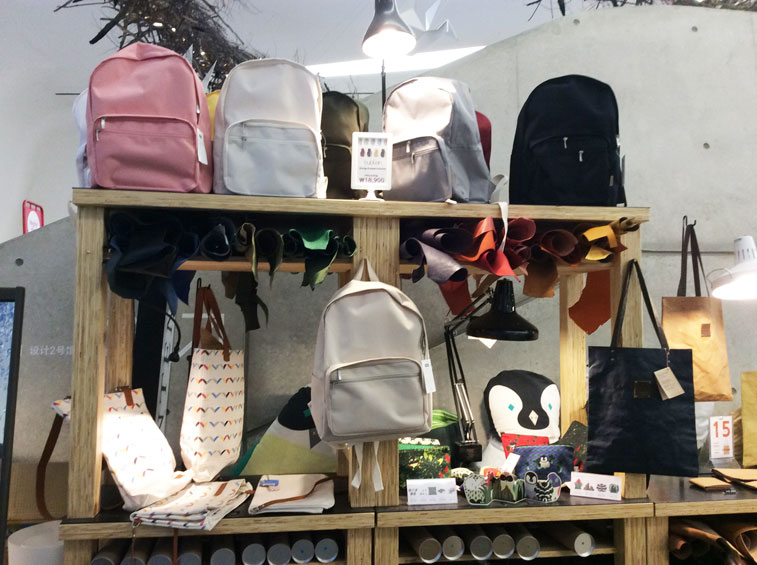 That's the end of our day 3 in Korea! 🙂
—
Day 1: Visit Seoul, Hello Korea
Day 2: Touring Seoul-O at Hongdae
Day 3: JYP, SM, FNC, and YG Entertainment Buildings Tour
Day 4: Gyeongbokgung Palace, Insadong, and Myeongdong
Day 5: Departure to Manila and Korea Trip Budget Breakdown
Some Photos are from Debby Vivo.