It's all about K-pop on our second day tour in Korea! I'm really excited for this tour because I get to experience the K-Pop Dance Class program for the first time. I've been wanting to join this program since last year but the registration was already close during the time that I visited Seoul so I never got the chance to. However, when I heard that they reopened the program this year, I immediately signed up for it and I was lucky enough to get picked.
I felt really ecstatic when I received the confirmation email that I got chosen for the program since I know that there were a lot of applicants who joined. So, hurray! 🙂
To give you a background, the K-POP Dance Experience Program was an event by Seoul Metropolitan Government where you can learn SM Artist popular dance routines from SM Entertainment professional dancing instructors or choreographers. As for our group we were chosen for the EXO – Kokobop dance class.
Normally, the KPOP Dance Experience Program was held at the SM Town COEx Atrium but because it's under renovation so they moved it to SM Entertainment Communication Center.
K-POP Dance Experience Program
We took the subway from our hotel to SM Entertainment Communication Center for the K-Pop Dance Experience. We were actually the first one to arrived at the meeting place. You see, it's not so obvious that I am so eager to join the program. hehe
By the time every one have arrived, we signed up for the attendance and the SM Staff gave us ID's so that we can easily be identified once we tour inside the building.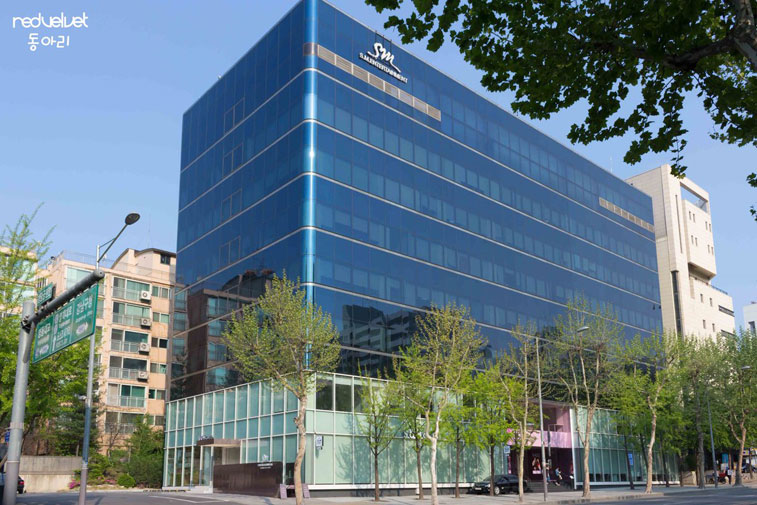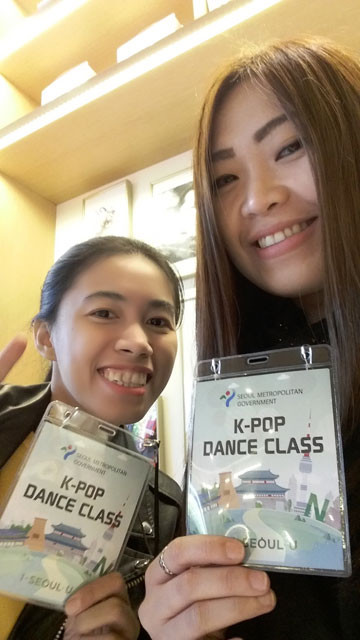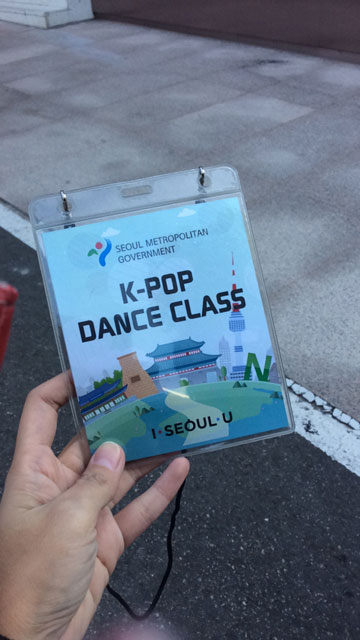 The first section where we head for the tour was the SM Town Gallery. Here, we saw all of SM artists albums, photos, and other memorabilia. There was also a music area where we listened to SM artists songs. Take a look at the gallery below: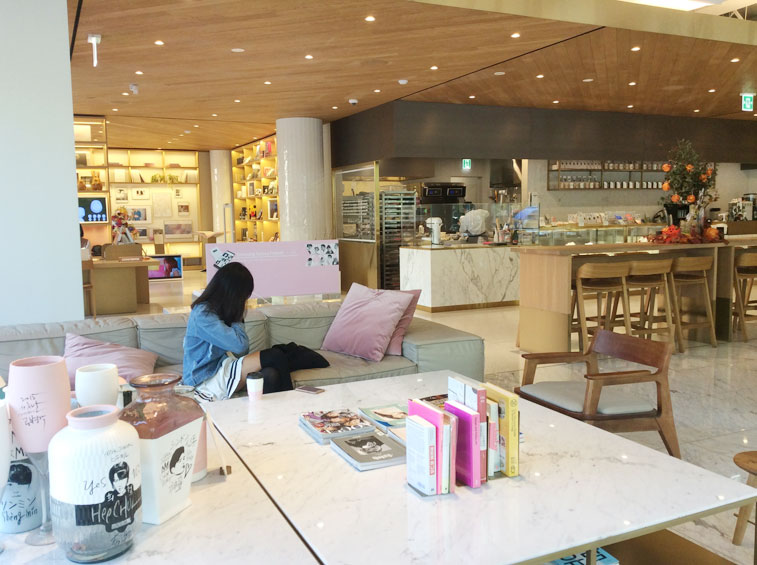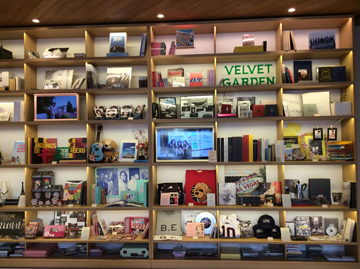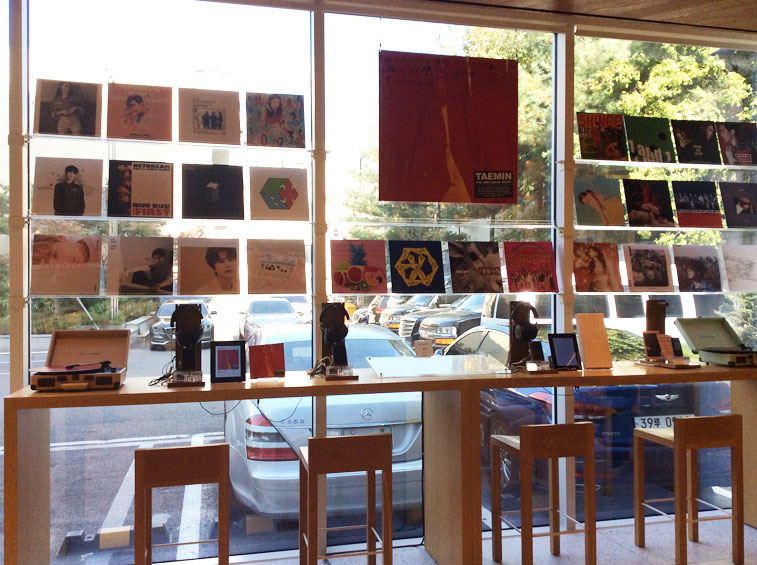 Then after that, we look around the SUM Cafe. SUM Cafe was the mini cafe inside the SM Communication Center. It serves cookies, cupcakes, and more. We didn't order that time since we were already full from our breakfast.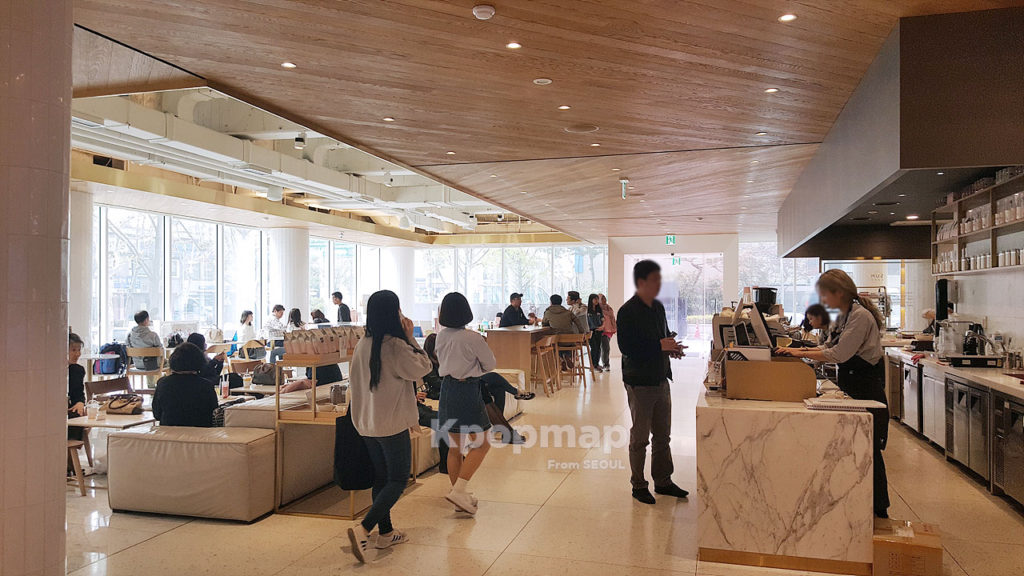 From the SUM Cafe we went down to the ground floor where SUM Market was located. The SM staff gave us a few minutes to roam around the market and find souvenirs that we like such as chips, chocolates, shirts, with the SM artist groups names on it, and etc. before we head to the dance studio. The SUM Market here was a bit smaller than the one in SM Town Coex but enough to fill our fan girl feels…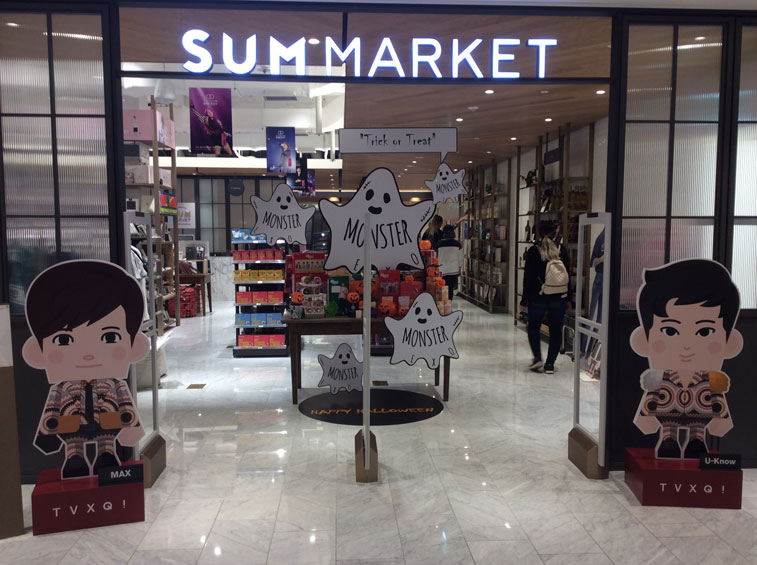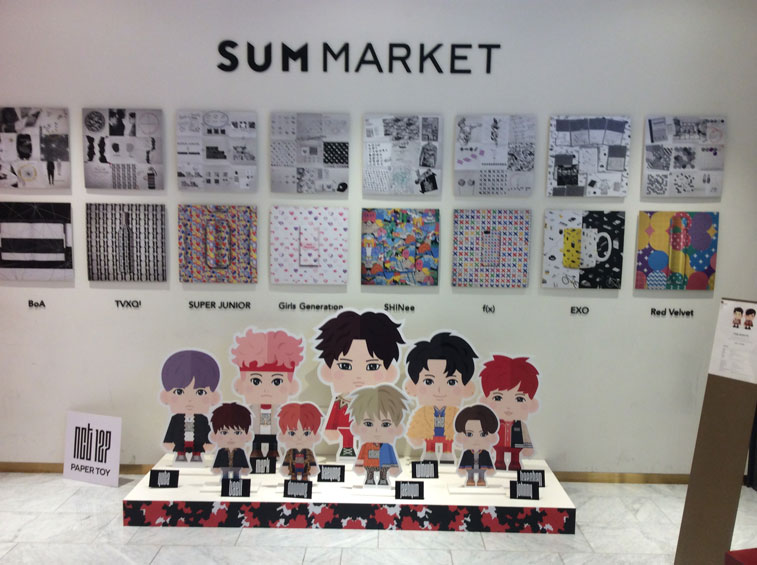 After we look around the SUM Market, the SM Staff guided us to the dance studio for our dance class. Apparently, we were not allowed to take a photo inside because it's where SM artist practice their dance routines so the room was confidential. However, to give you a glimpse of what the studio look like here's NCT's Bomb dance practice video. We have our dance class on the same room where NCT filmed that dance practice video.
Our dance instructor that time was one who work with EXO. He taught us the chorus of EXO-Kokobop. The dance choreography was easy to follow when it was taught by the SM dance instructor because it was slow and on point. But when it was our turn to combine it with music that's where the difficulty level set to 100x. It was so fast, I felt like I'm on Weekly Idol doing Kokobop x2 faster version. He even teases that we only do great on the turn and the last part which was funny.
When we got the hang of it, we already dance on our own repeatedly while the dance instructor was only watching us to see if we did it correctly. And we did! Hurray! We automatically position ourselves every time we heard Chanyeol rap like we were already program for it because after that will be the chorus part.
We took a bit break in between to drink water and wipe our sweat. By the time we were ready, we were divided into three groups and each groups dance Kokobop on sets. Then for the last part, we grouped ourselves again altogether to dance one last time.
We were so hyped because of happiness that we requested our dance instructor to dance Kokobop. He was so nice to grant our request and damn he's so good! The SM Staff even told us that we were the first group to have our dance instructor dance.
After the dance class, we were requested to fill up a survey form and the SM Staff handed us a keychain as souvenir. I got Yeouido street sign keychain. 🙂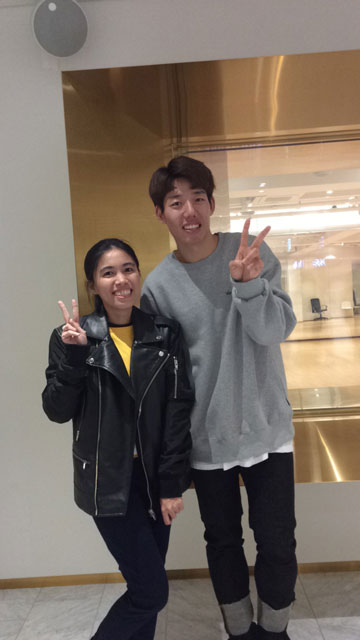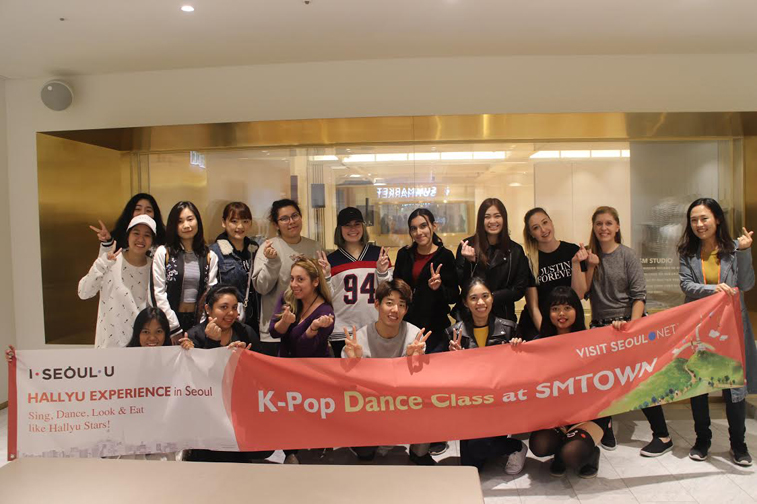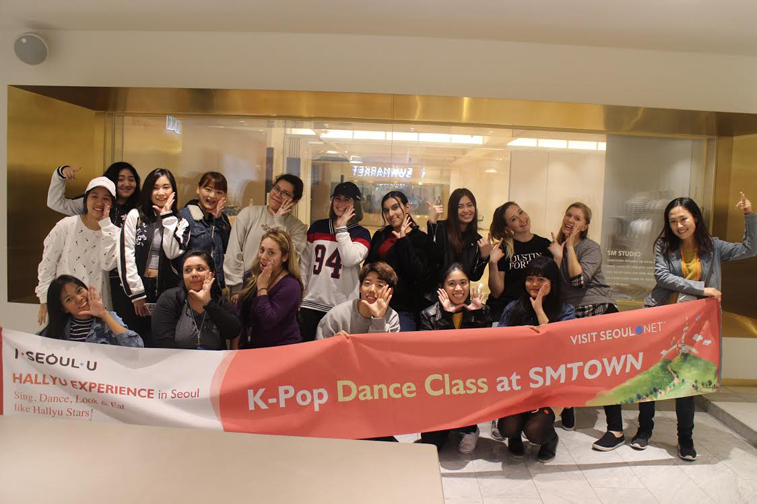 A Twosome Place
I got hungry after our dance class so we've decided to have lunch at A Twosome Place in front of the K Star Road. This coffee chain was owned by CJ Foodville of CJ Group and once had **drum roll** Lee Min Ho as their brand ambassador.
"A cup of coffee, TWO of us, SOME dessert, PLACE"
The meaning behind the cafe might sound cheesy, but the place was really cozy. Like you can really enjoy a conversation with your friend or other half while eating your favorite pastries and drinking a cup of coffee / chocolate.
We ordered a sandwich and an iced coffee for lunch and I can say that their sandwich was above average in terms of taste and presentation.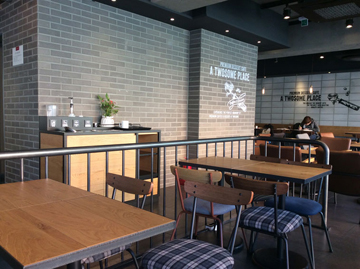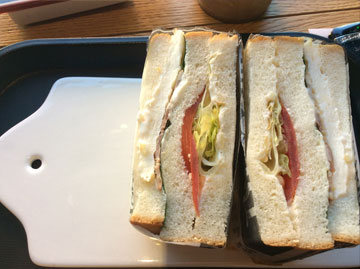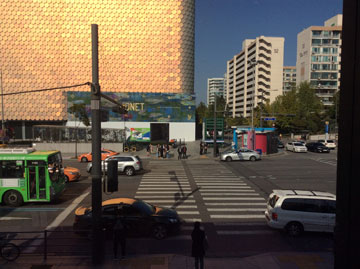 K Star Road | GangnamDol Haus
We ready ourselves to explore the Gangnamdols on K Star Road after we have our tummy full from our lunch.
There were about 17 GangnamDols placed along the road connecting the Apgujeong Rodeo Station and Cheongdam crossroads. Actually, these GangnamDols have an actual signature of KPOP idols on its back. Wasn't it amazing? 🙂
I look for my favorite idol's GangnamDol and have my picture taken. I'm actually biased here! *peace*
I'm actually surprised that there's no young tourist here. I know this was a tourist spot for KPOP fans so it's a bit shocking to see that there were only a few of us having a good time with these GangnamDols.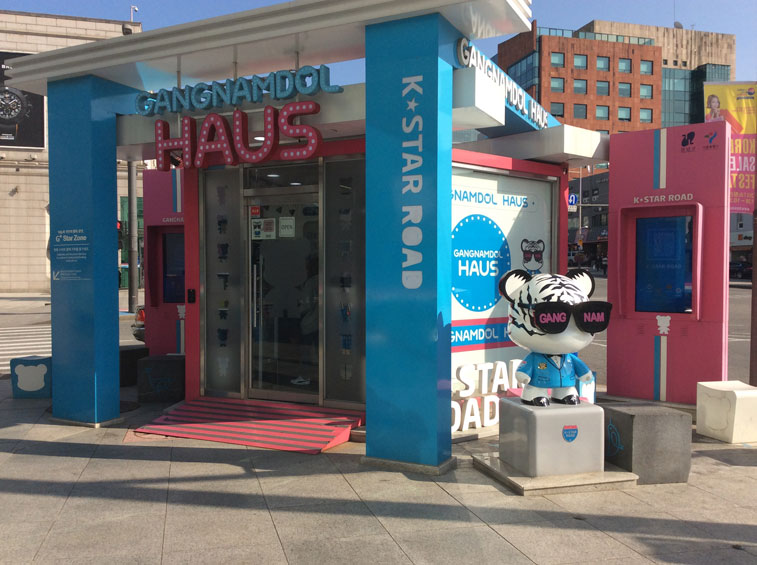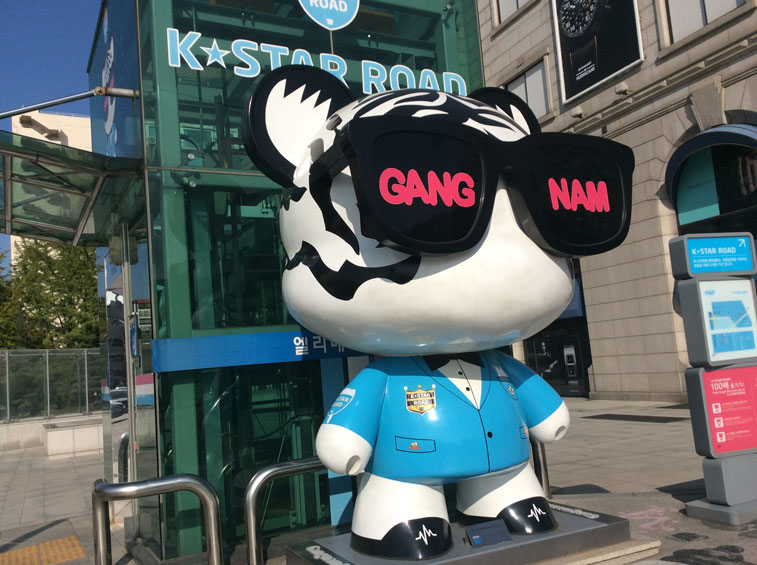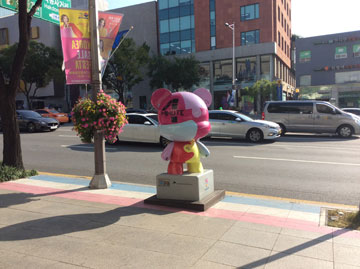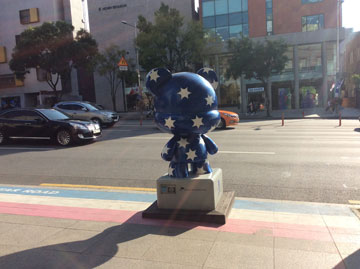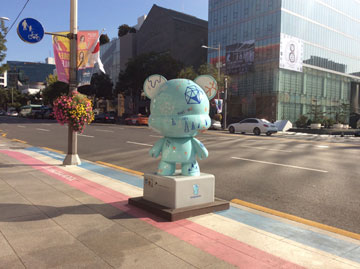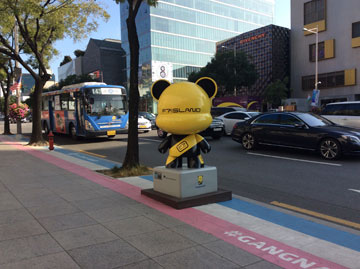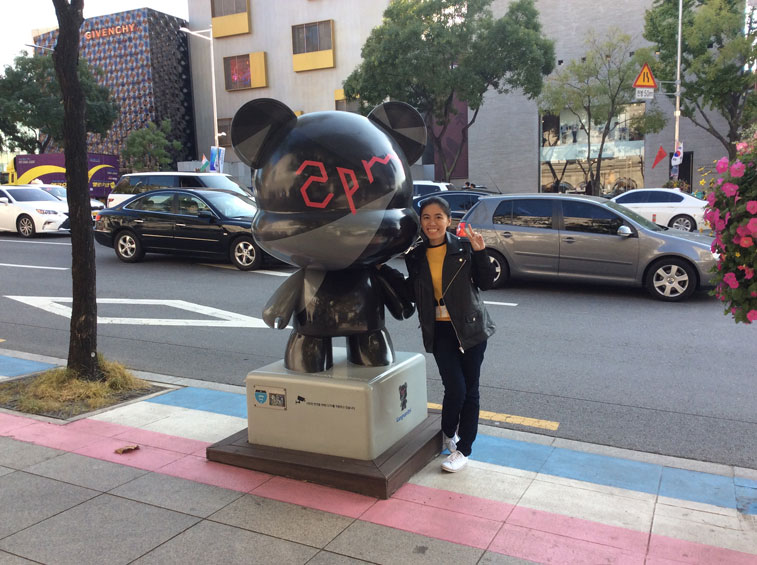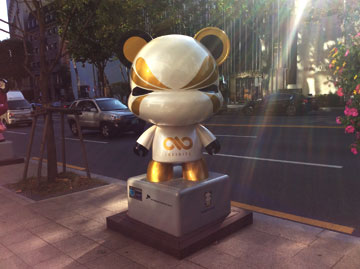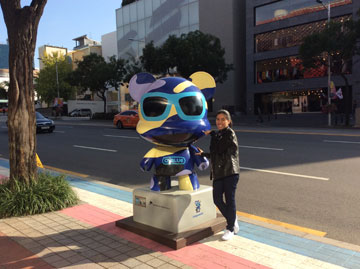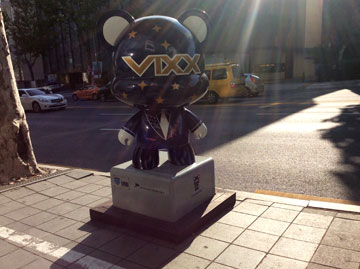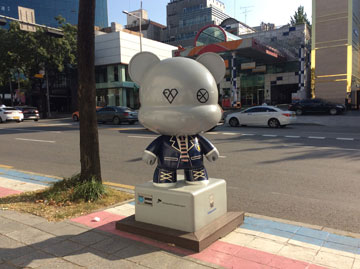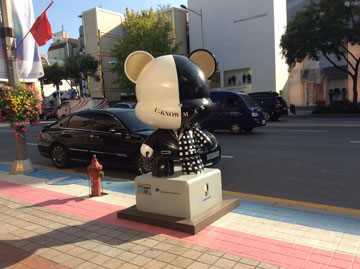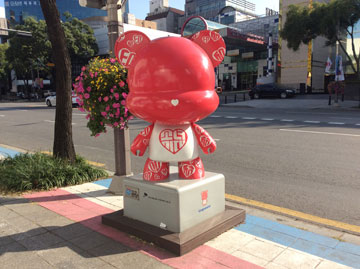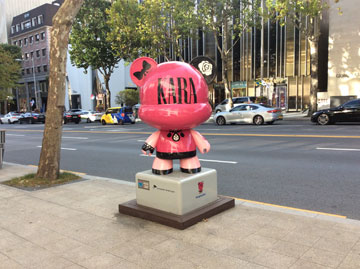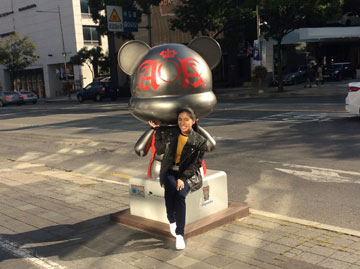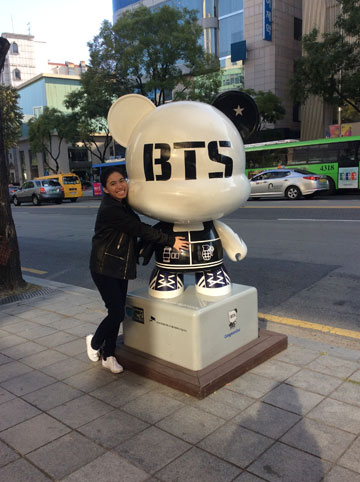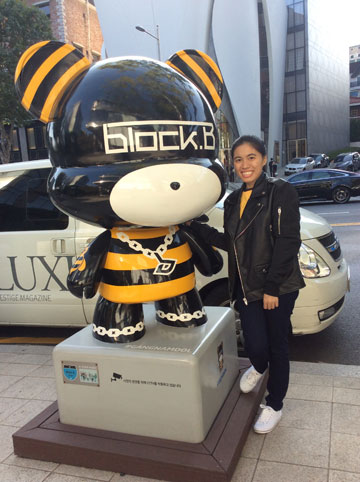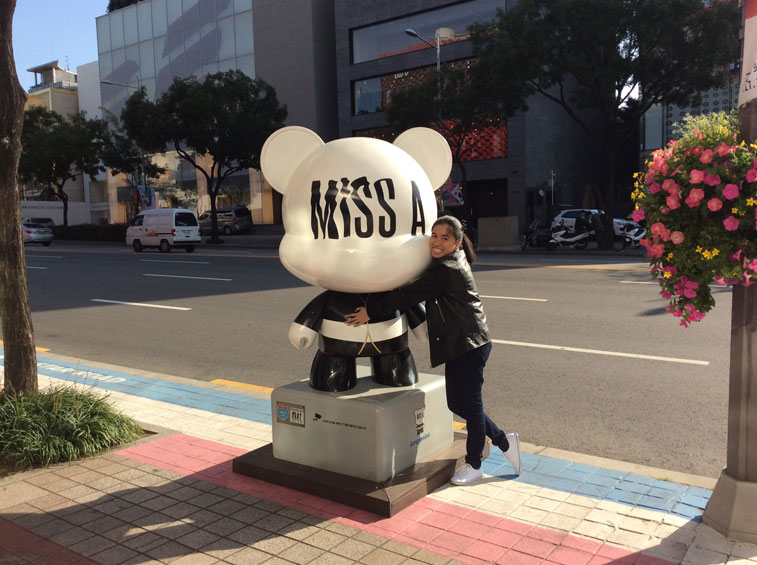 Got7 G Star Zone Apgujeong Rodeo
When I'm done fangirling over the GangnamDols, my friend requested for us to go to Hongdae already for the Samgyeopsal so we head to the nearest subway station which was the Apgujeong Rodeo. By the time we went down the escalator, I was literally stunned to see a corner dedicated solely for Got7. "Oh! I'm not yet done fangirling. There's a lot more here". I told my friend as I gave her my ipad and pulled her to take pictures of me. Good thing, she's also a Got7 fan, so there's no problem delaying her Samgyeopsal. hehe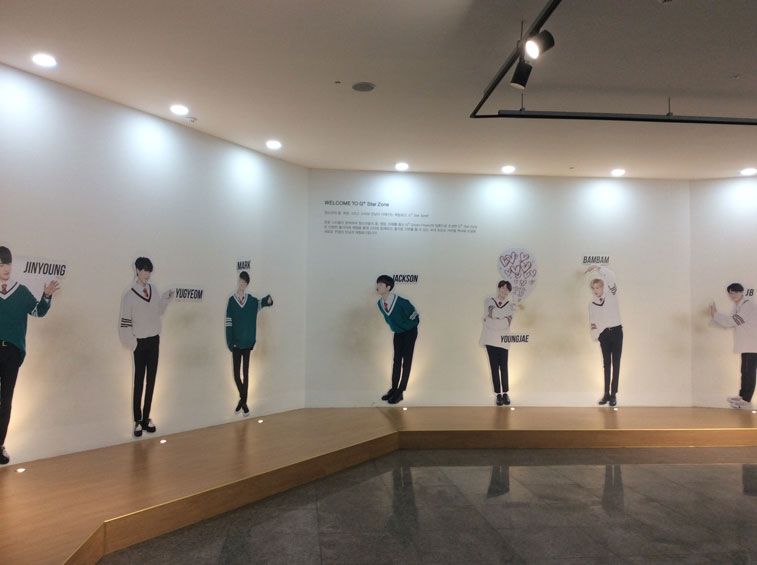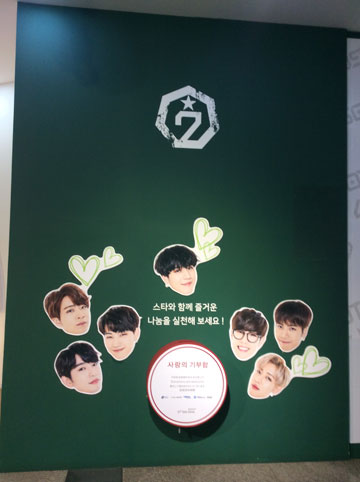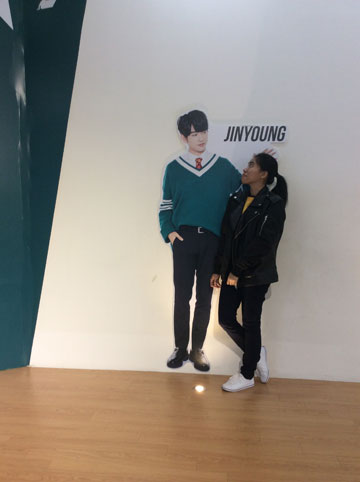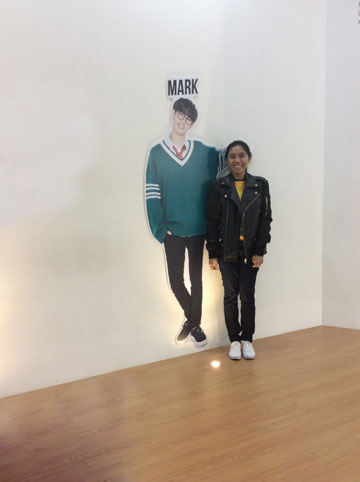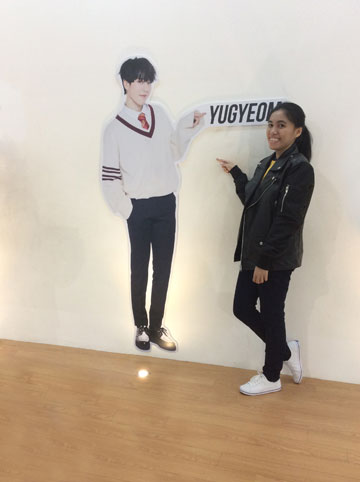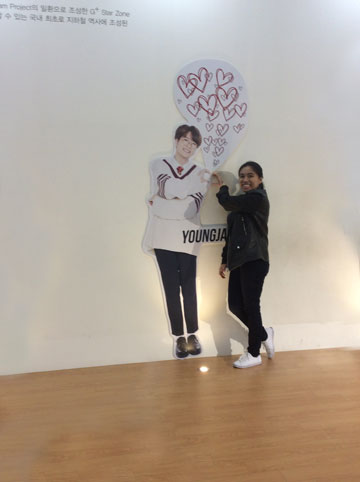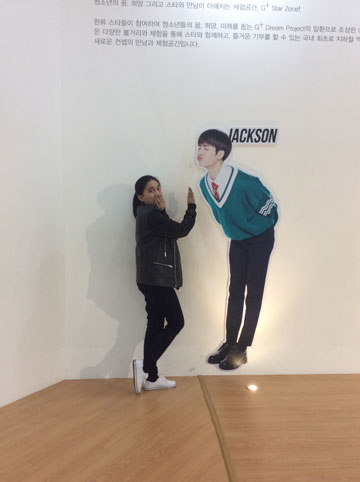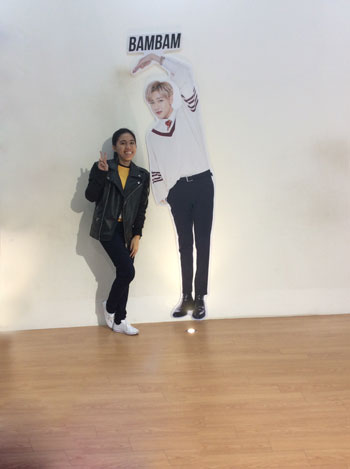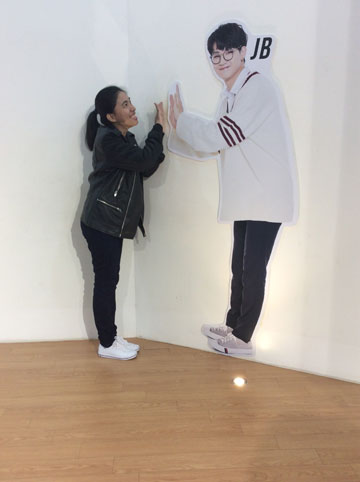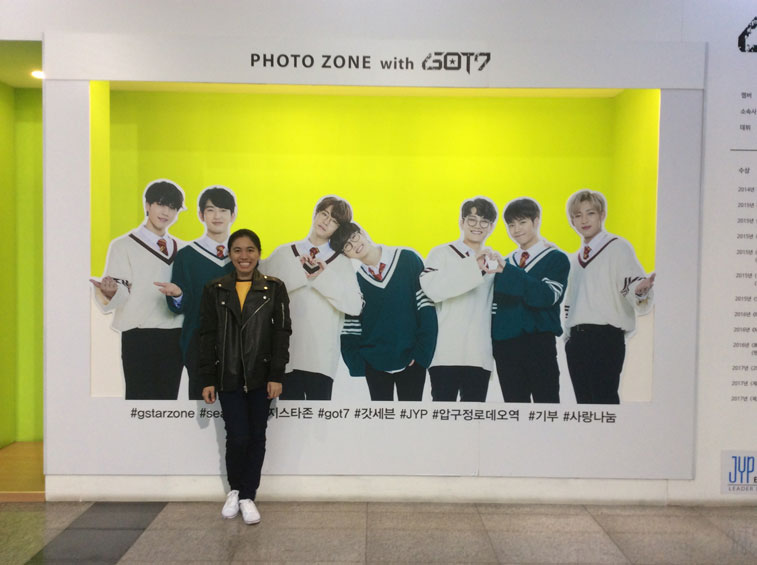 "The 통근구이" Branch in Hongdae
"The 통근구이" was my favorite bbq meat restaurant in Korea. The meat was really good and fresh. Also, the price was very affordable. I first tried this in Hapjeong last year when we went to YG Entertainment and by how delicious their meat was, I knew immediately that I have to recommend this place to my family and friends.
So when I went back this year, I immediately know where to bring my friend for her to taste real Samgyeopsal and that was here in The 통근구이. I'm so glad they have a branch in Hongdae so we will not be needing to go to Hapjeong for this.
We ordered the meal that has an unlimited beef, pork, and sausage. Then we just added rice because you know, #riceislife. I'm so glad my friend loved it too! She said it was the best she have tried as well! 🙂 We were happy to go back to the hotel after completing all our day2 activities! 🙂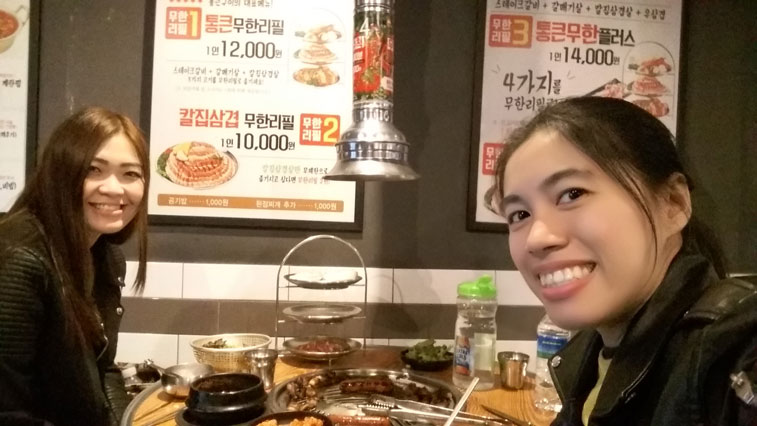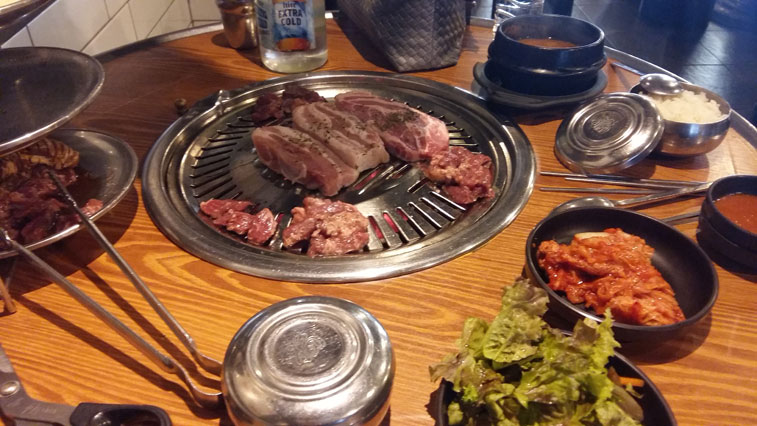 —–
Day 1: TRAVEL GUIDE: 6 DAYS AND 5 NIGHTS IN SEOUL KOREA
Day 2: SM TOWN DANCE WORKSHOP + KPOP STAR ROAD
Day 4: VISIT HISTORICAL PLACES, SHOP AT LOTTE MART AND HIKE AT NAMSAN TOWER
Day 5: PETITE FRANCE & NAMI ISLAND