I've met with my 한글교실 classmates last Saturday to attend K – Street Festival at Bonifacio Global City. It was really exhausting as there were so many people (I'm not a fan of crowded places) but I was happy to be able to bond with them again and tried different Korean foods at affordable price.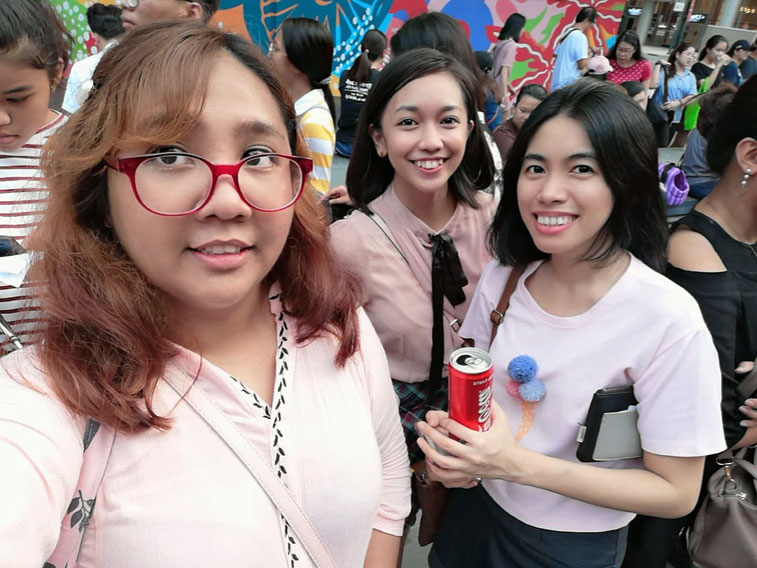 I remember, it was last year when I started ticking off my 2018 quarterly goals. One of my goals was to study Korean Language because I wanted to translate my blog into Korean to connect to Korean audience.
I was supposed to enroll at KCC since it was just a jeepney ride from our house but their enrollment for beginner class was booked in a matter of seconds and I didn't make the cut. Luckily, my friend, Leal, messaged me right after the enrollment in KCC closed if I wanted to join her at Hangeul Gyoshil / Learn Korean PH, a TESDA Accredited community that conducts classes for Filipinos who want to learn the Korean language and culture. Since, I was eager to learn that time, I gave her a "Yes!"
Beginner – Summer Class (
여름 반)
We were enrolled on the 17th Season beginner class. I was surprised that there were a lot of people wanting to learn the language. We were actually 100 students in our class when we started but later on the number decreased by 30% maybe due to personal conflict schedules!
The BEGINNER CLASS in Hangeul Gyoshil was really fun. We learned a lot from scratch — from Korean alphabets, basic conversation, and to forming sentences. I really enjoyed the balance of learning Korean language and Korean culture. Our class lasted for two and a half (2.5) hours per session. The whole 2 hours was spent on the language class while the last half hour was spent on learning Korean culture such as manners, tourist spots, music, and dramas which was sometimes discussed in like a game.
Our teachers were kind and nice too. They taught us each lessons patiently until we get the topic. If they assessed that we were not getting a certain point of the lesson, they will review us and discuss it with us in a way that we would understand.
My favorite lesson was the "basic grammar lesson". I love the feeling that I'm able to write sentences in basic form. Being able to write in Korean was my goal, so having a good starting point was already a success. Honestly, it was this lesson that encourages me to enroll in Intermediate class right after we have completed the Beginner class.
To encourage students to excel, LearnKoreanPH have this reward that whoever topped the class will be sponsored for a trip to Korea. (This was what I know as I write this blog. Changes on the reward was on learnkoreanph discretion.)
Some snapshots during our Beginner Class Graduation!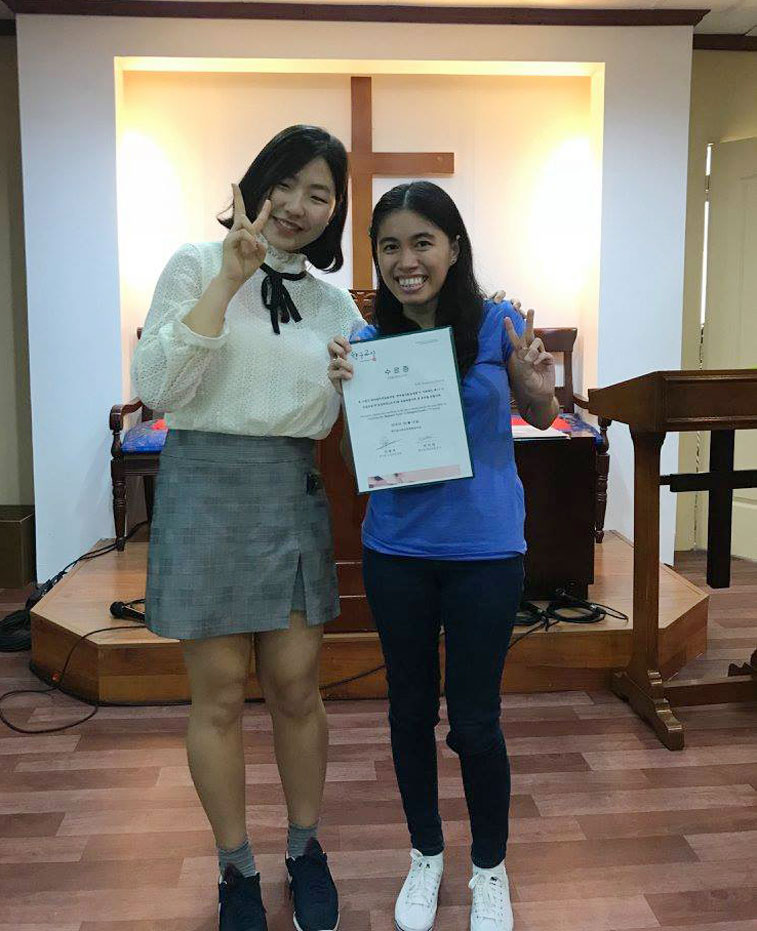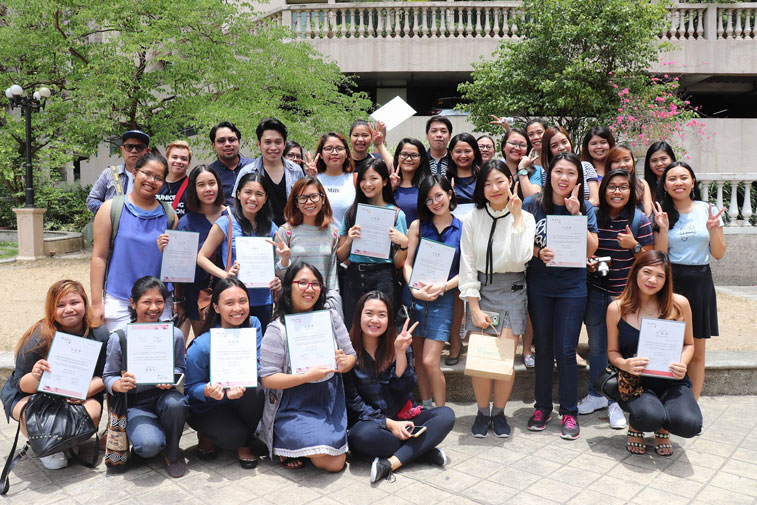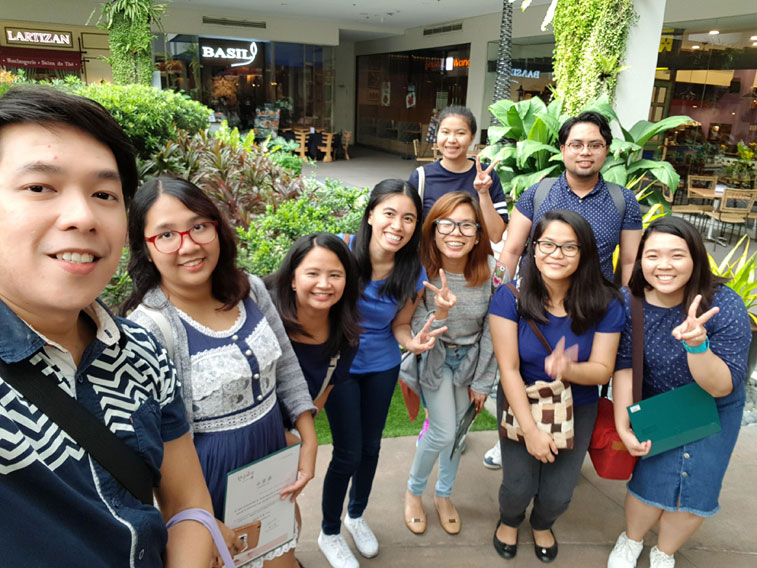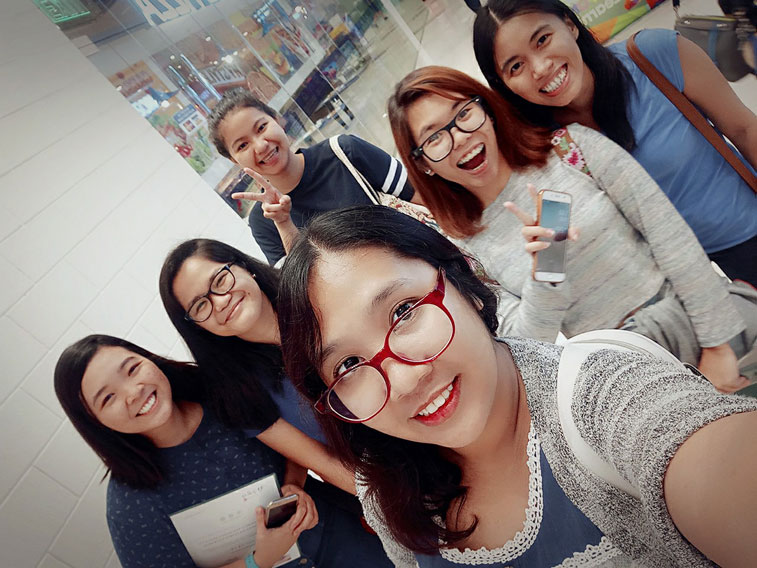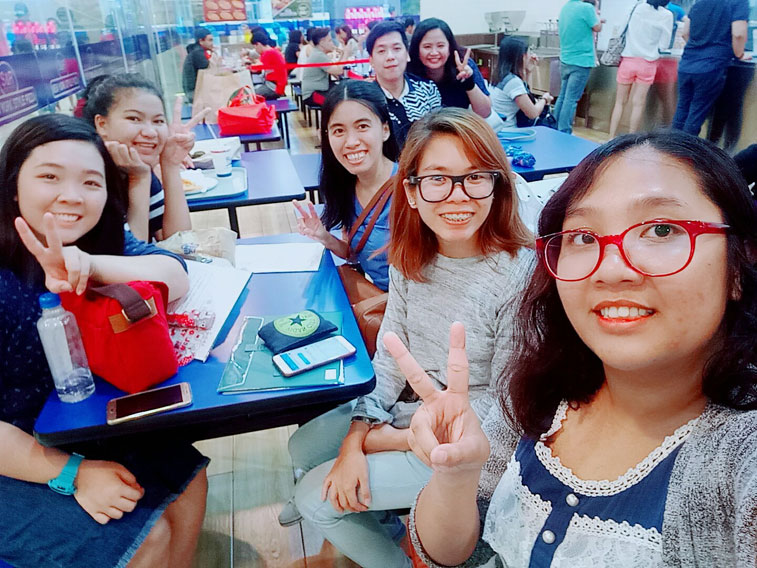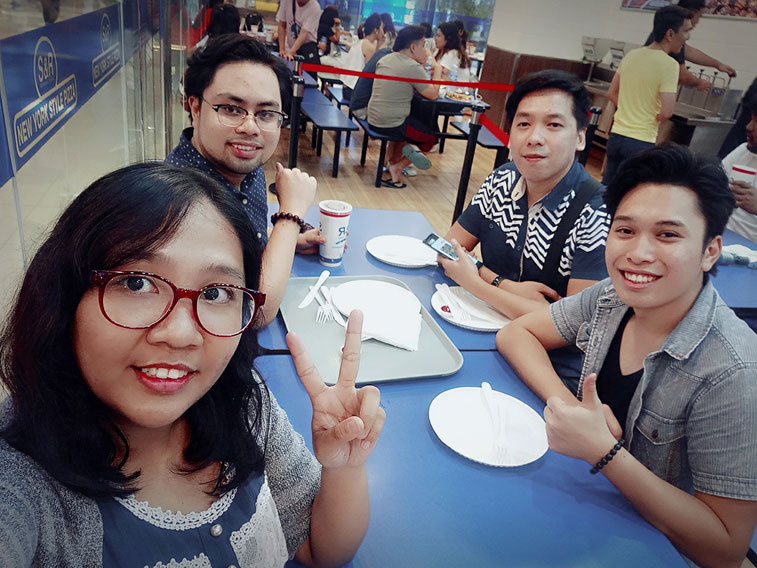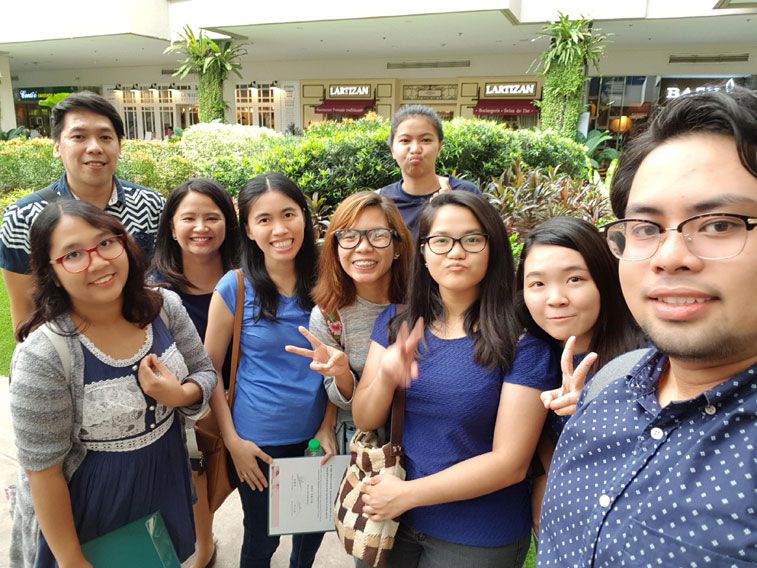 Intermediate Class
Our INTERMEDIATE CLASS was a challenged for me! I know that this level will be a bit hard but I didn't expect it to be that difficult. It's like jumping from Grade 1 to Grade 5 real quick and I'm not prepared on that. My skill level was still on level 2 or Grade 2 that's why the shift was hard for me.
The duration of our class was the same as the beginner class, the only difference was that it's only pure class without the half hour games. Although, we have a recess! My favorite time for mind refresh! Lol!
We learned a lot of vocabulary and life lessons that we can use on our everyday conversations on this level which was good. I think on intermediate the focus was more on the conversation practice than grammar usage.
Our teacher then was Mogsanim (Pastor) and he spoke Korean in our class. It was okay for me because I can learn through hearing and I can adapt words easily just like how I learn by listening to Kpop music. Although, without the translator, my brain processed things slower than my classmates. Like when our teacher spoke sentences continuously, I'm still processing the first sentence on my brain while they already understand it. That's how Grade 2 I am.
I'm really lucky that my classmates whom I became friends with were patient with me by answering my questions on lessons I am having a hard time with in class. Love you guys! 🙂
As for me, my conversational skills improved a lot because of this class and it helped me converse with locals (just from the basic daily conversation) so it was still a win for me. I think me being diligent on assignments, participating on some on-the-spot recitations, and having a good score on my finals were what made me passed the intermediate class. I wasn't able to attend our graduation/certification day because I was out of town that time so I don't have pictures of it. hihi
Side Note: We always get questioned about LearnKoreanPH so we made a video of it for fun! It was our entry too to the Hangeul Gyoshil story. I hope you had a good laugh watching this… Lol!
Photos from our Intermediate Class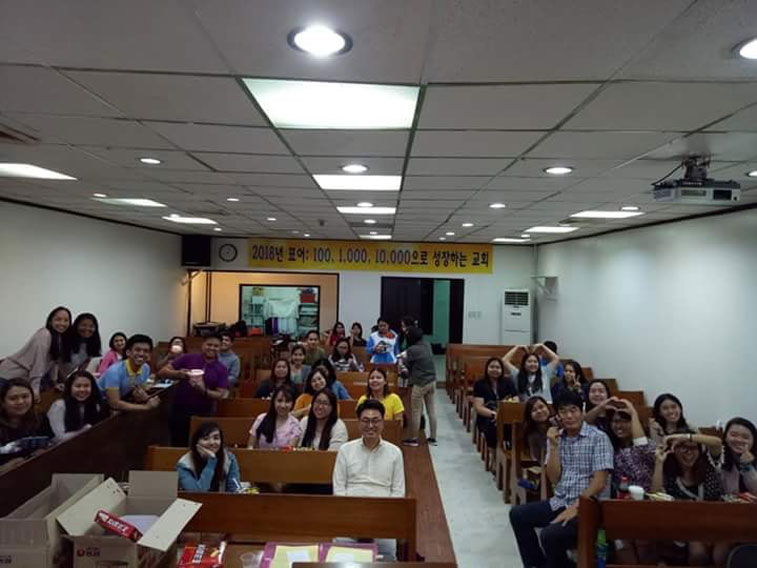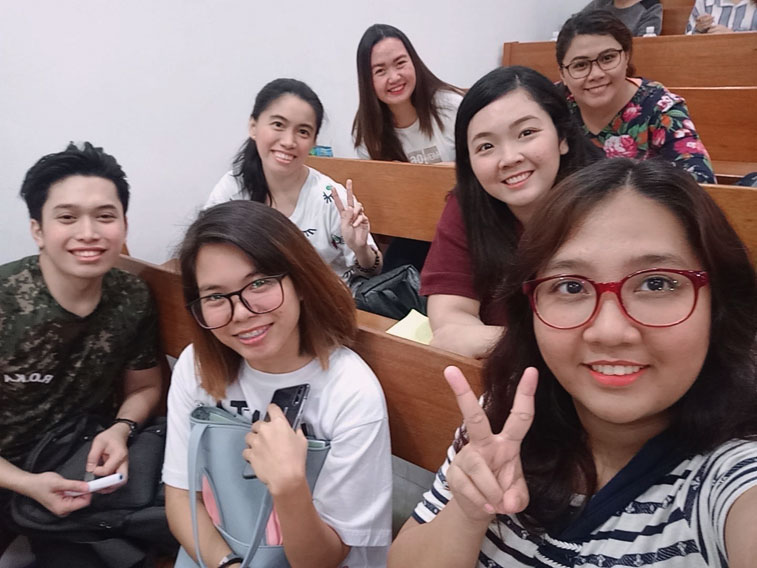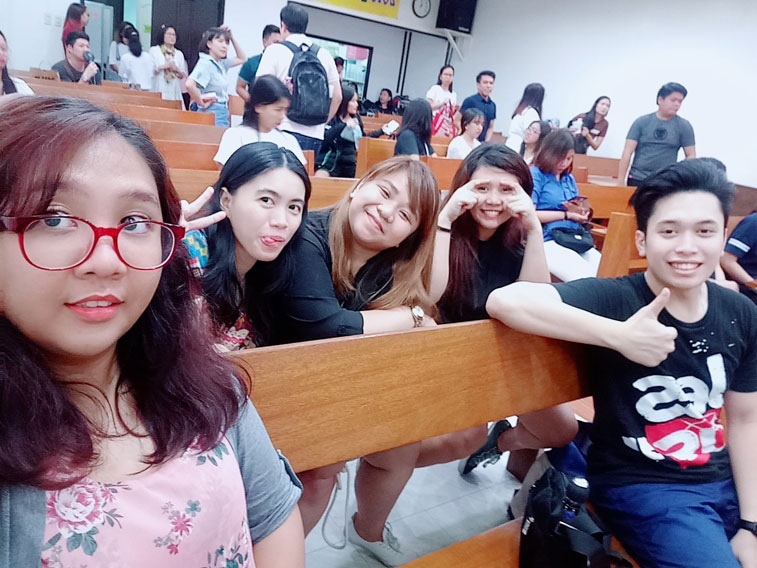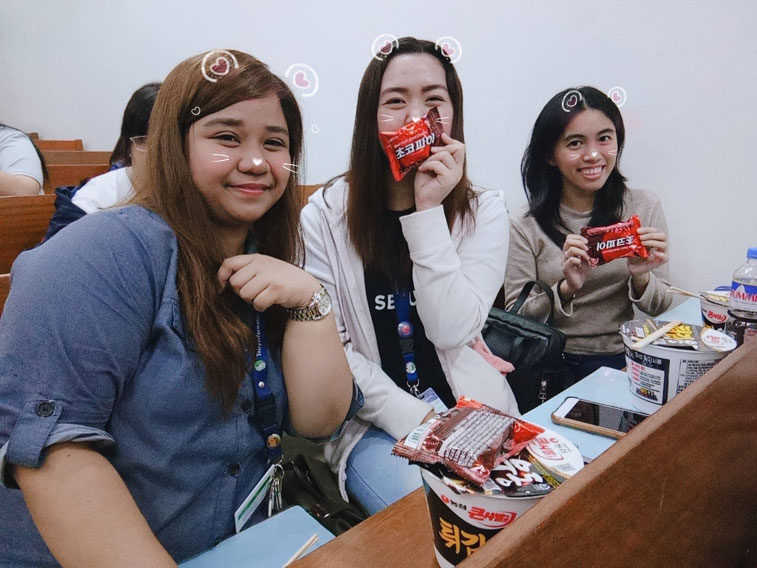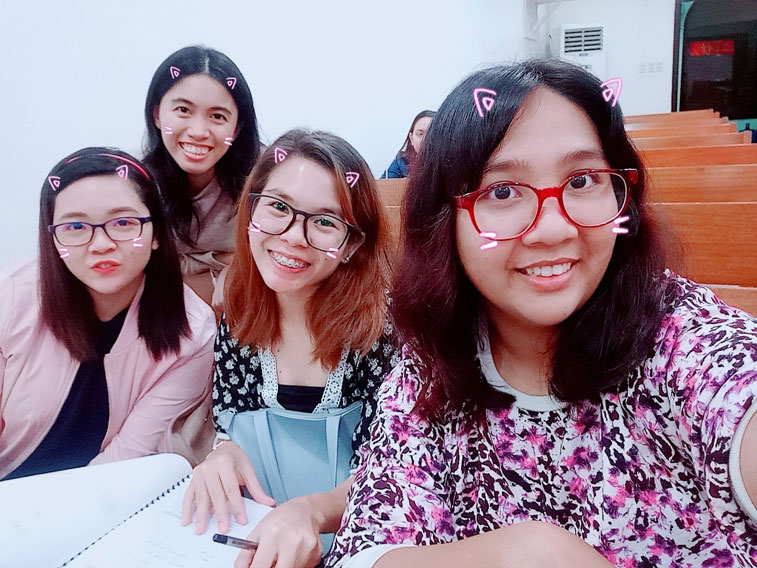 Common Questions  I Get From Those Who Want to Study Korean Language.
When my friends / readers learned that I studied Korean Language last year, they messaged me to ask questions about my experience. I jotted down some of them in a Q&A format to make it easier but if you have other questions, feel free to comment it down. Also, check out the video above because it gives you an overview of Hangeul Gyoshil.
QUESTION: Why didn't you complete your Advance Class?
ANSWER: I enrolled in LearnKoreanPH in the hopes to hone my Korean writing skills because I want to do content translations. However, the classes they offered were more on the conversational than grammar side so I didn't proceed. While it was important to learn the vocabularies, my focused was to learn to write paragraphs and know grammar rules and etc. Also, advance class will be harder than intermediate (which I have difficulty already) so, I guess, the perfect time for me to take on the advance class was when I somehow improved my writing to at least Level 3. If they have a single class for grammar alone, I would love to enroll. The teachers and student council there were nice. Add to that the class tuition was affordable too!
QUESTION: Do I have to know the Korean Alphabets before I can enroll?
ANSWER: It is okay if you don't know the Korean alphabets prior to enrolling the beginner class as it will be taught during class. It's just a plus if you know it.
QUESTION: How much is the tuition fee?
ANSWER: Back in our season, the tuition fee for beginner was Php 600.00 and for intermediate it was Php 700 (I think? I already forgot the exact amount but it was around Php 700). Tuition fee increased per season, but they announced it before the enrollment so make sure you follow their page LearnKoreanPH.
QUESTION: I have work on weekdays, can I still enroll?
ANSWER: Yes, most of the classes in Hangeul Gyoshil was scheduled on a weekend so you can enroll on your preferred schedule as specified on their page.
QUESTION: You mentioned they don't teach grammar? Is it still worth it to enroll?
ANSWER: Yes, learning the basics will help you build a good foundation as you go to the next level. They taught me the basic on creating sentences and some rulings but if you want an in depth knowledge on sentences and grammar rules just like me. I suggest that you enroll on an actual class – KCC and UP teaches grammar on a per level basis.
QUESTION: How do you practice / improve your knowledge? 
ANSWER: It was hard to learn on your own because you don't have someone to correct you when you missed some things. The only way for me to practice was to converse with a local through HelloTalk. There were people I can chat with and they will correct my sentences. Also, don't practice romanization because Koreans don't really have romanization. Writing what we know on a notebook can help with retention! You may check TTMIK and papago for guidance too.
I still have a long way to go for me to be able to write well in Korean but I will continue to study it. I won't rush learning it and just enjoy the process. 🙂
Photo Credits: LearnKoreanPH, Alexzandra Victoria, Innovator Xerwyne, and Yuri Hernandez