Whenever I get my performance evaluated, I always ready myself from the criticism I would received so I won't be blinded by it. And I did, but it doesn't mean that I'm not hurt. Of course, it can be painful but I should accept it lightly.
I tried working on it as days pass by. Yet I keep on being "wrong". Like whenever I try to do something, it's still wrong, and I don't know anymore what is right. I feel anxious and afraid that whatever I do will always be "wrong", so I have to ask my peers to check my work before I submit it. And by doing this every time I need to pass on something, it makes me feel sad and frustrated that I can't even see what's wrong with my work. I feel like I'm being a burden to them than being helpful. It stresses me out.
I'm trying to show a happy face even though I'm crying inside. But no matter how I keep it, the anxiety and stress reflects on my body. Maybe that's why I keep on being sick lately. And I hate this feeling. I hate being sick, and I hate being hard on myself. I have to do something about it.
So I went to my room, lock myself there, listen to Mino's FEAR, and get my notebook. I write all my frustrations there and start reflecting on each and every criticism I received. I write it in a table format just like the table below, defending myself while being reasonable about it. This way, I can see more clearly where I'm lacking and what I need to improved on. And by doing so, it helps me realize that all these criticism being said harshly have a deeper meaning to it  — they want to make me a better employee.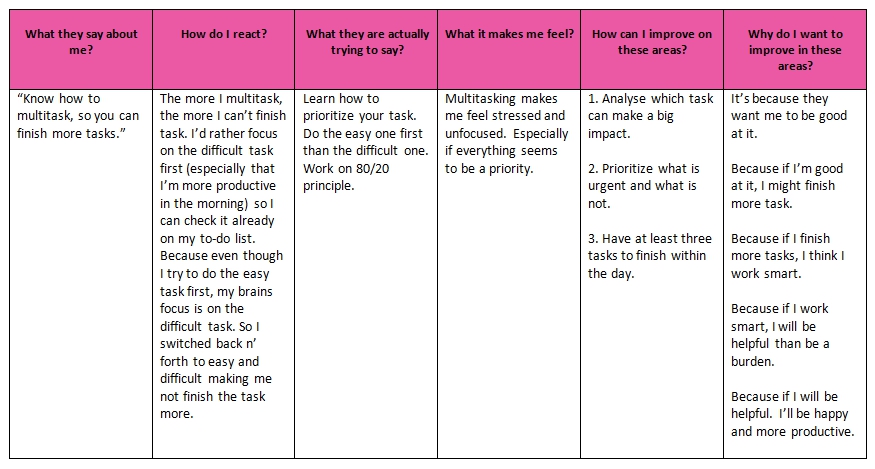 I will try my best to improve in these areas. It might take time. As I'm still trying to look for possible ways to do it. And as I am still trying to heal myself, I know I will still get criticism which can led me back to zero again. But I won't stop trying until I get there. Watch me I'm on my way to "a better me".
Are you having a hard time dealing with criticisms too?
It's okay to feel hurt. It's our initial reaction. But how we move on from this feeling and working on our weakness is more important. We all get these kinds of criticism in whatever we do but we should not let it define us. Criticism is our guide to a better version of ourselves.
And remember that you are not alone. You have your Happy Teen's Tribe family to help you with it.