Fun. Beautiful. and Heartwarming were the words to describe Seventeen Diamond Edge Concert in Manila. Fun because Carats were so energetic singing along to Seventeen songs. Beautiful because Carats have a beautiful fan project and they're pretty too just like Seventeen! Lastly, Heartwarming because the whole show was very touching. I still can't get over it until now.
At first, I only wanted to watch the concert because I wanted to see "Don't Wanna Cry" performance live and I will only accompany my niece since she's still a minor. But, after having a deeper connection with Seventeen through their reality shows I started getting excited for the concert even more.
It's a Fridate!
We dashed to MOA Arena after my work and her class since it's a Friday and the traffic was worst. I'm always on a rush whenever there's a concert I don't know why! Haha Uhhmmm… Or perhaps it's the adrenaline rush that's kicking in.
Then, I've met with the winner of Karen Meets World Seventeen concert ticket giveaway. It's actually a thank you giveaway to my fellow kpop fans who have supported me since I've started #OhMyK!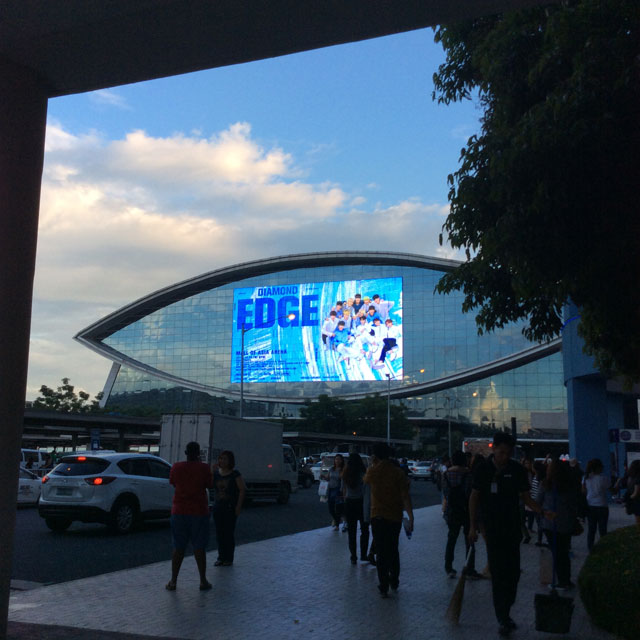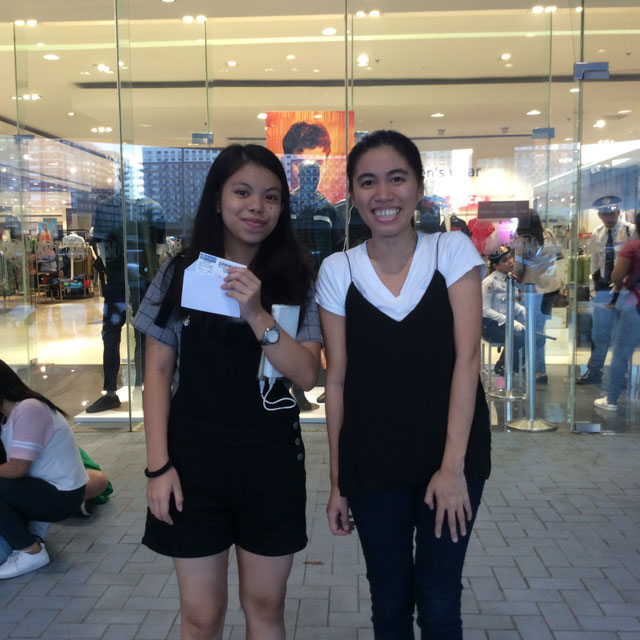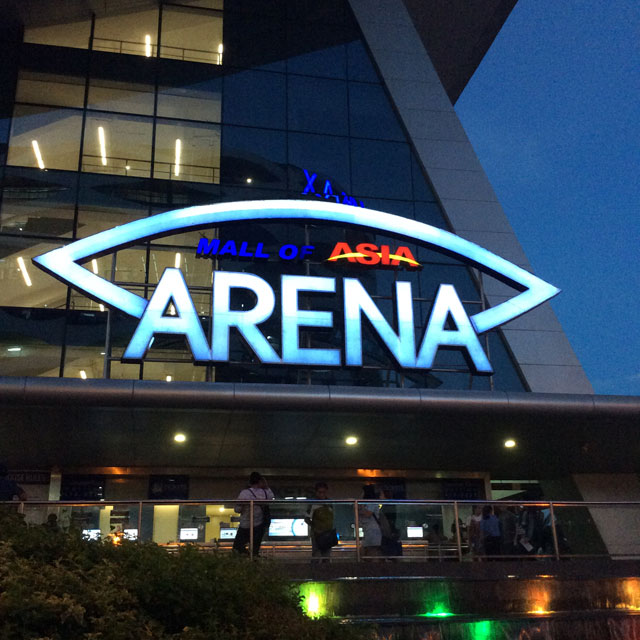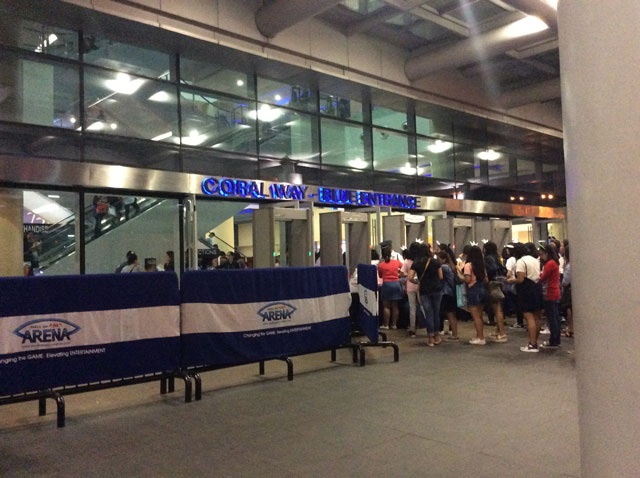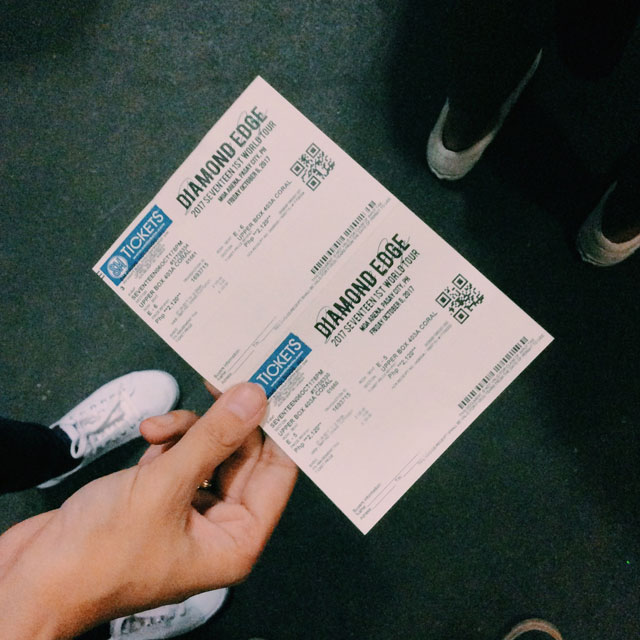 PH Carats Energy was Amazing, OMG!
We really felt the excitement and energy of PH Carats the moment we entered the Arena.  PH Carats were singing along to Seventeen songs being played on the screen. I am actually quite embarrassed because I am not aware of Seventeen's MVs.
I mean I know all their songs because I listened to it on Spotify and watched them on Music Shows but I've got to be honest I've only watched two MVs "Q&A" and "Don't Wanna Cry" so I had to listen until the second line of the MV to be able to sing along with them. 🙁 🙂
Also, I'm amazed at how they were able to memorize the song and name fan chants! OMG! I only know… "Seungcheol, Jeonghan, …. Hansol, Chan!" and the song itself. PH Carats were so great!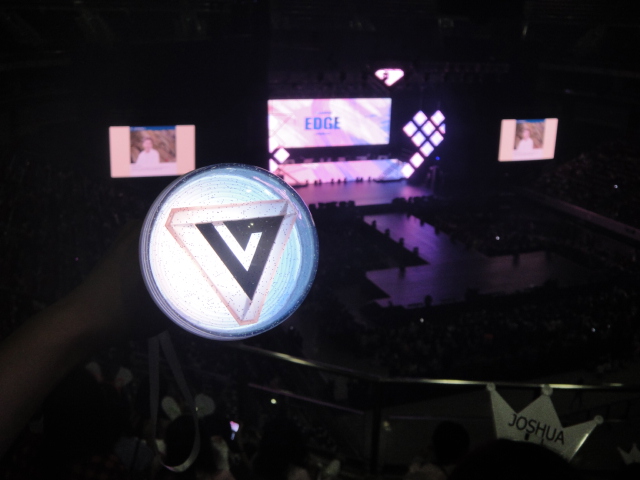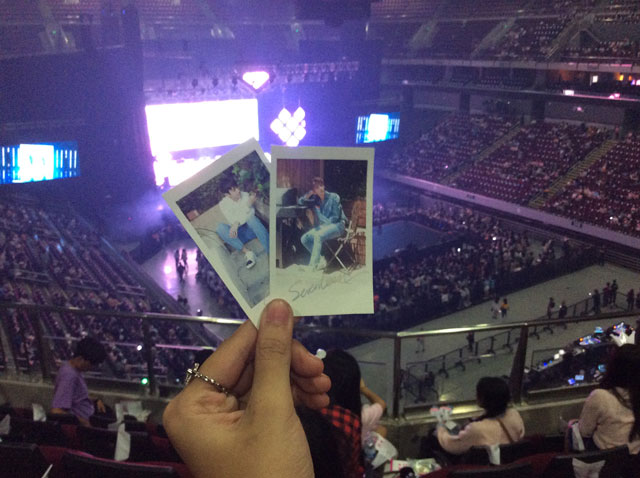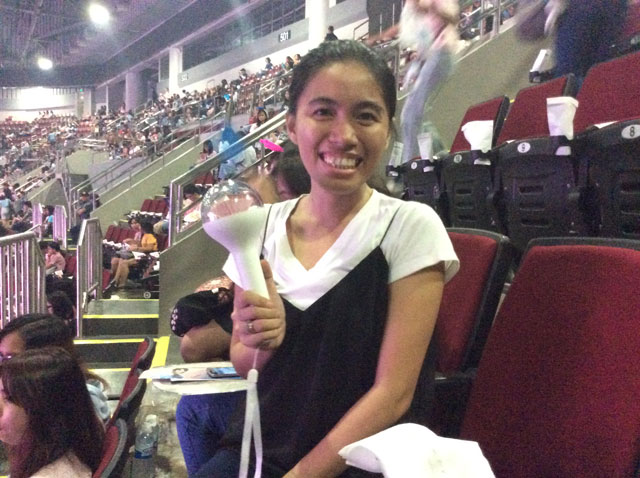 Enjoyed Seventeen's Astonishing Performances
Seventeen performed all the songs in the setlist which includes their title tracks, corresponding unit songs that perfectly showcase their vocal, rapping, and dance skills and remixes of their other songs from their album.
My favorite performances were Pretty U, Swimming Fool (It was an achievement when I sang this perfectly 'geuge nae mamcheoreom swipji anha nan era la lala lalalala'. It was actually my goal to sing it and I did!), Mansae, Lotto, Check In (Hiphop Line bias here), Don't Wanna Cry, Shining Diamond, and Healing.
I'm going to sue this boy: Seungcheol really wrecked my bias list that night! His rap skills swoon me… He got a good part on the rapper line! Now, after that, I don't know who my bias was anymore. It got messed up. Also, Hoshi and Dino's imitation and butt game made us smile in their cuteness!
We absolutely scream our hearts out when  the Hip-hop unit and Leader unit sang snippets from their songs "Trauma" and "Change Up".
We literally lost it when they performed "Don't Wanna Cry". It was one of the highlight of the night. Even I became teary eyed when I saw it LIVE.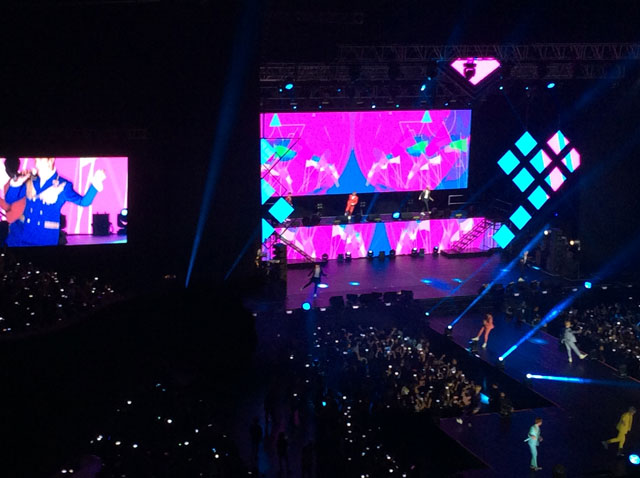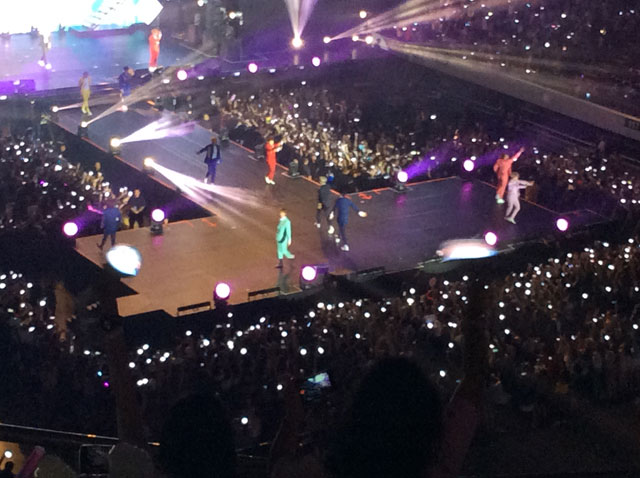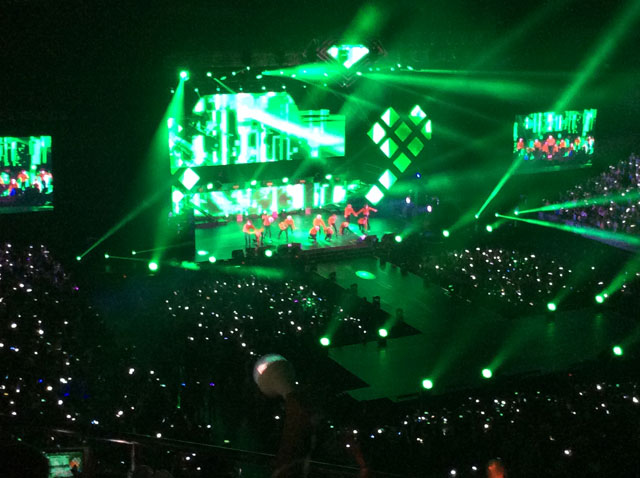 Beautiful Rose Quarts and Serenity Ocean 
PH Carats prepared a beautiful fan project wherein we covered our Carat Bong or Light Sticks with Rose Quarts and Serenity complementing the colors of Seventeen for the encore stage "Shining Diamond" and "Healing".
We appreciated how sat their according to our colors. Even S.Coups arranged the members to match the Carats colors.  We (Philippine Carats) felt that we're one with Seventeen.
The Ocean of Rose Quartz and Serenity was a success!🎉 SEVENTEEN NOTICED IT!😭💕
THANK YOU PH-CARATS FOR COOPERATING!🇵🇭#DiamondEdgeInManila pic.twitter.com/R5SNU9aMR5

— Carat Land PH (@CaratLandPH) Oktubre 6, 2017
Seventeen Diamond Edge in Manila Ended
We really couldn't contain our happiness after the concert ended. We were glad that we were able to see Seventeen complete and they let Manila be their last stop for their concert. Knowing that they appreciated our country made me want to give them my support more.
Although, we were sad that they had to leave Manila soon! 🙁
We look forward to the time that you will come here in our country for another concert. We will hold on to your promise to be back with an even better stage.
Joshua: Thank you for creating such a wonderful experience for us today. We're really looking forward to the time that we come again.
Vernon: Philippine Carats are amazing and I'm so happy this was the last stop for Diamond Edge.
S.Coups: Everyday of my life is meaningful thanks to Carats. If you promise to stand by our side, we promise to stand by yours.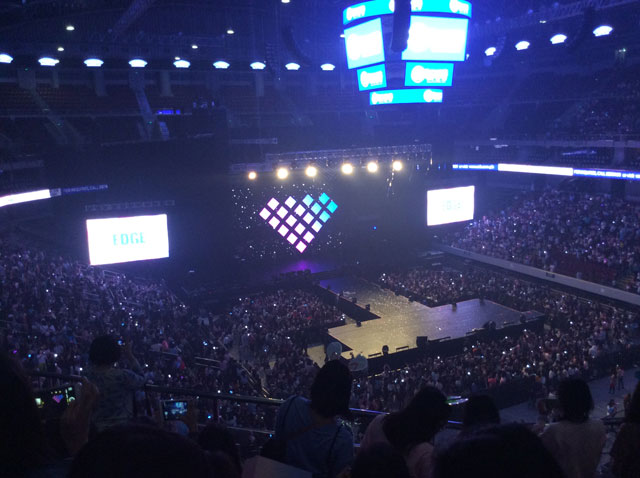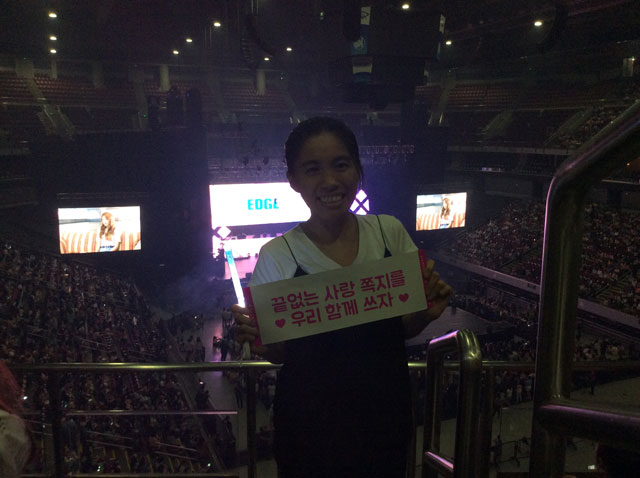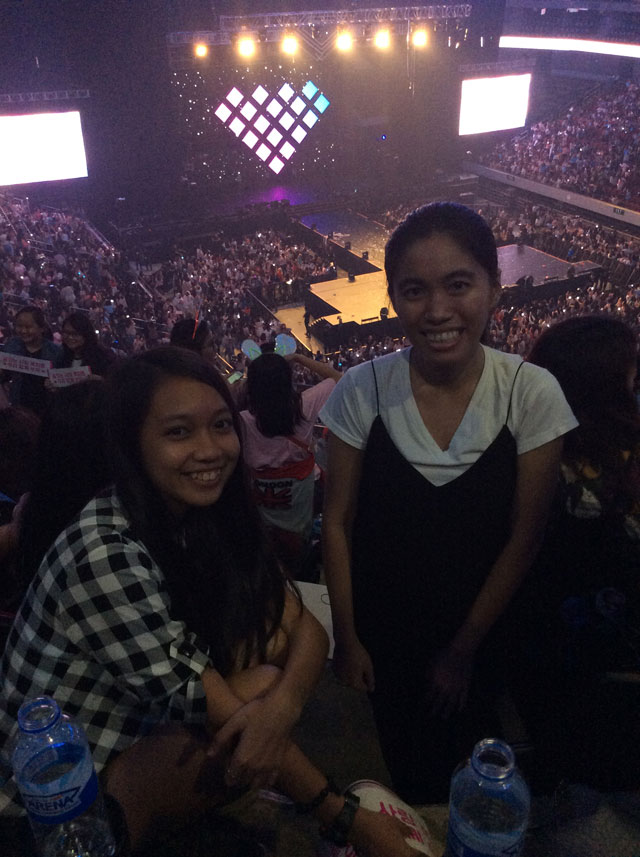 Seventeen Diamond Edge in Manila Snaps
Some of my video clips during the concert! It was a night to remember! 🙂
Share Your Favorite Part of the Concert
Were you there at the #DiamondEdgeinManila concert as well? Let us know in the comments below your most favorite part of the concert.