It's been 3 years since I last saw Got7 and in those 3 years I won't deny that I missed them so much. So, when Pulp Live World announced that there will be a Got7 Keep Spinning World Tour in Manila I felt so happy. Finally, I'm gonna see them again in a CONCERT this time.
I've used my extra savings to buy their concert ticket and it was worth it. I know you always read on my concert articles that every ticket I bought was worth it, because it really was! Money will be earned but the chance that I get to see them live was very minimal so I always grab it when it's there! No questions asked.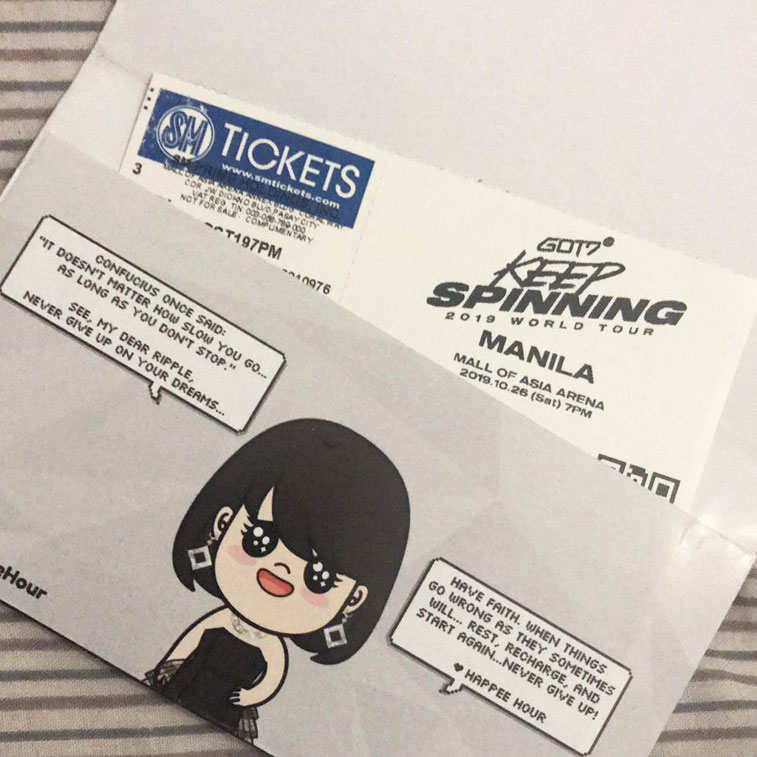 Got7 Keep Spinning 2019 World Tour

 
Yesterday was a busy and exciting day for me because I finished completing the orders from my shop Oh My K! and I attended Got7 Keep Spinning in Manila concert! Guys! I was looking forward for this concert because it was their first in Manila and it was a sold out show too! Yay! 🙂
Actually, it was very smooth from start to finish. It was nothing compared to the previous shows Got7 had here! Kudos to the organizer, the staff and the iGOT7. Like when we got there, we fall in line early thinking that it will take us long outside but it didn't, we went straight inside MOA Arena the moment we fall in line.  Also, it was so cutie-funny, while we were in line there were a lot of iGOT7 (Got7 fandom name) wearing neon green and it was so bright like our Ahgabong (Got7 official lightstick name). hehe
Me and my friends were amazed at how extended the extended stage was. It was so big that we were so close even though we were at the Upper Box section, 402, to be exact. AAAAHHH!!! We saw how handsome Got7 members were whenever they were dancing on our side and it made me faint. LOL! Their dance breaks on the remixes were soo on point. It inspires me to take dance classes after the concert! hihi My personal favorite were Eclipse, Never Ever, Page, Just Right, Thank You, Teenager, Lullaby, Hard Carry, Go Higher, Fly, and Girls Girls Girls.
For the special stages, I really really love JB's solo entitled RIDE and Jinyoung and Yugyeom's unit (NOJB) performance . Alright! Alright! I know I'm biased… I'm a loyalist! 😉 Though I couldn't hide the fact that Youngjae kept challenging my loyalty during the concert with him being such an adorable fluffy munchkin… Especially when he spoke in Tagalog "Salamat sa pagpunta niyo ngayon. Magkita tayo ulit sa susunod. Mahal ko kayo." – Youngjae. Did you feel it too? Eeeyyy!!!
OMG! I felt belong here! Like I felt like the whole concert was a "barkada hangout". The way the members talked to us during their Ment was like they were talking to their close friends. Like it wasn't too formal / informal. There were just enough jokes and seriousness. It made me feel COMFORTABLE and AT HOME. I loved it!
What made it more fun was when Bambam kept calling JB during the English Time. As if he's making fun of him like "this is my turn now!" *evil laugh* You know how they used to mock each other like a family. And iGOT7 goes "Go JB! Fighting!" . Not only that, there were a lot of funny moments too such as follows:
When Jinyoung told us that most of us might have forgotten that he was a dancer too, and everyone started shouting "Sample" and then the members got confused then Jackson says "excuse me" and asked one iGOT7 to say what it meant and the sample turn into "Sana All" (really? kuya? Lol).
Then there was this time when Bambam requested all the girls and boys to shout "Hell Yeah" and he was so surprised at how big the number of fanboys that were present at the concert.
When everyone shouted "Walang Uuwi" and then we told him that it meant "No One's Going Home" and Bambam started dancing to it and JB was like our next comeback song is "Walang Uuwi" and Jackson started drumming roll "Wala Uuwi." Lol I remember during Youth Concert in Manila Day6 put the beat before and then now Got7 has the choreography. I smell collaboration. Kidding!
Also during encore we told them "Isa Pa" and then Bambam was like

"Pizza Hut? Are you guys Hungry?"

That was hilarious.
Bambam's "skrrt, skrrt" that reminded me of Mimiyuuh. hihi
The translator was making shortcuts on the members messages and it was so funny because we don't know if it's the actual translations or not. Jb and Youngjae smiled at it too! Haha This was the first time that the translations were in Tagalog! All concert translations before were in English.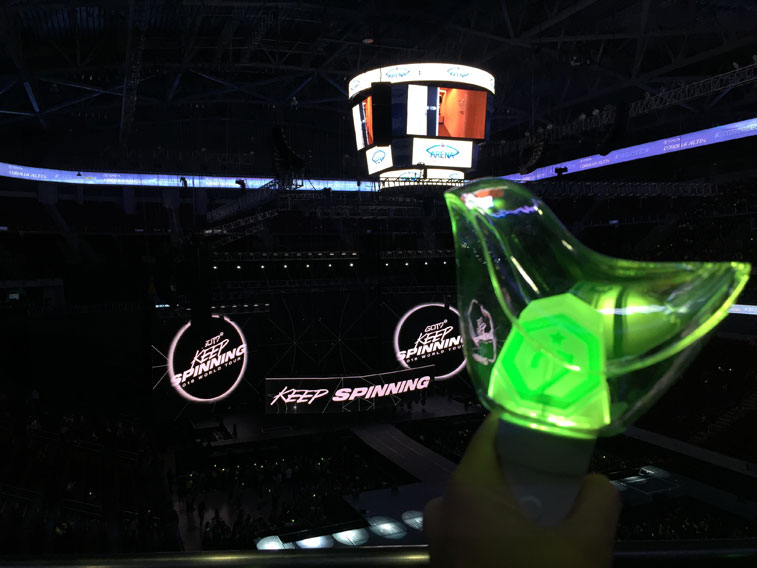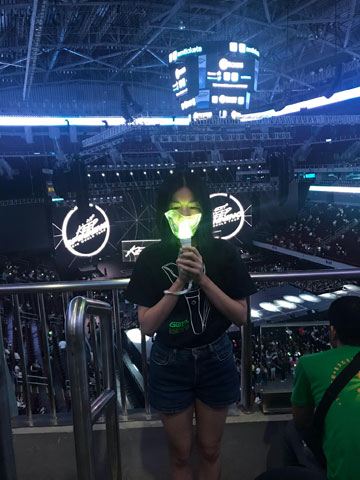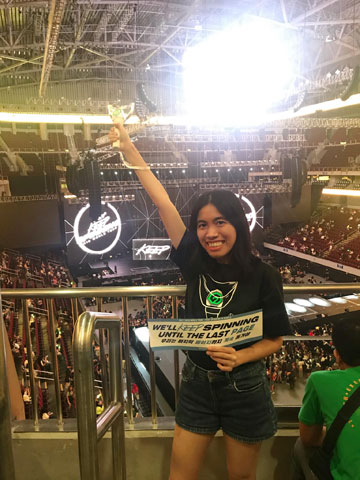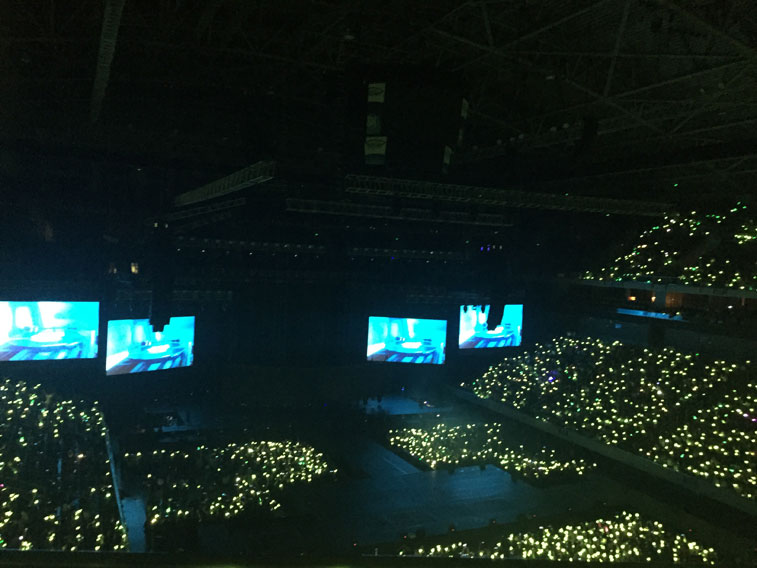 This was the only fancam I had because I enjoyed the concert with my eyes.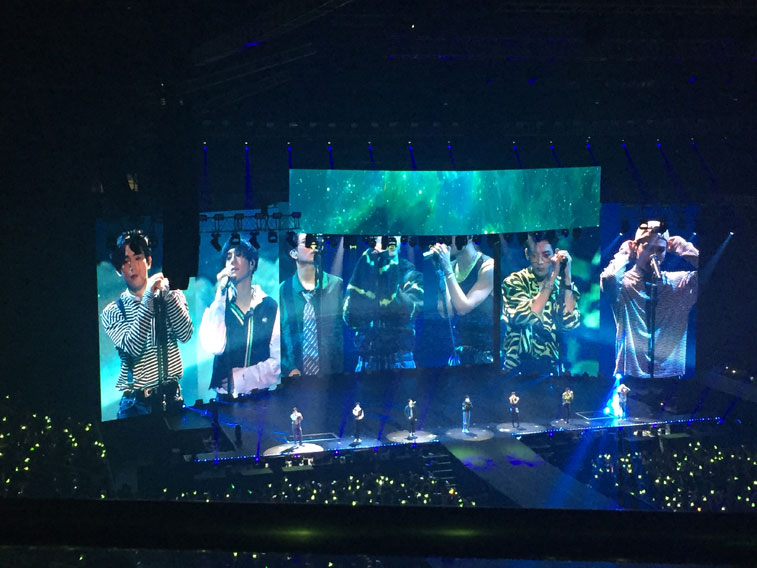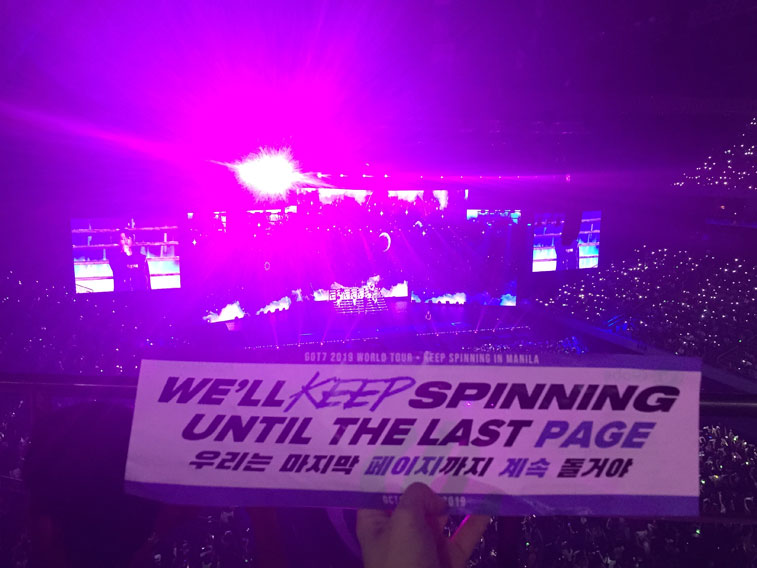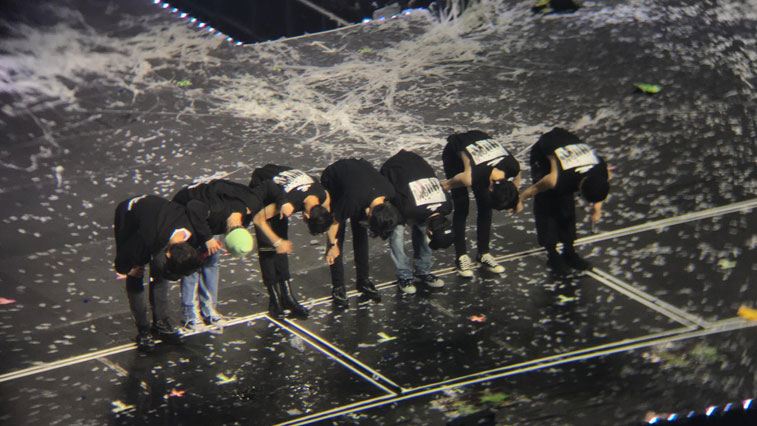 I really enjoyed the concert because I saw in Got7's eyes that they were genuinely happy too! I've watched their show before and this was the first time I've seen them smile like real smile and that warms my heart. I'll be there on the next concert that's for sure! I'll wait no matter how long just for you guys! 🙂
WE WENT OUT OF MOA ARENA LOYAL TO OUR BIASES
There were stand alone posters of each members placed near the entrance of MOA Arena and I took the chance to line up and take a picture with my biases (JJP) and Tam's biases (JACKBAM).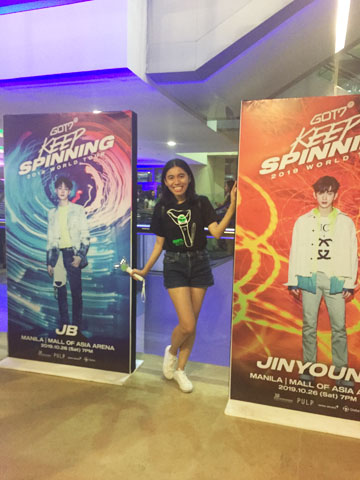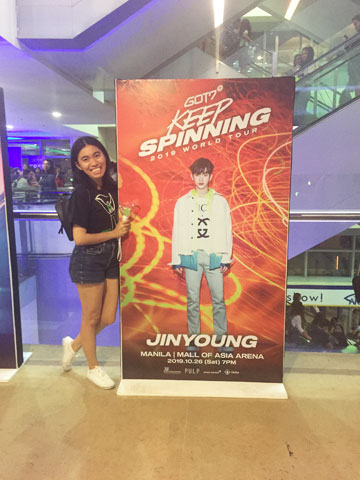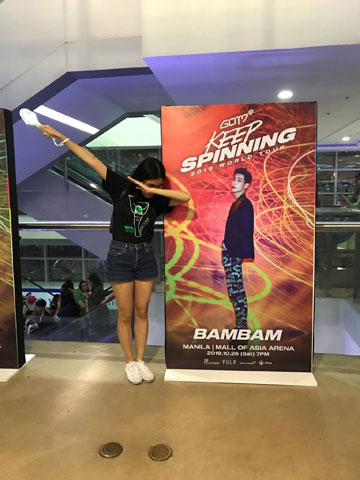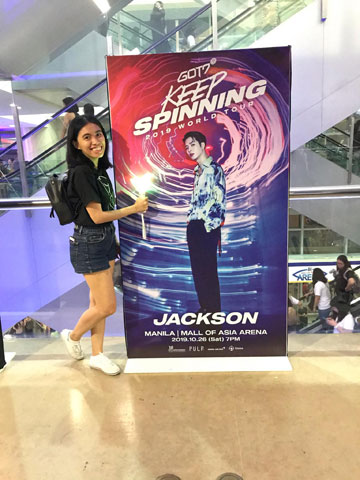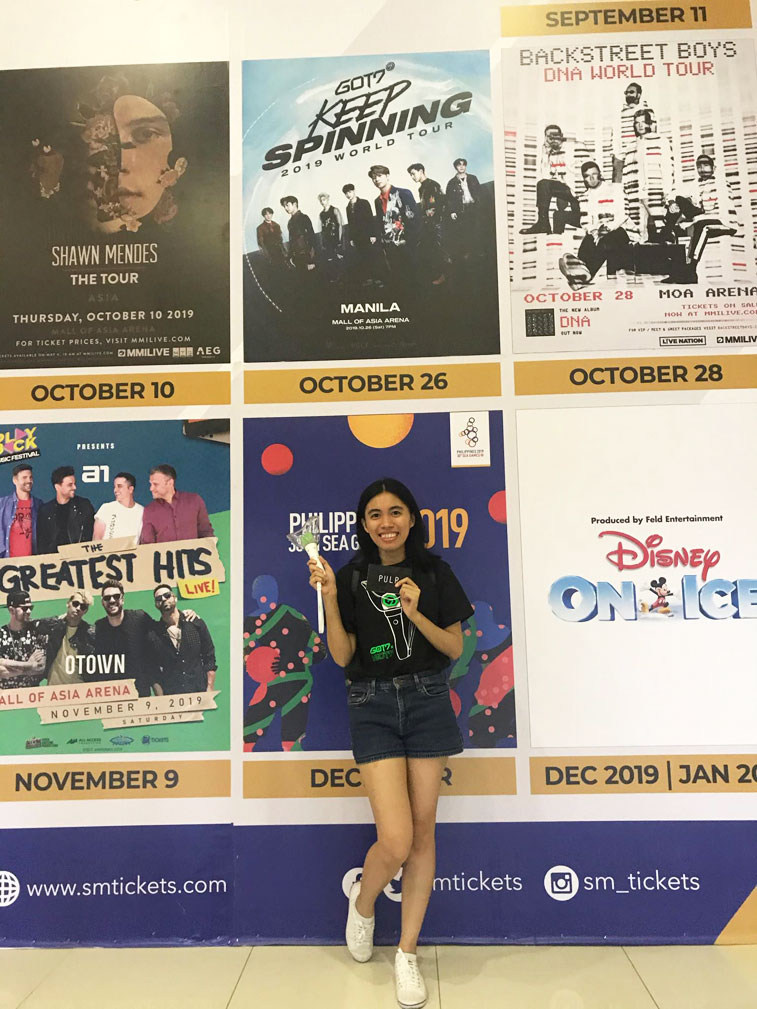 Photos by Tam.