When we saw the message "We Hope To See You All Again in 2017" flashing at the end of Epilogue Concert in Manila last year, I knew I had to save up for that Concert. I couldn't afford being on #teamnaubusan or #teamSRO again. It was depressing! I had to be there with reserved seating. So I saved up for a VIP ticket (the same price as epilogue) even though I don't know what Concert they will have this year and how much it will be.
XXX
Fast forward to February 2017, Happee Sy announced on twitter that Wings Tour in Manila Concert will be a two-day Concert. I'm really happy because I know that chances of us being on #teamnaubusan has now lessened. But of course we were still nervous as this will be twice as sparta at it was last year.
So as preparation for this, we've conducted a poll on twitter on what tickets PH Armys were planning to buy and on what day? I was surprised that PH ARMYs were so dedicated. They were planning to buy VIP tickets on both days (based on poll results). Oemgee mga RK (rich kids). With that data, we knew that there's a huge competition for VIP C. So we have to opt for Upper Box B for both days or Upper Box A Day1 and Upper Box B Day 2.
Then, after that, we've made another poll to which SM Branch they were planning to buy and most of their answers were SM MOA, SM Megamall, and SM North. PH Armys will flock to these malls on ticket selling, so we have to avoid these malls as much as possible if we wanted to have a good queuing number.
We even contacted friends and relatives who work in SM to help us get inside the mall early. Apparently they were based in MOA which was quite hard. As we were all aware there were fans who will camp out a day before the ticket selling even though we told them not to for their safety.
As you see, I really took an effort to form a plan for this Concert, because I really wanted to watch their concert and see the boys even for Just One Day (cue MV)!
Wings Tour Ticket Selling Experience
I woke up at around 6:30am but I felt like I haven't slept at all. Maybe because I'm excited and at the same time nervous! Excited as finally we will be able to buy concert tickets and nervous as we don't know if we will get one.
Our original plan was to go to SM Aura because it's near our place. But when I checked on twitter that the lines were really long outside like from the second floor escalator near Starbucks going to the Mall's entrance. We backed out, I called my cousins that we should meet at SM Makati instead. I packed my supposed to be breakfast, had a quick shower, and head on to SM Makati.
We arrived at SM Makati around 7:45am. There were already people in line but not as long as that on SM Aura. My cousin and niece fall in line as I got us a number (167,168, 169). Yes! We were already a bit far, but the Good News was we don't need to run.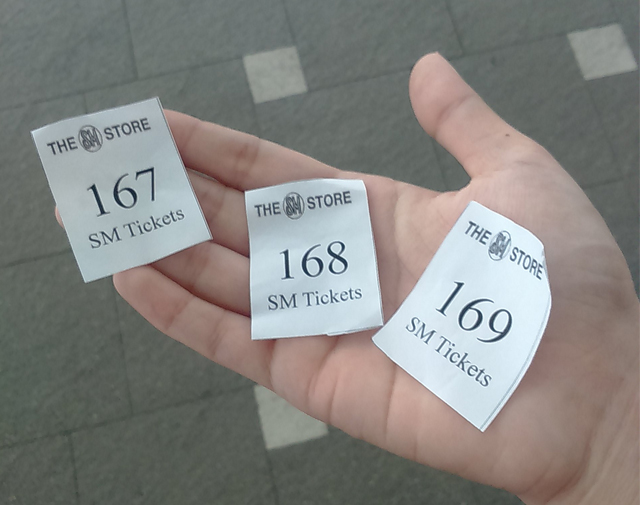 I'm so glad that SM Makati was also prepared for this Concert Ticket Selling and they were organized unlike last year. There were chairs lined up beside the escalator and the guards and SM Makati staffs outside strictly checks our numbers to ensure that we were arranged accordingly. Kudos to them for making the ticket selling to be as smooth and organized as possible!
We met two co Armys outside whose biases were V and Jimin. They were planning to buy Ged Ad tickets for Day 2. We chatted and shared Fan Meeting videos as we wait for our turn to the counter.
It was 12:30pm when we got to the second floor. Excited. Nervous. Afraid. Hopeful were what we felt as we move closely towards the counter. We looked at those Armys who go out happily as they hold their desired tickets. At the same time checked Twitter for updates. Apparently by that time VIP C (both days), Genad, and Upper Box Day2 tickets were already sold out. Our hope was to get Upper Box B for both Days. But since majority of Armys were targeting Day2 tickets our only hope was Day1.
Me and my new found friends were checking online to get updates on the status at other malls. And yes, in just a few seconds, what you were thinking was right! We got bad news DAY2 tickets were already sold out and it was also announced by the staff here in SM Makati.
Our last resort was Day1 upper box A or B tickets, whatever seats it will be. We can't be choosy anymore. Our desire to see them were at stake here.
Finally, we were already second in line. We were just waiting for the one in front to buy their tickets. They were trying to buy GenAd tickets, hoping to get one when the site refreshes (it happens last year). Unfortunately, they were told that it was really sold out for both Days. Too heartbreaking! 🙁
When it was our turn, we were thankful that our desired area in Upper Box A were still available. However, the seats were scattered. Like we cannot seat together. Two seats were available and the other one was already a bit far from the first two seats. We're three and we cannot be apart so I told the lady in the counter to check if there were other areas in Upper box A where three seats were available and it was worst – all seats were apart from each other. The lady tried to go back to the first one we saw and thankfully when she refreshes the website there were three seats available so we got it! We got the tickets! Woohoo!
We were sooo ECSTATIC the moment we got our tickets. We finally have our seats and we will be able to enjoy the concert more! LB SRO was such a struggle especially if you're short. But the technique there was you need to be early in line so you can have a good view on standing section. Our lack of sleep, hunger, and tedious planning for this ticket selling was all worth it!
A week before Concert Day…
I saw a Facebook post from my friend that she was selling her GenAd Ticket for Day2. Because I really want to see them on both days. I immediately bought it!!!
But three days before the Concert Day…
Due to unforeseen circusmstances, I messaged my friend to resell the ticket. I was so sad that I didn't get to watch them on both days but I'm happy that there was another Army who got a chance to watch the Wings Tour Concert because of that ticket… I will be watching Day1 so I should be okay with that.
Countdown to Concert Day…
As we countdown to the Concert Day, my friend sent us a Wings Tour Setlist Spotify Playlist so we can memorize the songs especially the solos and rap songs. I tried memorizing Cypher Part 4 though it was really hard. haha
D-Day: BTS Wings Tour Concert!
We woke up a bit early during the concert day. Because how can you sleep well thinking it's going to be BTS concert day the next day, Right? Excited na excited lang!!! Haha
My cousin went to Mall of Asia (MOA) Arena earlier than us because she needs to claim her ARMY Bomb version 2. After that, she went to our house to fetch us so we can go to MOA together. We were laughing at her. Because when she arrived at our house she brought a lot of official merchandise and got lots of free Taekook pics from Fanmasternim noonas.
Of course, I got envious… I wanted to buy merch too — BTS Wings Official Jacket. So, I skipped lunch and had my preparation routine before we head to MOA Arena. We actually plan to head there 4pm since we already have seats and we don't need to run to get a good position inside but because I can't take my feels anymore we head there 12:30pm. Haha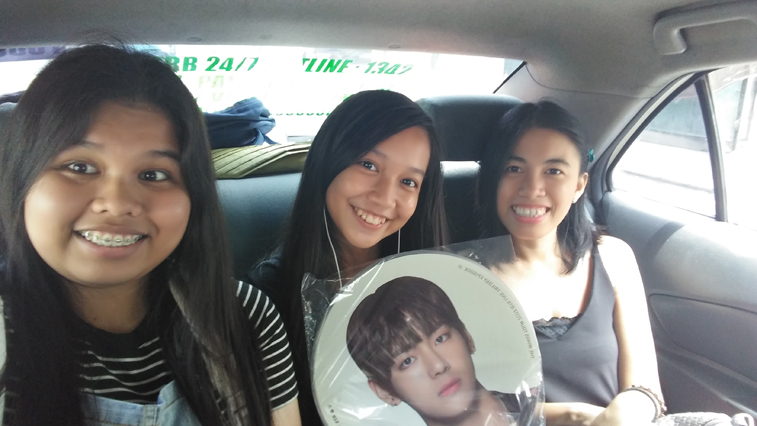 Because Uber surge was so high that time, my cousin and niece decided to take a Taxi as it was faster than a bus. I was against it because I have trust issues with Taxis' in the Philippines (In fact, you can count on my fingers the times I rode a taxi in a year). And you know what happened after we rode one, the taxi driver has been talking on his mobile phone throughout the trip and so when we were telling him our itinerary, we passed by it and  took a turn towards the other side of MOA. Super inikot ikot kami. Maybe he thought it was Sarah G's Concert.  Kidding! haha
When we arrived at MOA, we looked for my cousins' merch from an online store. Then proceeded to Greenwhich to eat lunch. Armys were already flocking inside the restaurants. We were able to meet some of them (Taekook bias). We took a photo from their camera as a remembrance. Although, we didn't get the chance to get their social media accounts (If you're seeing this post, please contact me. haha). It was fun talking to them about BTS. 🙂
We proceeded to MOA Arena Marina Bay Area after we have eaten our late lunch to look for BTS Concert Headbands.
Concert Tip: Do not buy those long lightsticks outside MOA because it's not allowed inside the concert area. It will be confiscated by the Guards at the entrance gate. So Save Your PHP 300.00 and just buy those small light sticks and headbands instead.
We also tried getting free BTS goods from fansite noonas but since they were being squeezed in by Armys so we backed out and proceeded to the area where BTS Standee was located. I even joked to my cousin "Perhaps the organizers know my biases in BTS because they have the standee arranged according to my preference: Jin x Suga x Jhope". hihi Of course, I only took pictures with the three of them before we headed to the entrance gate.
PS: The truth was those three have less lines than the other members. haha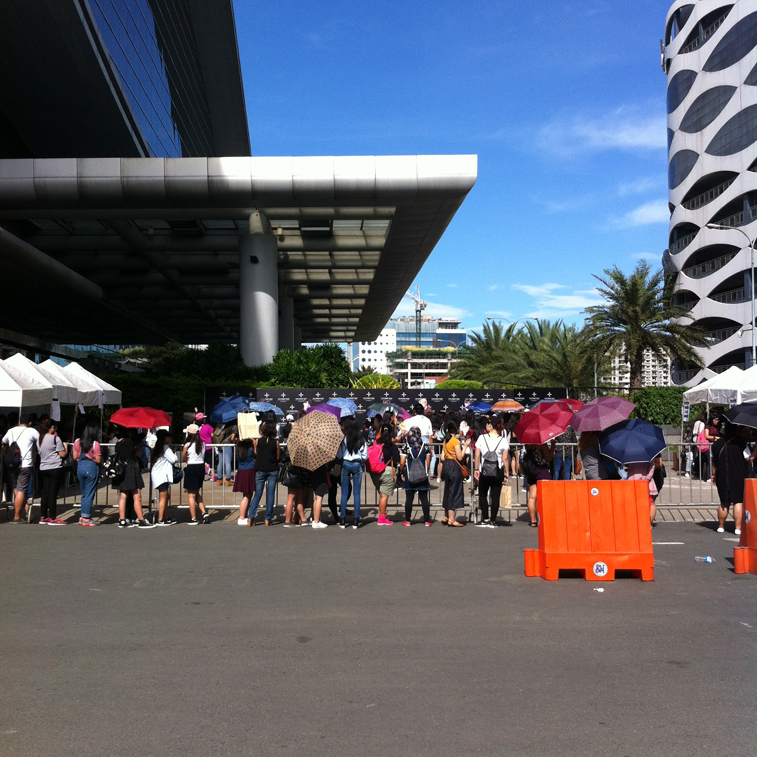 The lines for GenAd and Upper Box sections were really a mess. You won't know where you should fall in line because the lines were mixed up. And there's no one assisting us. Even the parents who look after their daughters were also lining up to the entrance. It was different than the lines for VIP sections (it was more organized).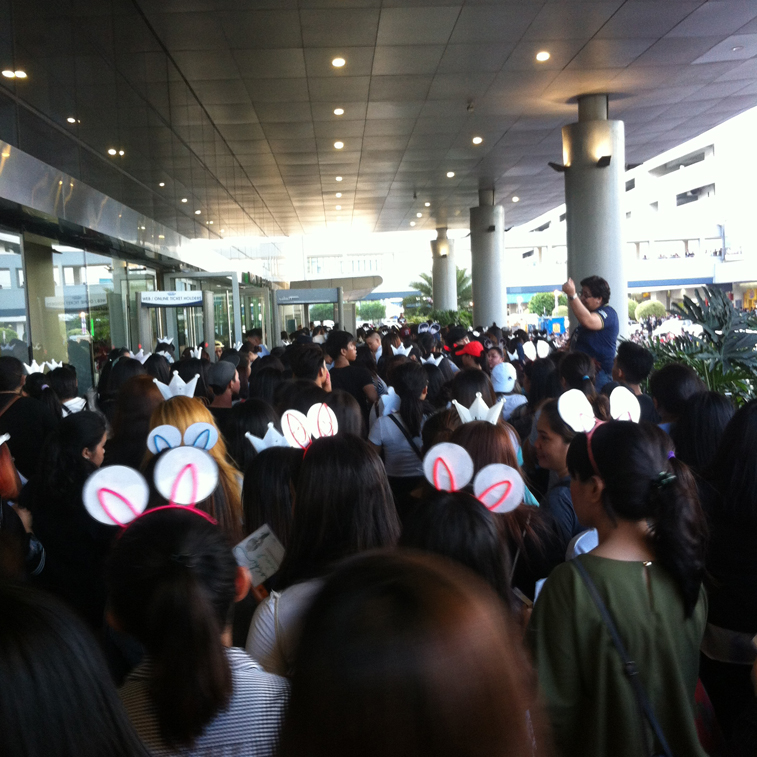 We were only able to breathe freely when we get to the inspection section. I was able to have my digicam pass the inspection but I was put on hold outside because our tickets won't tap at the entrance gate. We were just waiting outside for about 10 minutes. Good thing, the SM MOA Manager confirms our tickets were legit and used her ID instead to let us in.
There were only a few people inside the Arena when we got in. The fan project banners were distributed on each chairs as well as the colored plastics. BTS music videos were playing in low volume on both sides of the stage.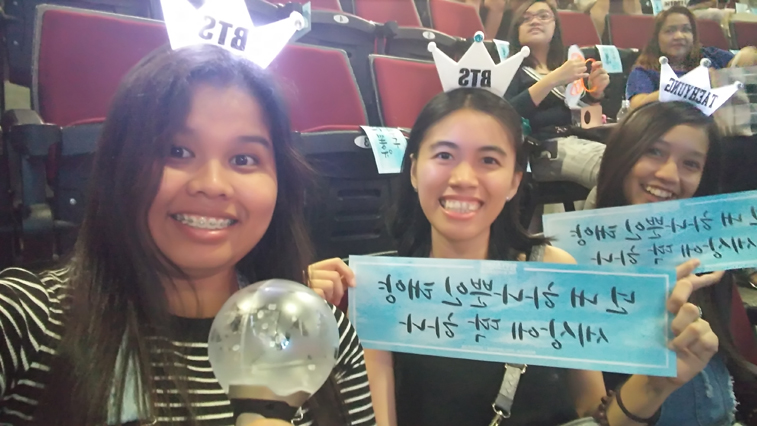 By the time the concert was about to start, everyone started singing along to BTS Spring Day! We got Goosebumps seeing how beautiful BTS Ocean was and hearing the wonderful voices of all PH Armys! It was amazing 🙂
BTS Wings Tour Performances
After the last video was shown, BTS members composed of Jin, Suga, Rap Monster, Jhope, V,  Jimin, and Jungkook explosively opened the Wings Tour Concert with the song "Not Today" from their latest album "You Never Walk Alone".  Army PH loudly sang along the whole song with the boys while waving their army bombs. 
It was followed by a quick introduction of BTS members and performance of the songs "Am I Wrong", "Baepsae", and "Dope".
The Maknae bias wrecker Jungkook swoon our hearts once again as he started the solo performances with "Begin", followed by Jimin's "Lie" and Suga's "First Love". I tried memorizing Suga's solo but all I remembered was "piano". haha I sang it correctly during his performance though. 
You know what I found touching during the entire concert was that there's no silent moment. Armys were singing BTS songs with their hearts content and when we don't know the song, we either shout or chant BTS names especially on the rap parts. 
We found ourselves in awe as they began dancing as a group again with the vocal line's "LOST". Rapper line joined the vocal line for "I Need You", and "Save Me".
Rap Monster's "Reflection" not only showed his talent as a leader, rapper, vocal, but also Armys love for him as we started chanting Rap Monster's name "Kim Namjoon" and "Saranghae" in between his verses. Loud shouts filled the arena as V started singing "Stigma". 
My favorite part of the show was J-Hope's "Mama". His super fun and heart-tugging performance has really won us over. He really shines the most among the members during the solo performances. Everyone became a JHope biased after that! Ugh! I can still remember that moment when the camera was focused on him as he sang and smile. Gosh! Nakakakilig naman talaga! 🙂 I love it whenever he's happy. It made me happy too. Plus his childhood photos at the VCR were so adorable. 
Visual and eldest member Jin keep our feeels awake in his "Awake" stage. 
Army PH releases their stress, and hate to all the haters as they sang and shout "I Love Myself" on "Cypher Part 4". The stage went on Fire as the boys hits the stage with "Fire". The party continues as they performed "N.O.+No more dream+Boy in luv+Danger+RUN" in remix. 
We almost cringe as they show their cute side on "21st Century Girls".  Of course, we were amazed the moment we saw "Boys Meets Evil" live. I was really glad and proud that our fan project "Wonhae, Mani Manila" was a success during "Blood Sweat Tears" (BST). Our loud voices made Suga let us sing his part! 🙂
The boys went backstage after BST and while they were at it. Army PH started shouting "Banners" and "Plastic"???(if I'm not mistaken) to announce that we will be doing our second fan project. haha It was supposed to be a surprise to the boys but not anymore because we shouted that loud. It was still successful though.
We all stand up and dance our banner as they performed "Outro:Wings". It made us felt as if we were really flying that time. The lightness the song brought to us was so powerful and uplifting. Rap Monster and other BTS members even read the banner which was his lyrics from RUN.
We already knew that they will speak English but we were not prepared when they spoke Tagalog the entire night. It feels like we're watching a tagalog dubbed Kdrama but this was live. It was so funny haha Some of the words they said were: "Salamat po", "Mahal ko kayo", "Nagenjoy ba kayong lahat", "Mahal ko ang Pilipino Army", "Gigil Niyo si Ako", "Gusto ko Madalas tayo Magkita", "Mamimiss ko kayo",  "Magaling". And the sweetest of them all "Kayo ang Aming Pakpak".
I almost cried as we sang "Dul Set", and "Spring Day". And the Green and Pink ocean was making my heart melt so much. I know it was the same for you too! 
You may watch the whole concert performances on the video below:
The concert ended with a song from Spring Day. Some of the boys were also teary as they bow down and say their goodbyes. 
BTS, we will surely be with you always and forever! See you again next time! 🙂