Every KPOP Concert in Manila, fans always asked me questions about how to buy tickets, what to do on concert ticket selling and what's the best way to score a ticket.
It's been repetitive, so I've decided to create this long post to answer all those questions…
If you're up to it then keep reading…
I'll be dividing the parts to kpop concert venue, how to buy, tips, and experience…
How To Buy Kpop Concert Tickets?
Before you are able to buy a concert ticket you have to first know where the concert is gonna be held – Is it MOA Arena? Is it Araneta Coliseum? Or Is it at New Frontier (Formerly known as Kia Theatre)? Because each venue have different process.
MOA Arena
If the venue is in MOA Arena. You have two choices : To buy online or at SM ticket outlets…
If you decided to buy online… Here's a step by step guide to help you. I recommend for you to review this a day before the ticket selling so you will be prepared for the battle. 😉
If you decided to buy on smticket outlets… Here's a list of smticket outlets (subject to change without notice) for you to choose from. Go to ticket outlets near you or to your trusted ticket outlets.
NOTE: Check the organizers' list of outlets. Sometimes not all branch are selling the ticket so better read their FAQs.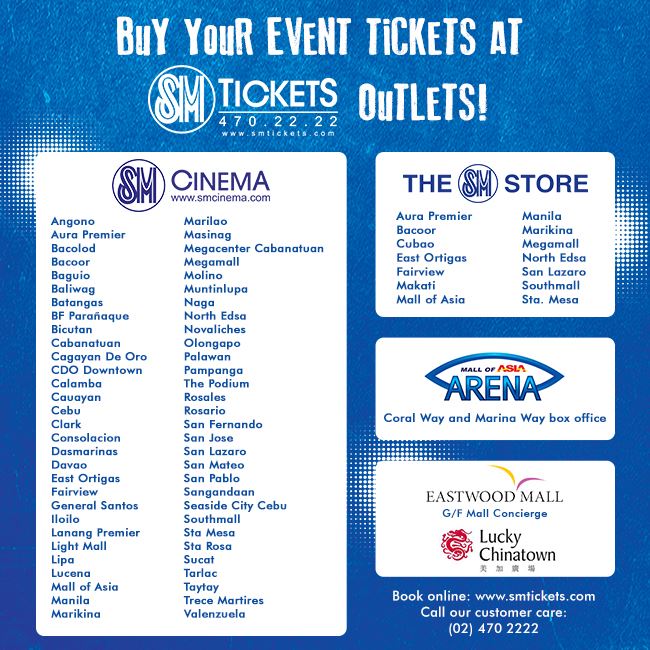 Araneta Coliseum and New Frontier
Both Araneta Coliseum and New Frontier are being handled by Ticketnet. You may buy tickets online and through the outlet, but unlike smtickets, Ticketnet has only few branches in the Philippines. Also, provincial fans may only rely on online purchase and the assistance of Ticketnet.
Here's a step-by-step guide on how to buy tickets on Ticketnet. The video layout was from their old site but the process is just the same. Few Notes: (1) You cannot choose seats on Ticketnet site, only the section. (2) The ticket you will print will be you're actual ticket on D-day. 
Note: For provincial assistance, I think Ticketnet provides an online form for this. If you got in on the provincial assistance, they will send you an email containing your seat and a deadline of payment for your ticket. If the payment hasn't been made on the given date, tickets will be open for other fans. Please be guided that not all who submit forms on the ticket assistance will be accepted as the ticket is only limited.
For outlet transactions, you may visit the following ticketnet outlets. Unlike online purchase, I believe you can choose a seat on the outlet but it still depends on the show seatplan. Also, you'll be given a normal ticket when you buy one on the outlet.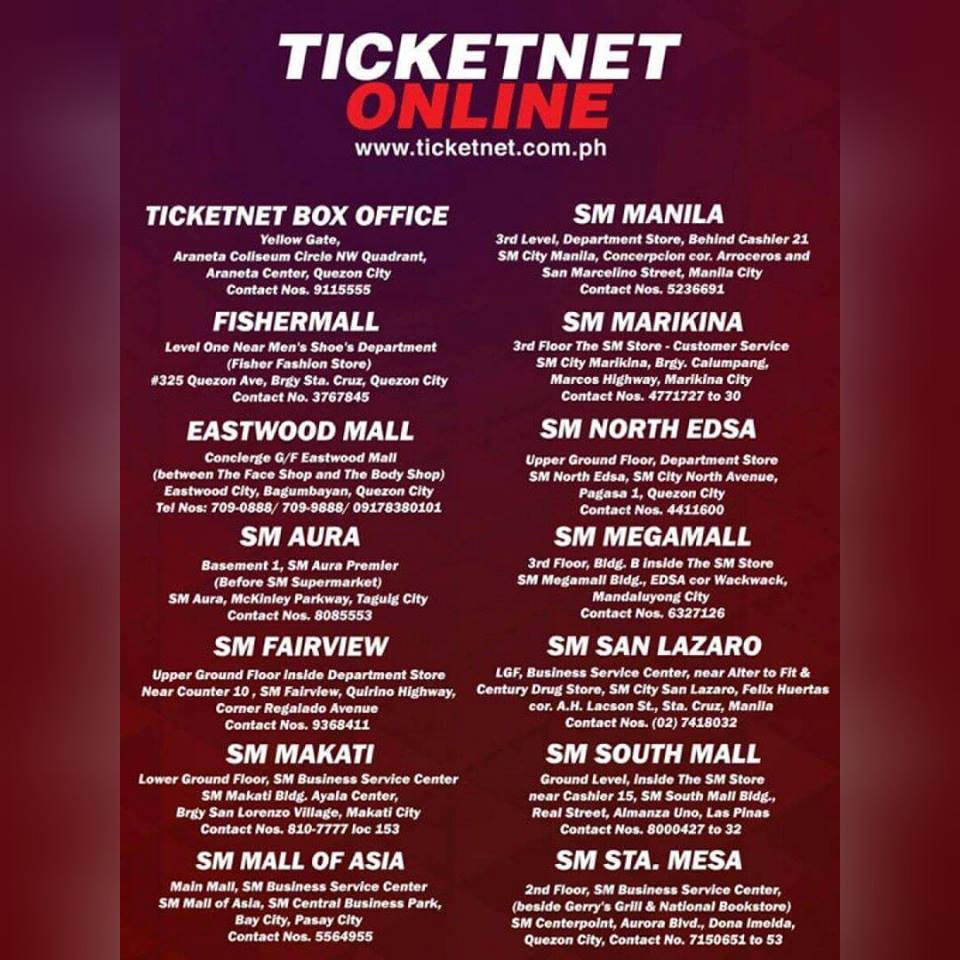 Tips on Buying Kpop Concert Ticket
(1) Prepare your battle plan a day before the ticket selling. Get a pen and paper and write your section options.
(2) Call your bank that you will make a ticket purchase a day before, and check all security questions. This is so you won't have problems with your credit card on the ticket selling day.
(3) If you are going to join the #teamcampout. Check how long the lines are and go there the earliest you can. Bring food, blanket, umbrella, extra shirt, water and medicine. Download shows too. This will keep you company from waiting for the ticket selling.
(4) Always have extra money because we can't compute the ticket charges on top of the actual ticket price. It's better to be sobra than kulang.
(5) If you are buying online. Sleep early and wake up early. Eat breakfast (make sure to do this) because the stress from the waiting / from the ticket selling will drain your energy.
(6) This is my recommendation for fans who will buy with friends. Do not force yourself to seat together. Talk to your friends that we are in this together even though we will have different seats. Trust me. I've battled out ticket selling from BTS – iKON – Blackpink. And from those ticket selling, there's higher chances for you guys to get your own tickets if you don't choose seats, and just get whatever it is available (within your budget) even though your seats are apart. If you're lucky to seat together then good. But we are on head to head battle on ticket selling. So, the priority must be "TO WATCH THE CONCERT".
(7) Do not buy tickets in a computer shop. Like I know you want fast internet connection but when you buy in a computer shop, your credit / debit card safety is at stake. So, just go to a cafe or working space with fast internet connection and bring your own laptop.
(8) For ticketnet purchase, do not print your ticket on the computer shop. Since ticketnet ticket voucher serve as your ticket on d-day. You have to protect it. Sige ka baka si kuyang nagprint yung umattend ng concert. Ikaw din.
(9) Do not post your tickets with barcode online. It can easily be scanned and replicated. So, please think and cover before you click post.
(10) Do not ever ever buy from scalpers. They are everywhere during ticket selling (online and offline). Let the ticket rot on their hands. The organizers will do everything they can to open tickets so please wait for it and spare yourself from being fooled by those people.
(11) Check the outlet branch days before or a day before the ticket selling if they will be selling (group name) concert ticket. This is to make sure that your effort of going to the branch will not be put to waste.
(12) Find first the guard or the first in line on SM branches and get the official number. Don't just fall in line anywhere. Most SM follows the "official queuing number" so if you don't have one, you'll be the last in line even if you're there earlier than those who have the number.
(13) Make friends on the people in line… Some of them are just buying one so to make the line move fast, ask them to buy your ticket. We did it before and some fans are really nice to help you.
(14) Ask your parents or someone of legal age to accompany you when buying VIP Standing tickets because some SM branch are strict in selling tickets to minors on VIP standing section. It's for the minor's safety but it's a case-to-case basis.
(15) Beware of your things and surroundings. Do not allow those people undisciplined people to cut in front of the line. Ask the management to make them leave if necessary. Fans should have power over those scalpers!
My Kpop Concert Ticket Selling Experience
All my kpop ticket selling experience are nerve wracking. There's never a time where I bought tickets that easy. It really makes me puke, pee, and palpitate all at the same time from nervousness. I promise you, the updates from Twitter and Facebook of whether the tickets are sold out or not are really stressful.
Tickets sold out fast. So, you have to think, act and move fast. Otherwise, you'll regret it.
During BTS Epilogue concert, that's my most unforgettable ticket selling experience. I got SOLD OUT 5x in a row. All attempts fail. Imagine this, ticket selling opens at 10:00. It got sold out at 10:01. I didn't get one. Until the organizer releases ticket SRO as the concert date goes near and I finally get one. Hurray!
In Taeyeon concert ticket selling, ticketnet prompt me of a suggested seat but because I got choosy. I refreshed the site. When I refreshed the site. The ticket got sold out. So, the lesson there that time was "be thankful of the choice given to you. Grab it or you'll regret it."
There's no right or wrong strategy. You may have your own that works for you. But I hope that my tips and experiences are able to guide you on every kpop-concert ticket selling here in Manila. Goodluck on your next ticket purchase!
Got Questions?
Do let me know if you have questions on the comment below and I will try my best to answer all of them. 🙂