I went straight to SM Skydome right after my Korean Class because my Ji Soo chatmates told me that strapping starts at 1pm. Actually, it's my first time attending a Fan Meeting with Perks so I am not aware of the rules for the strapping. The only way for me to avoid the hassle was to come early.
As most of you know, I don't come to concerts / fan meetings super early unless I have an agenda like media meeting, buying merch, meeting with co-fans, etc.
When I arrived to SM Skydome, I met some kpop / kdrama fan students outside who sells Kim Ji Soo banners to support their school project. I bought one as a souvenir for the fan meeting and also because I really admire and support fans who work hard to study.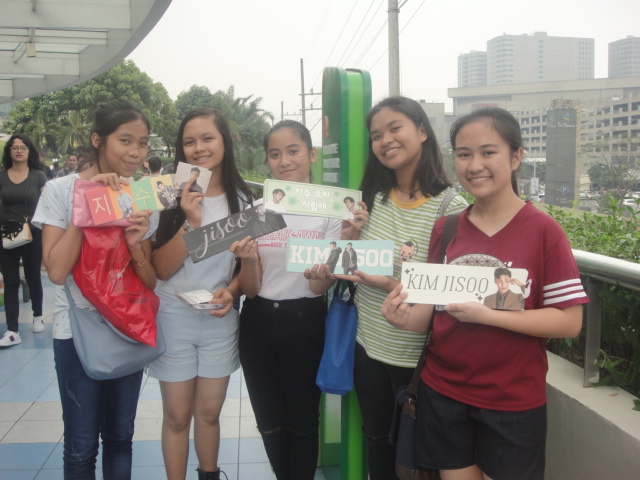 JI SOO FAN MEETING STRAPPING
I immediately have my straps on as soon as I met with my chatmates / new friends.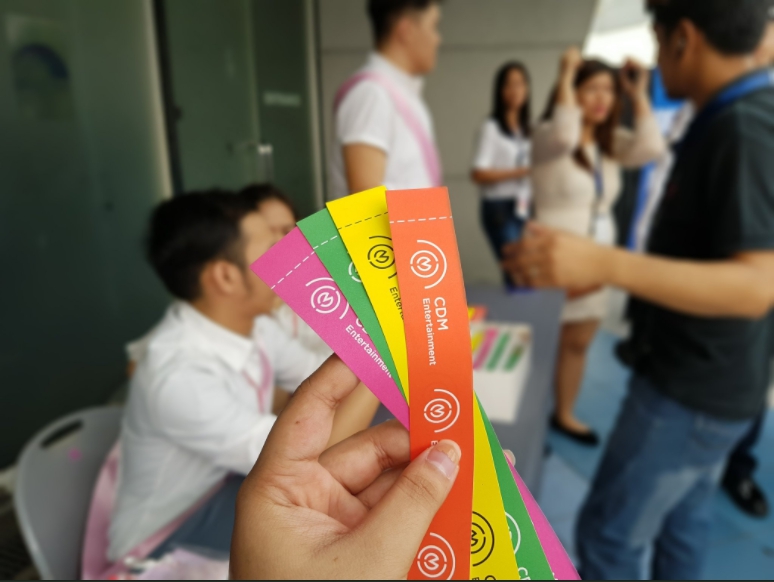 Having this said, there were things I learned from the strapping experience.
It's okay to come just right before the fan meeting or your specific perks schedule as strapping don't have time limit. The staff will only stop strapping when the fan meet or your specific perks schedule started.
The straps were tight and it cannot be easily removed. Unless, you forcefully removed it or you accidentally spilled water on it. So, don't worry about it too much!
All tickets will have specific color straps so it's easier to identify what perks you will have for the fan meet.
JI SOO, MY ONE AND ONLY FAN MEETING IN MANILA
We went inside the SM Skydome at around 5:40pm. Us, being excited, we immediately took a picture of the stage and of course ourselves inside. We have to treasure this moment because it's not always that Korean actors go here for a fan meeting.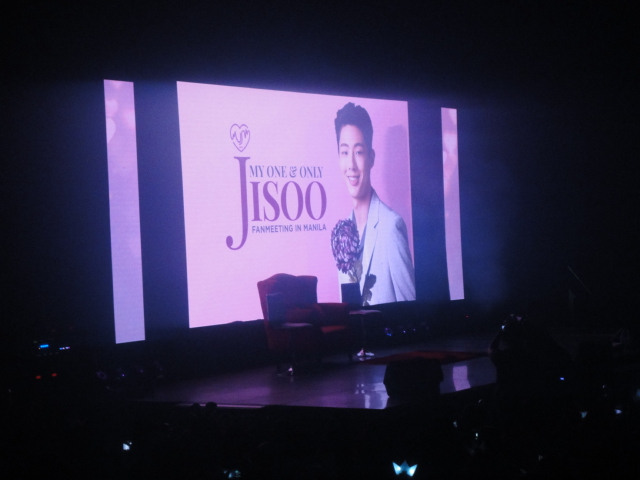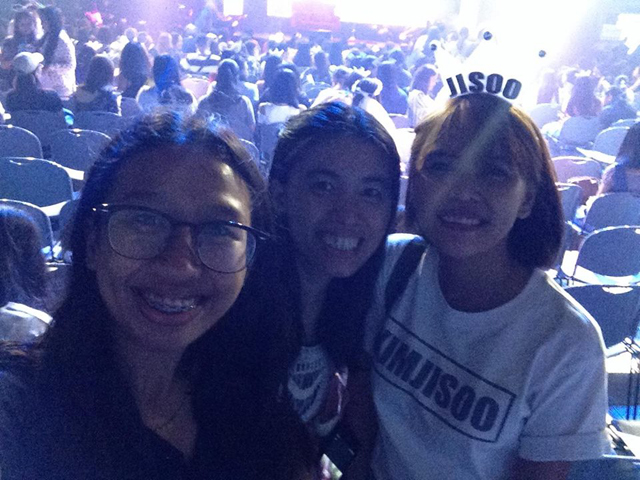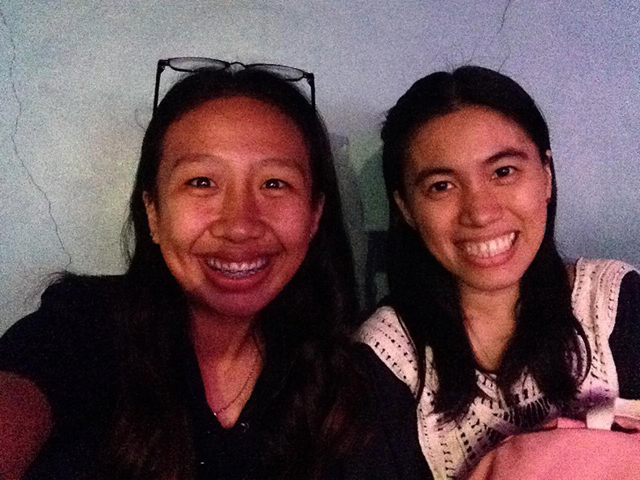 The event started with Myx VJ Sunny asking us to practice our wave and fanchant "JiSoo My One and Only" for the fan meeting as a surprise for Ji Soo.
Then Ji Soo VCR started playing. This signals the official start of the fan meeting. We were soo shooked when the background music of his VCR was "Mic Drop Remix version" like we were already on hype when his video started playing and our feels doubled or powered up when we heard the song that we can't help but sing along. Come on, it's BTS Mic Drop.
Our hearts started to melt more when he serenade us with the song "Creep". He even sang it while walking around the Skydome so that everyone can have a glimpse of him. We didn't expect him to do that. We were really surprised that most fans went crazy as he walked around. But the song Creep seems to have a special connection with him and Nam Joo Hyuk, was that their theme song or something? (let me know…)
Since his fan meeting fall on a "Love Month", the question and answer portion or should I say the 'Fast Talk' with Ji Soo were about his relationship status and ideal girl. Both fans and the host provided questions for Ji Soo.
He also played the "emoji game" with his fans which I find cuute.
Also, like every actor fan meeting, there's always the "act scenario game" where the fan will act with the actor his scene for a particular drama. It was a bit embarrassing but I'm hats off to the girl who did that with Ji Soo. I wish I had that confidence!
Good thing, there's no look alike game. I remember during Lee Min Ho's fan meeting I cannot look at the video because it's so awkward.
Our hearts calm down when Ji Soo went backstage to change his outfit.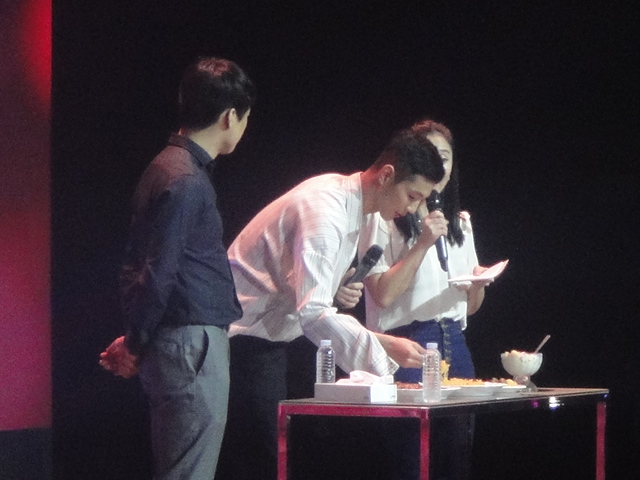 After that, Ji Soo tried different Filipino dishes like kaldereta, pancit sotanghon, pinoy pork bbq, and halu-halo. He was one of Korean TV personality I know who didn't get weirded out about the ube (they don't have it in Korea) and he actually loved it. I'll bring you Good Shepherd Ube when I see you in an event in Korea in the future.
One of the highlights during the fan meeting was his Tagalog words and pick up lines which were a bit cringey, but since it's coming from Ji Soo it's "shim-koong" (heart attack caused by someone attractive).
JI SOO IN MANILA FAN PROJECT
If there's one thing I look forward to in every fan meeting it is the Fan Project because it's where fans do a surprise video for the actor that will make you tear up. The fan messages to Ji Soo can really touch not only his but everyone's heart.
Since it's also Ji Soo's birthday next month, the fans sent him gifts and cakes, as we sang happy birthday to him.
Before the fan meeting ends, Ji Soo performed another song entitled "I Believe I Can Fly". It was what he listened to, to make him motivated which he wanted to share with us so we can feel the same too.
The fan meeting ends with everyone doing the wave and fanchant (the one we practiced at the start of the fanmeet) which Ji Soo shot on his phone.  The wave was soo good to watch but soo funny to do. haha

HI-TOUCH EXPERIENCE
This was the first time I get to experience hi-touch. At first, I'm soo nervous because sometimes my hand becomes sweaty and it's kind of embarrassing to touch Ji Soo's hands. haha I know you felt it too! XD So, I tried to put on alcohol with my hands before the actual hi-touch.
The hi-touch last for about 5 seconds. It's supposed to be quicker than that but I tried to hold on to him longer that the staff reminded me to already proceed to the exit. I even told him "Thank you for today!" (Does that sound like as if I'm the one who had an event?) I don't know why I said that. I actually prepared something to tell him, but when it was my turn, my mind just went blank.
Ji Soo was soo adorable and every girl would swoon over him.
Big Reveal: I honestly didn't wash my hands after the fanmeeting and wash it only the next day when I had to wash myself after I wake up. And what time did I wake up the next day? It was 11:30am… Haha I still felt how soft his hands was and it smell so good too. I wonder what lotion or sanitizer or cologne did he use? haha
SHARE YOUR #JISOOINMANILA FAN MEETING EXPERIENCE
It's been days since the fan meeting and I know you can't get over it yet!
What was your favorite part of the show? Share it on the comment section below. I would love to read it.