MMI released ticket selling date for #SeventeenDiamondEdgeinManila last June 25.  Apparently, it falls on a Friday. 🙁 And because I cannot absent from work, I asked my friend to buy me an Upper Box ticket since I know that he will be camping out for the VIP tickets with Perks.
Watch SEVENTEEN as they personally invite you to their 1-night only performance in Manila! #SEVENTEENinvitesYou pic.twitter.com/2F1q6cfAr2

— MMI LIVE (@mmilive) June 28, 2017
A few days later… MMI informed PH Carats that the VIP Perks tickets will be sold only at MOA Arena and that each person can only purchase VIP tickets on that area. In case the person wanted to buy other tickets s/he has to fall in line again. That said, I told my friend that I don't want to cause trouble for him so I'll just buy online instead.
Buying online is such a struggle, especially if you are buying tickets for a KPOP Concert. You know… Server crashing and slow internet connection. I'm kind of worried that I won't be able to buy one though.
Add to that the stressed I got from Paymaya card. I loaded my Paymaya a day before the ticket selling through a bank. But it didn't load as promise that I had to use my other card.
It took me 45 minutes before I'm able to get a ticket. And I think I became closer with F5 key during that time. SM ticket site keeps hanging when I tried to purchase one. 🙁 I didn't get my desired seat but I still get seats from my desired section so it's still a win win… I'm going to see Wonwoo and Mingyu! Yey! 🙂
UB tickets got sold out easily during that day and it gets sold out first before GenAd. PH Carats #iponing system is really good. Kudos! 🙂
A Thank You Gift to All My Fellow KPOP Fan Readers
When I claim my actual ticket a few days after ticket selling. I thought I should buy a GenAd ticket for me to give back to my fellow KPOP fan readers who has been supporting me and my blog since I have started #OhMyK…
So, as my way of saying thank you, I'm giving away 1 GENAD Concert Ticket for Seventeen Diamond Edge in Manila.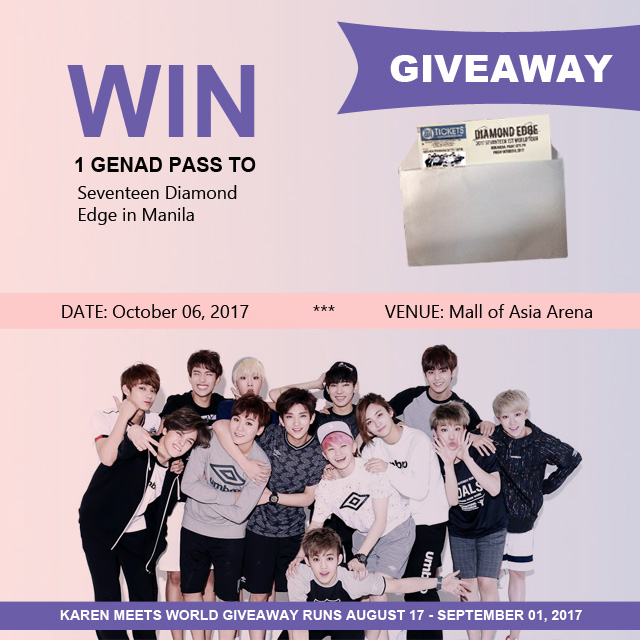 All you have to do is follow these simple steps:
Deadline for entries is on September 01, 2017 at 11:59PM. No multiple entries please! I will announce the winner on my Facebook Page and Twitter Account on September 07, 2017. Goodluck everyone!