I'm really trying my best to pack light whenever I travel to places. And it is always a challenge. Just a week ago, on our trip to Boracay, I had a twitchy carry-on:weighing face-off. It's so stressful knowing our bags are heavy, I bet it weighs more than seven (7) kilos. I don't have any idea on how much a carry-on should weigh. But I feel that our bags won't pass the standard weight. Add to the worry that we don't include in our tickets "check-in baggage". I was really nervous that time and can't even look at the ticketing personnel's eye, praying, that she won't weigh our bags. I don't want to pay Php 1,000 for over packing and in case, it will be my first time paying for a fine. Good thing, we travel in groups and not all of us have heavy bags, so the ticketing personnel didn't weigh in our things and just advise us to ensure that our baggage doesn't exceed  seven kilos to avoid the fine. I sighed in relief. Thank God!
I don't want it to happen again, so I will pack light from now on.
With my mantra: Pack Light and Travel More. Travel+Fashion Takeover: Manila Workshop held at A Space Manila is indeed very timely. It's a workshop on travel planning, fashion and inspiration organized by the professional travel bloggers in the country: Tessa Cruz of Viajera Filipina, Lois of We are Sole Sisters,  and Anton Diaz of Our Awesome Planet. With guest speakers Alexandra Jimenez of Travelfashiongirl and Aleah Taboclaon of Solitary Wanderer.
We had a great time learning all the travel packing tips and sharing our travel experiences to everyone. It's a blast when you are in a room surrounded by people with the same passion as you. #girltravelpower. 🙂 Here are some  of the things I learned during the Workshop:
Tips on How to Pack Light and Travel in Style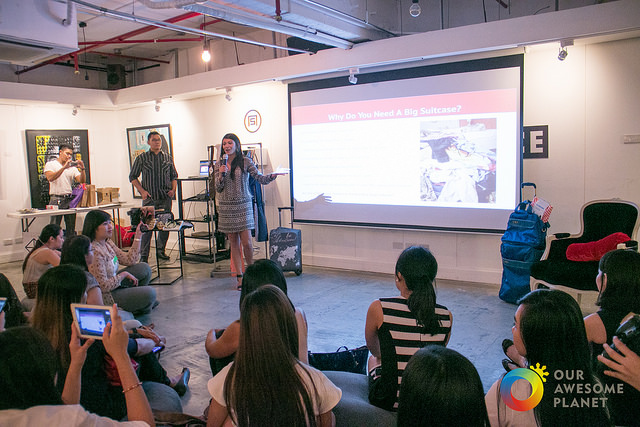 Alex traveled the world since 2008 with her single carry-on suitcase. She has been into 40 countries in 6 continents: Philippines included. (wink, wink). Like some of us, she admits that she once over packed too, but through her travel experiences, she learns how to pack light. Here's how she does it:
First, she told us to ask ourselves "Why Do You Need A Big Suitcase?" when packing our things, to avoid carrying too much bags.
My clothes won't fit into a carry- on.
I'm traveling for more than two weeks.
I need to pack enough clothes for everyday of my trip.
I'm traveling in winter, I need warm clothing.
I can't leave my beauty products behind.
I need a different pair of shoes for each outfit.
I need to be ready for anything, just in case unexpected happens.
Are any of these your reasons to travel with large suitcase?
If your answer is YES to all of these questions. Then, you have to continue reading. 🙂
The Capsule Wardrobe
While it is our routine to bring a huge suitcase for our trip, it is also possible to fit everything in one carry-on. Her Secret: Capsule Wardrobe. Capsule Wardrobe is a sampling of your closet consisting of 8-15 carefully chosen items that are interchangeable and maximize outfit options.
How can I create my own capsule wardrobe?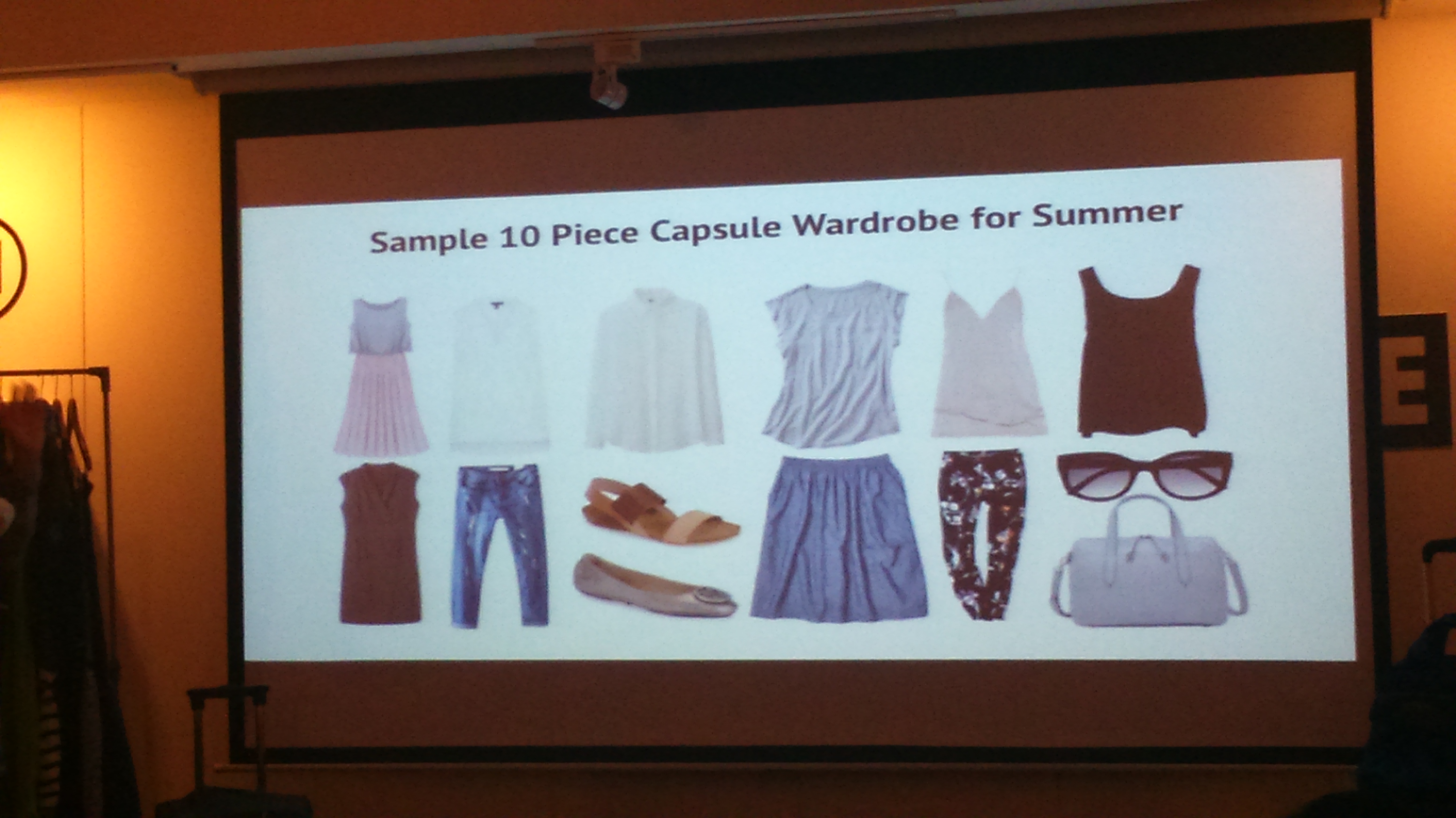 Alex told us that the key to creating a capsule wardrobe is in your research in planning. Understanding these 5 factors is the first step to packing carry-on only.
Weather. Travelers sometimes forget to check the weather of their destination when they travel. I'm guilty of that, I only brought summer attire with me when I went to Singapore and my shoes are made of fabric, can you imagine how wet I get when we visited Sentosa. So, always check the weather and prepare your attire accordingly.
Activities. Choose clothing that's versatile and can be worn on all or most of your planned activities — Make a list. You don't want to wear a maong short when you go mountain climbing right?
Local Customs. Research the local culture, customs, & religion of the place you're visiting to. Wear respectful clothing in conservative areas: Cover shoulders and knees.
Budget. Decide your budget for new clothing and travel gear.
Trip Length. Pack one week's worth of clothing for trips of ANY LENGTH — 1 week to 1 year. Plan on doing the laundry once a week while you travel. Quick dry fabric is ideal.
Tips to choose the right items to pack
After you've done your initial research, then you can start planning your capsule wardrobe. Here are a few tips to help you.
Is the clothing item lightweight or heavy? Weigh the garment in your hands to determine if it will add unnecessary weight to your luggage. The lighter the items the more comfortable your bag.
Does it take up too much space? Fold and roll the garment to determine if it's bulky. The less space the BETTER. packing cubes compress thick lightweight items.
Is it too sheer or transparent? Avoid items requiring layer underneath. Dress respectfully in conservative areas. Test in sunlight.
Is it appropriate for the weather? High performance fabrics offer maximum comfort. Avoid cotton for trips over 1-2 weeks. Merino wool or synthetics are preferable.
Is the fabric durable? Longer trips require quality of clothing that won't fall apart after a few uses. Durable fabric is also important for business or active trips.
Repeat the five step fabric inspection for each item you're considering. Once you've done it for each item construct your capsule wardrobe which should consist of 10-15 clothing items total.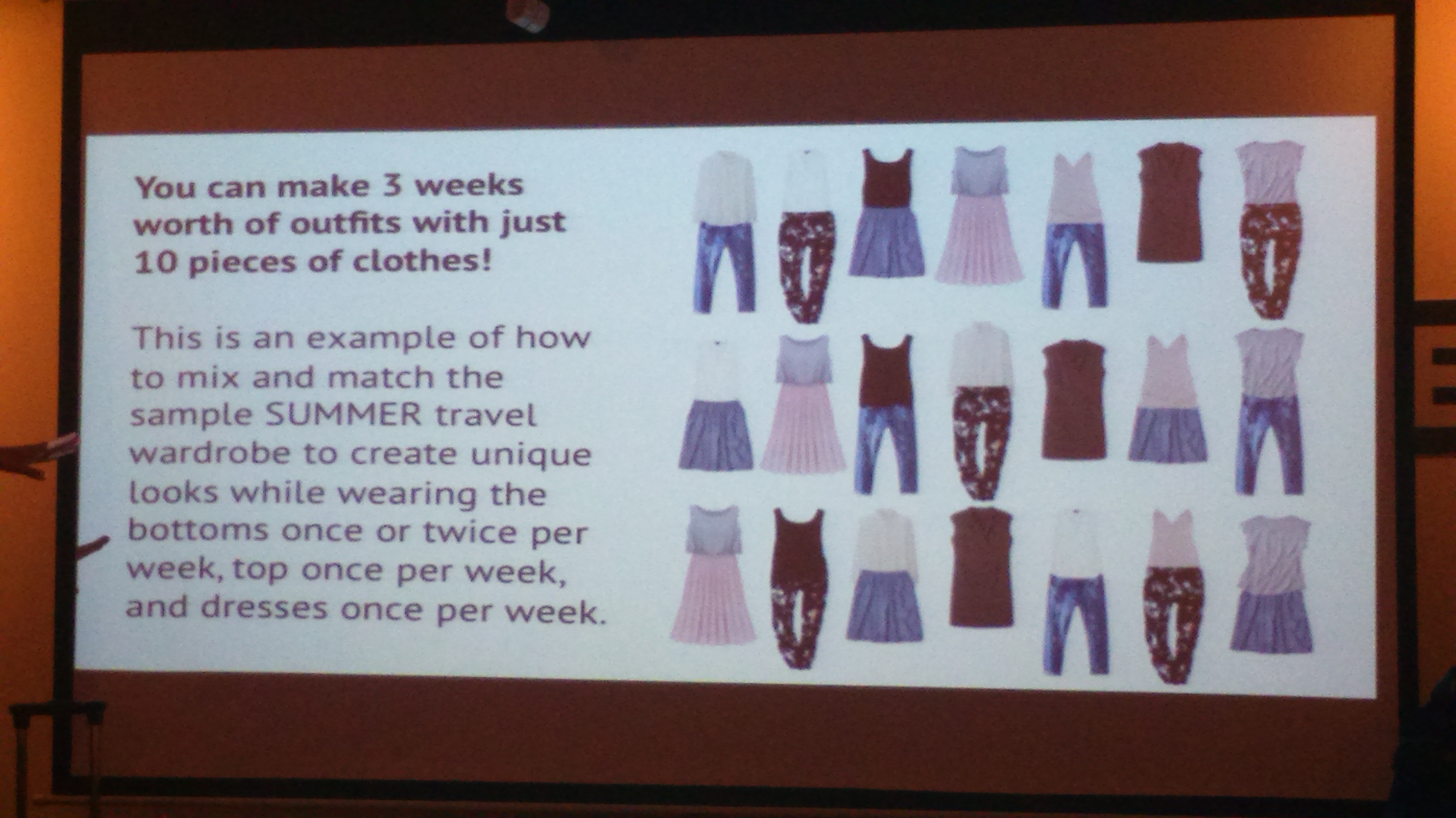 You'll be surprised how many outfits you can create with less than 15 clothing items and 3 pairs of shoes. In choosing your shoes, just choose (1) comfort shoes, one that can you walk with for long hours  (2) functional shoes, one that's versatile for your activities and (3) stylish shoes, one that can match with your travel outfits. Make sure also that these shoes weighs light and can handle wear and tear from travel.
Are you ready to travel carry on only? Visit travelfashiongirl.com for more tips on traveling with style.
Travel+Fashion Takeover Q&A Session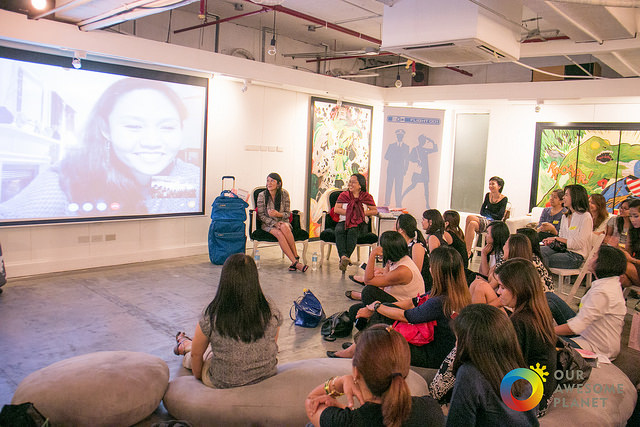 After Alex presentation, she is joined by Aleah, a solo traveler since 11 and popular with her Date a Girl Who Travels and Tessa, an explorer and traveler based in Atlanta, and the woman behind this amazing event, for the Q.A.
There are two questions that caught my attention:
We all love packing our whole house with us because of the "what if's" — what if there's no towel? what if the comforters aren't that clean? and such… How can we avoid it?
The speakers said that most of the time, we tend to overthink of the "what ifs" it's fine, but if we will look into it closely most of the things we packed were not used. It just add on to our baggage. They said we should think of an alternative to it. Like for instance we are concerned for the comforter and towel. We can instead bring a malong with us that be used as both towel and comforter. Other participants also share their insights to it.
The question that strikes us is about traveling solo as a women, the danger they posed themselves and the judgement from family and friends. 
We find travelling solo scary, especially if we are a woman, because we don't know what kind of environment and people a certain place has. But, Alex, Aleah and Tessa assures us that traveling solo isn't scary at all. They even gave us this following tips that can help both first time solo travelers as well as regular travelers:
Be confident. It's all about the attitude.
Prove to your family and friends that you can travel safely. Maybe they are saying that you can't handle it yourself because they are concerned of you. But at the end of the day, the choice you did to travel is worth all your sacrifices. Plus, you will have the experience they never had.
Be aware of your surroundings. Follow your gut feeling and choose the people you talk to. And don't act like a lost tourist.
Take risks but not unnecessary risks.
Do your research first hand. If you find that a certain place is dangerous, do not walk there alone and do not go out late at night. Also search for the scams and the crimes of that country you'll visit, so you'll be aware of it.
You are never traveling alone. You can talk to the people you are with when your staying in a hostel, the hotel staff, tourist police, and locals — they are more than happy and willing to help you.
Viajera Filipina Travelers Tribe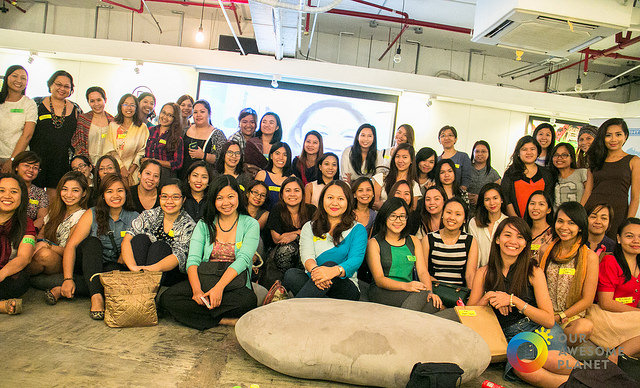 I'm very happy to be able to meet these wonderful people during the workshop. Chat over our dream destinations and learn from each others' travel experiences. Plus, the travel packing tips from Alex are very helpful. I will definitely practice it to avoid over packing again. So, the next time I'm faced with the weighing scale and the ticketing personnel, I will be able to look them in the eye and walk confidently with my seven kilo carry-on bag. 🙂
Congratulations to the whole team who made this happen. You are awesome! 🙂 I hope that there will be a part 2 or even more of this soon. See you guys again on the next Takeover! XD
Do you have any travel packing tips to share? Write it on the comment section below, I would like to read it.
Thank you for the photos: Anton of Ourawesomeplanet.com