People know that I visit Korea for two reasons: Food + KPOP Culture. Being a KPOP fan since 2008, I get to have a deep attachment to Korean Hallyu Community that I fly to Korea whenever I get the chance to.
Actually, this was my second time travelling to Korea and I'm just so happy to be back, longer this time (6 Days 5 Nights). Also, in autumn season. We don't have autumn in our country so this trip was full of fun weather experiences.
I always travel on a budget so everything was well-thought out and computed. From the plane, hotel, to itinerary tickets. I book a cheap flight with Airasia, hotel with Agoda, and ticket with Klook.
6 Days 5 Nights Seoul Itinerary
Day 1 – Arrival
Just like my first trip to Seoul, we flew to Incheon Airport through Airasia. We got the flight with food as we know that our flight will be until past lunch time. We learned our lesson before that if we want to eat at the plane we have to order beforehand, and that's what we did this time.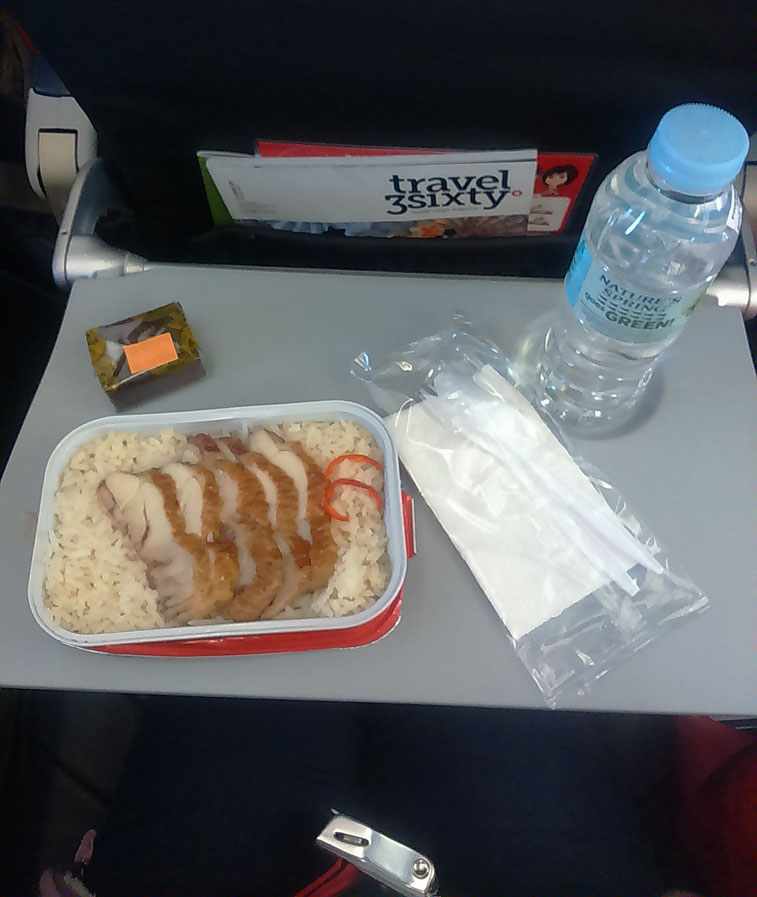 We arrived at the airport at around 12noon. By the time we passed the immigration, we went to KT Wifi Rental Booth to claim our pocket wifi. We showed my friend's credit card upon claiming and the crew swiped a 200,000 KRW as a deposit fee to ensure that we will return the device on our departure.
After that, we proceeded to the bus station to buy tickets from Incheon to Seoul (Namdaemun Market Bus Station). I  thought that it's going to be cold because everyone told me it was, so I brought with me tons of jackets. But It's not that cold. I was thinking that time: Good luck to me, all my clothes were sweater and coat. So yes! Goodluck! But I'm happy! 🙂 It took us about an hour to get to our hotel.
Seoul City Hotel
At the hotel, we were greeted by the staff. He handed out our key and instructed us the time of breakfast. Then, we went inside our room.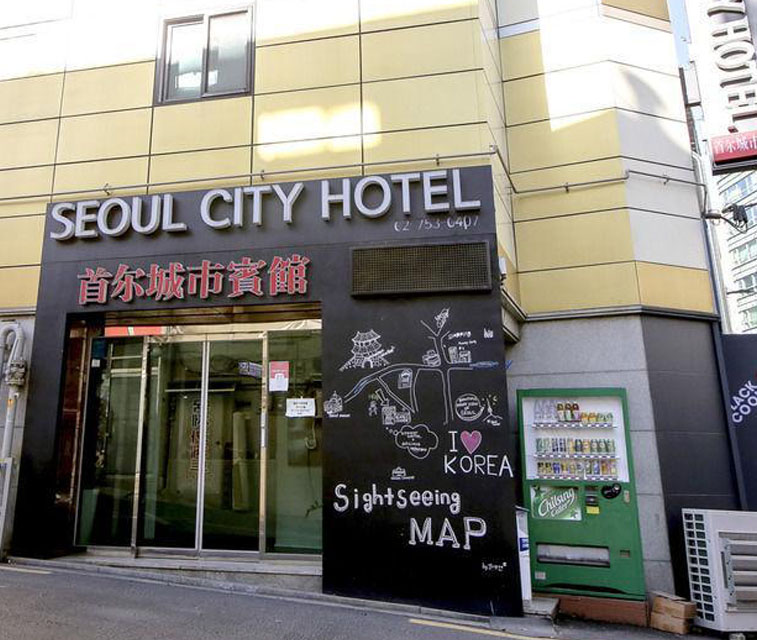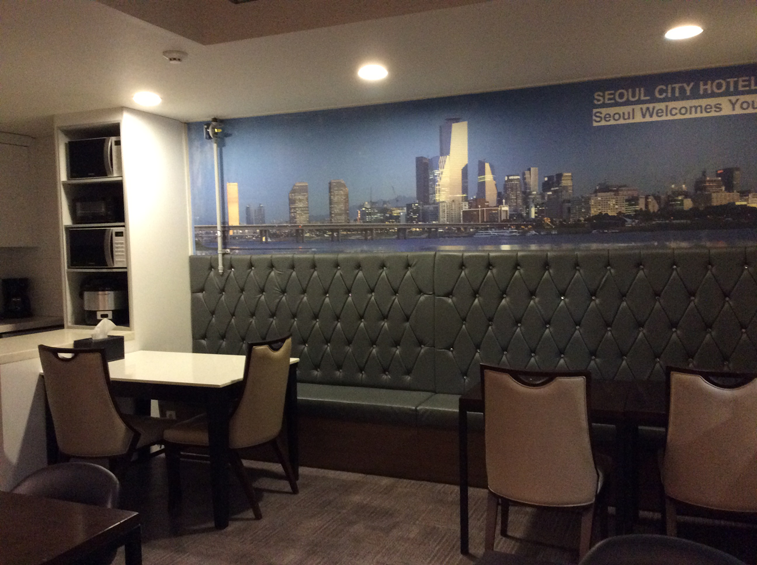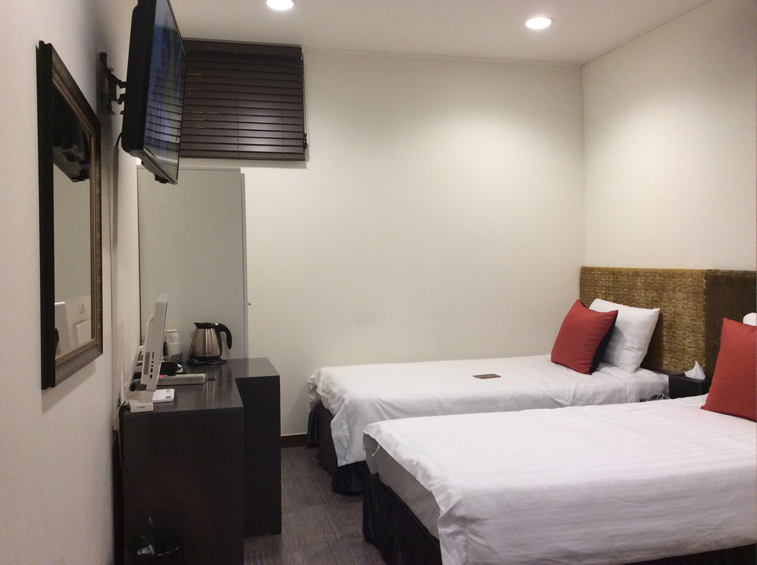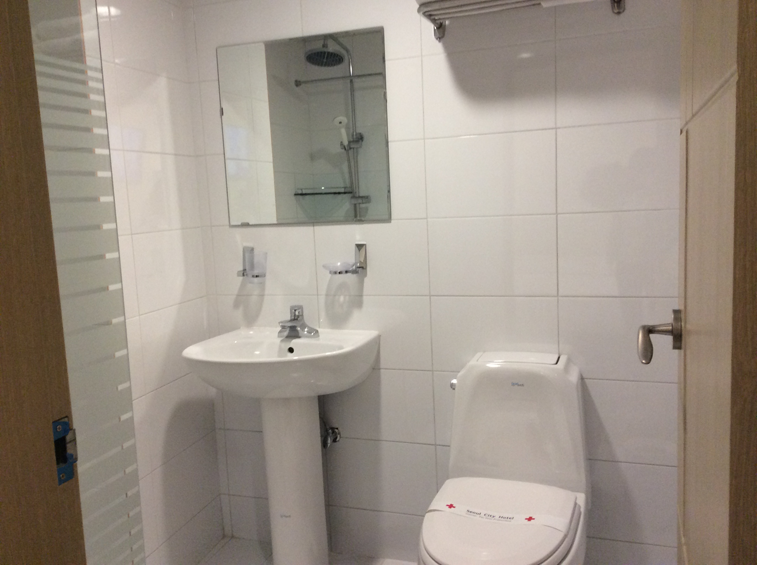 Seoul City Hotel Rating
Okay, so let's run down my ratings to the hotel below.
| | |
| --- | --- |
| Criteria | Grade |
| Accommodation | 4.5 |
| Ventilation | 5 |
| Cleanliness | 5 |
| Convenience | 5 |
| Friendly Staff | 5 |
| Sound Proof | 4 |
| Breakfast | 4.5 |
| Wifi | 4 |
The Good side: The ventilation inside the room and the hotel was good, it's not too hot nor too cold. It's just right to keep you warm given the cold weather. Our room was clean especially the bathroom. I have to commend the bathroom because it's just perfect. The staffs were so friendly too, they were so nice to help us on our requests: food delivery, location sketch of our itinerary and so on… The location of our hotel is near Hoehyeon Station and Myeongdong that was easy for us to go back n' forth to shop.
The Down side: There were times that the hotel staff was nowhere to be found especially in the morning. The hotel rooms isn't also soundproof. During my stay there, there were other guest arguing at night near our room and we could hear them shouting at each other that somehow made it hard for us to fall asleep. Also, the hotel wifi was only limited to the rooms. There was no wifi at the dining area. I don't know why though, perhaps it has a different password (we didn't bother asking) as there were no people to ask around. We ate breakfast earlier than the breakfast hour because of our tour schedule.
The final verdict: I'm still going to book on the same hotel given its convenience to Myeongdong and subway station. The inconvenience we had experience were just minimal and can be avoided so it's still not so bad.
First Day Itineraries: Namdaemun, Myeongdong, YG Republique,  and Cheonggyecheon Stream
(1) Namdaemun
Since Namdaemun was near our hotel, we've decided to roam around the area on our first day. We walked on the streets of Namdaemun going to Myeongdong. While walking, we've seen Namdaemun City Hall, Bank of Korea Museums, and some Korean shops. We only took a few photos because we were so busy enjoying the view.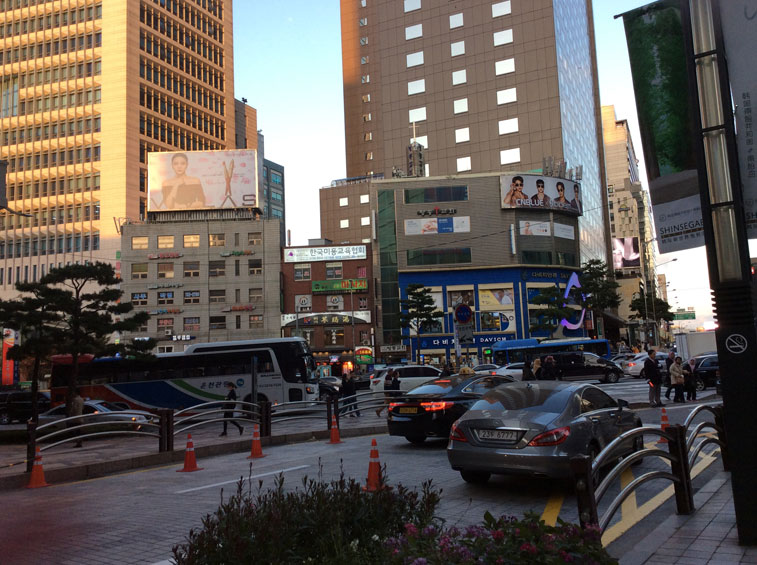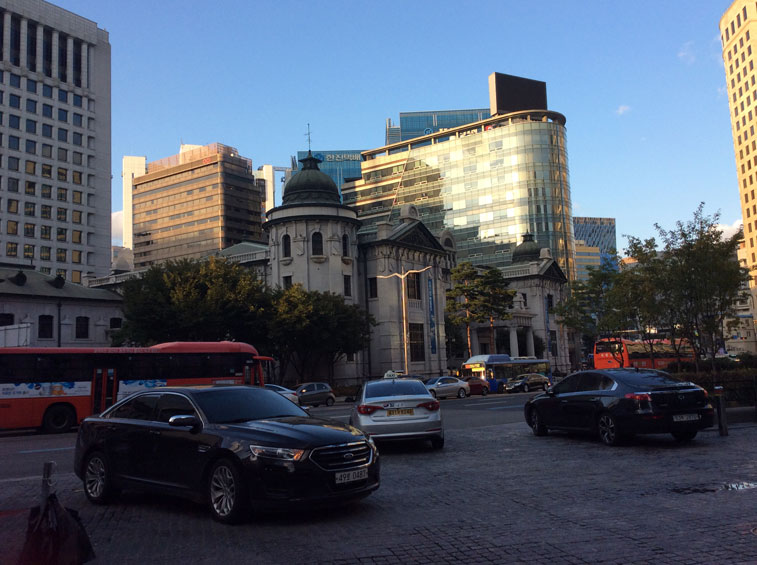 (2) Myeongdong
It was already evening when we reached Myeongdong and we were a bit tired from walking. To make our life easier, we drop by Myeongdong Tourist Information Center to ask for the location of YG Republique as it was my primary agenda for the night!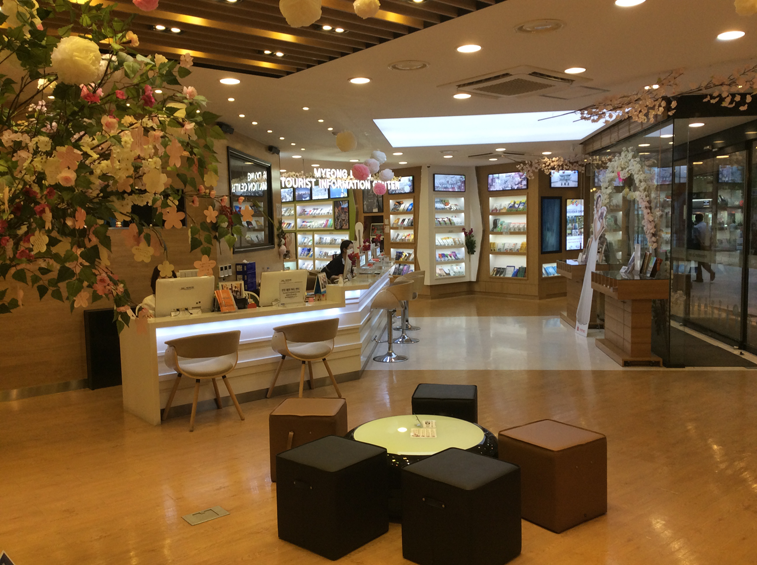 The walk made us hungry so we bought Gyeranppang along the way. It's still the same as I've tasted it before. It was still delicious. 🙂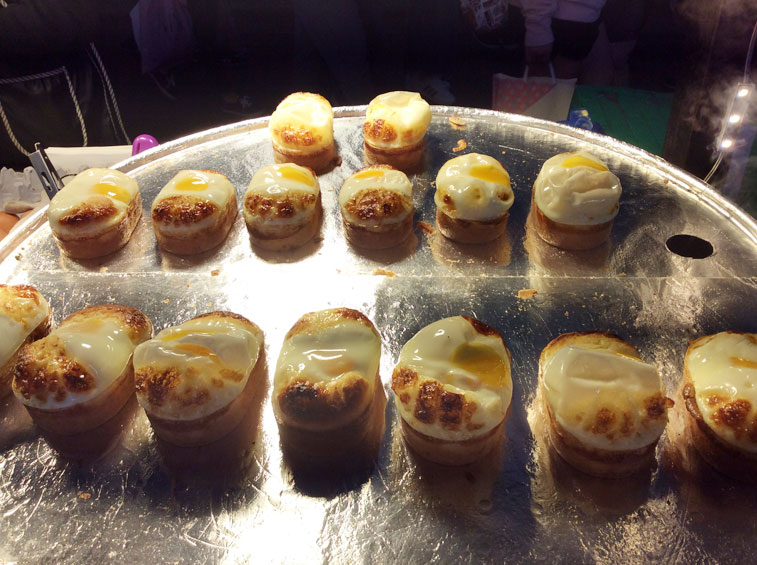 (3) YG Republique in Myeongdong
I've been giggling like crazy the moment I saw "YG Republique", restobar owned by YG.  YG was my favorite Korean Entertainment Agency so seeing YG related things can make me happy. Also, YG Republique wasn't just an ordinary restobar. It's where Bigbang celebrated their after party before and where other YG artist spend their time to eat as well. Imagine, being able to go on the same place where your favorite idols hang-out. Ugh! It's so surreal!
I've been shrieking a lot and I even shake my friend since I'm so excited with everything! It actually took me like forever to get this shot done because I can't calm down and people were walking around the restobar that's its hard to get one!
After I finally relax myself, we went inside YG Republique, the first floor were consist of the 3 Birds Coffee x Kitchen, and All That YG mini store. The interior of the entire place was so unique and its very YG! Bigbang Lightsticks were used as a decoration both on the cafe and the kpub area.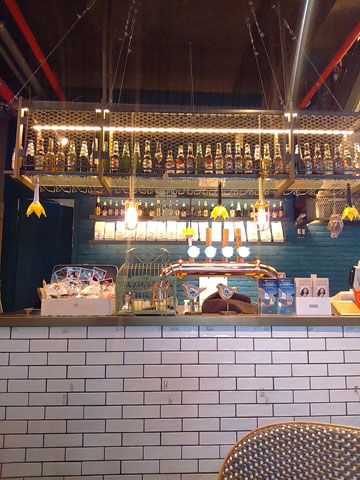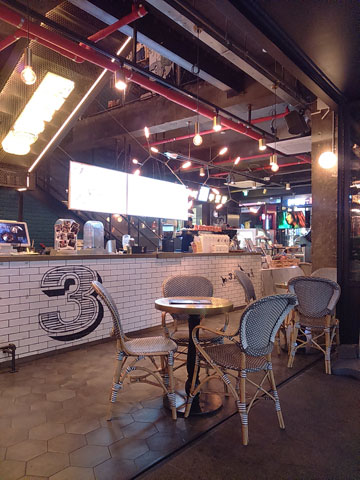 The All That YG was a mini store where they sell official  YG artist merchandise such as light sticks, shirts, towels, face masks, slippers, photo cards and more.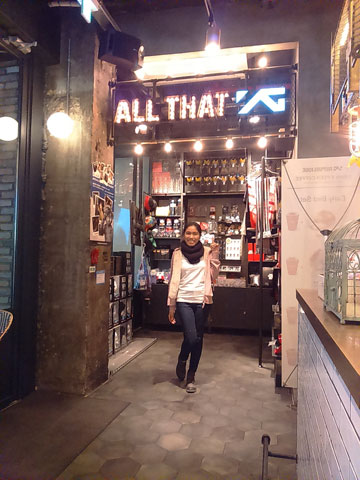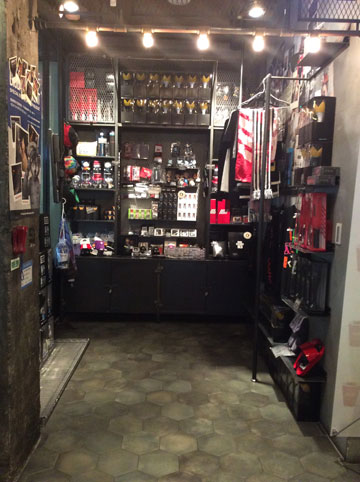 I bought an iKONbat even though iKON don't have Concert / Fan Meeting activity in Manila yet. I've been wanting to have one since it was introduced because it can be used as a self defense weapon. It looks like a baseball bat that when someone annoys you, you can hit them with that. Haha Kidding! (note: I don't encourage harming people).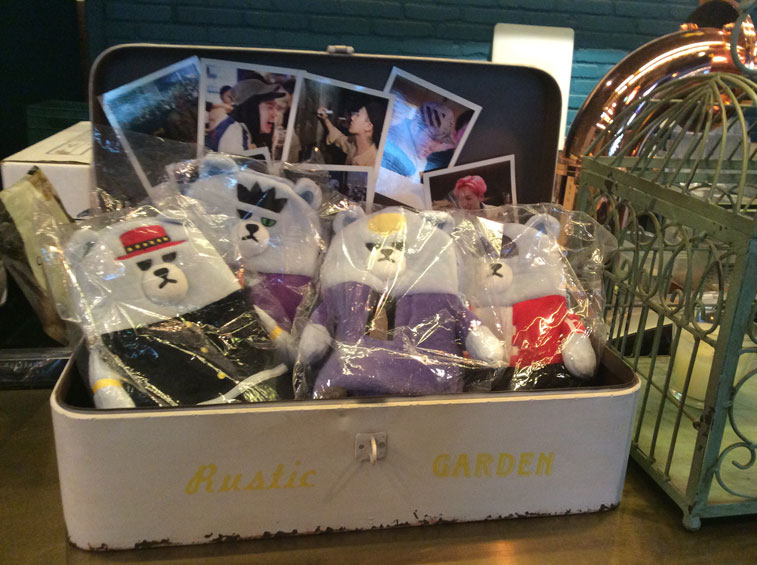 I got these polaroid photos for buying two iKONbats. 🙂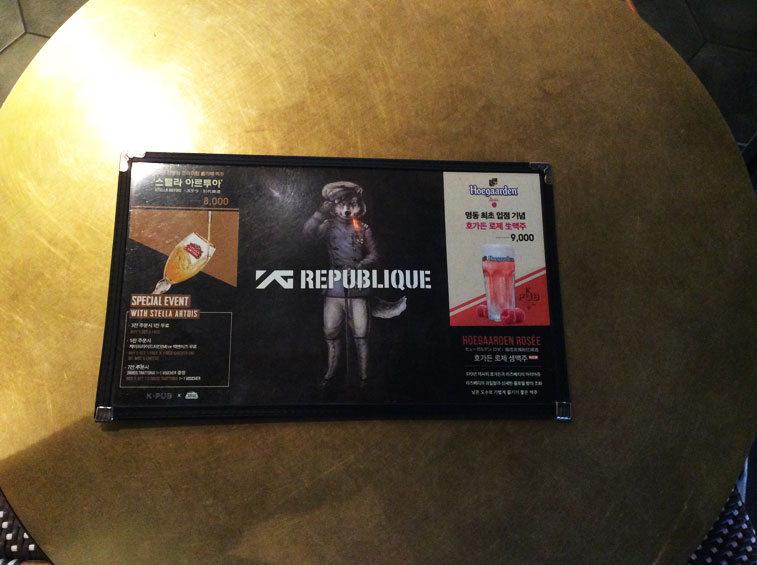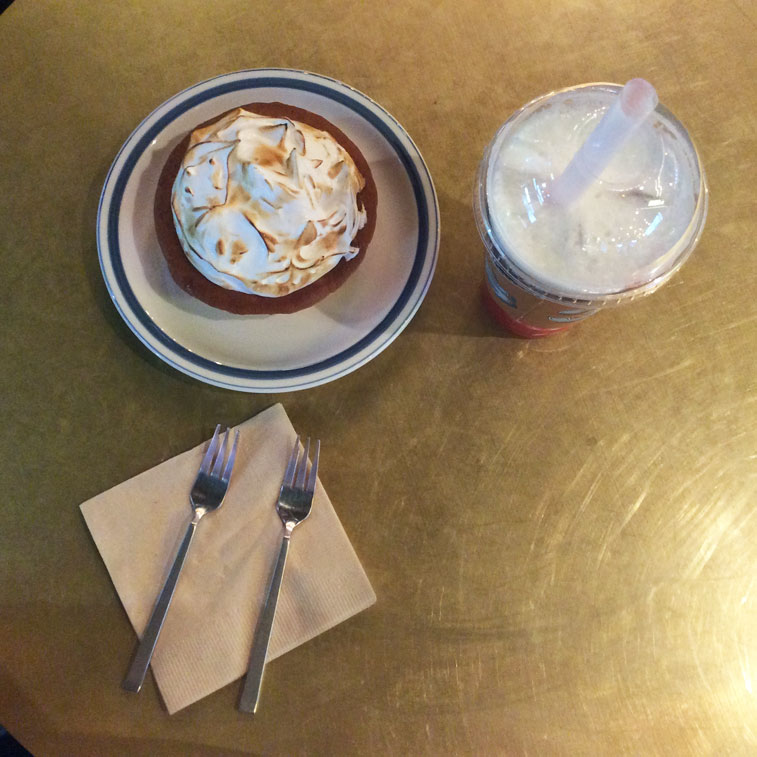 The second floor was their KPUB where you can see more of YG artist related stuff decorated on the wall. Oh my god! Those art pieces were soo beautiful. I just wanna get one and give them my money. Although, we were not allowed to do it as it was not on sale.
There's also like a signature wall inside the second floor where all artist put their signatures but I wasn't able to get the chance to take pictures of it because it was packed with customers.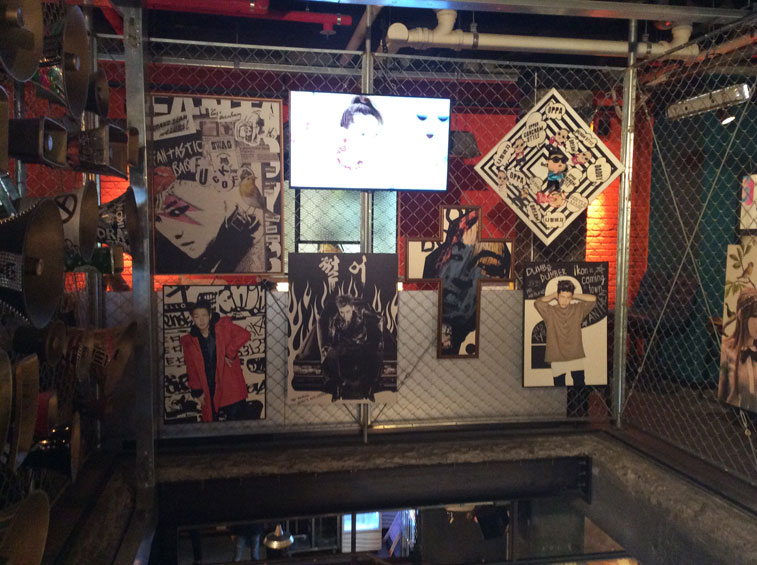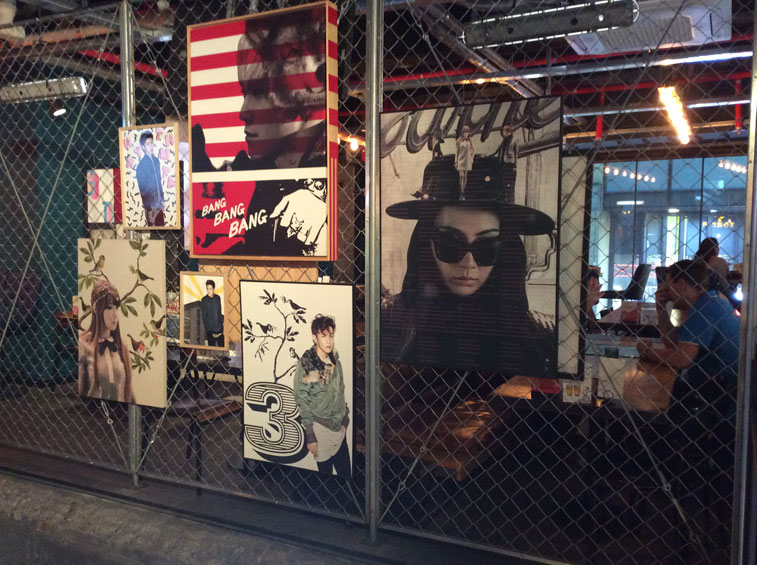 Just beside the 3 Birds Coffee x Kitchen was the Samgeori Butchers 삼거리 푸줏간. It's where you can eat their barbecued meats. When I was walking outside to get inside the Butchers section, I bumped into Cherish Unnie from Hello63. I know her because I watched her Facebook videos but during that time I was so shocked that I forgot her name so I told her "Hi unnie, diba ikaw si Hello63?" (Trans:Hi, you are hello63, right?) She answered me yes, so I took the chance to take a picture with her.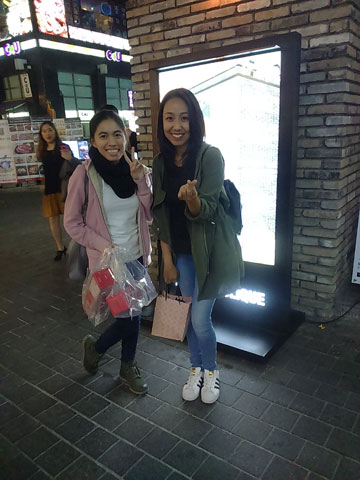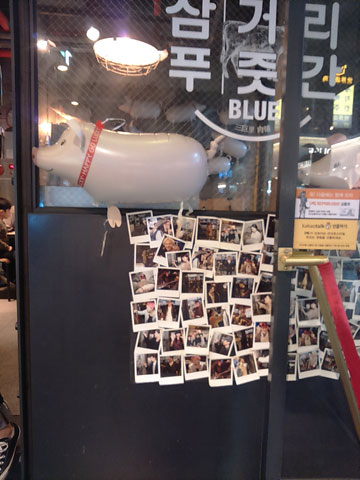 Directions to YG REPUBLIQUE: From Myeongdong station, take exit 7. Make a right turn into Myeongdong. Once on that road you should see Uniqlo on your right, and slightly further down Nature Republic on your left. Walk ahead until you come to an intersection that has Aritaum, Top Ten, H&M and Nanta theatre. Take a right turn and walk right ahead..you should see Angel in Us Coffee on your right. And just slightly further ahead, YG REPUBLIQUE! credit: museumofs
(4) Cheonggyecheon Stream
From Myeongdong we walked towards Cheonggyeongcheon Stream. It was actually a long walk because we keep getting lost and both our Google Maps and Naver weren't working properly that time. When we were about to give up this itinerary we noticed that the stream was just across the street. Since we were already there, we've decided to stroll just a bit before we go back to our hotel.
The Cheonggyeongcheon Stream was an 11 km stream and full of numerous stepping stones across the streams, bridges, artistic wall paints, and colorful lights. The stream was serene that you can easily relax and clear your mind from all your worries. No wonder, it was very popular among locals and tourists alike.
Directions from Myeongdong to Cheonggyeongcheon Stream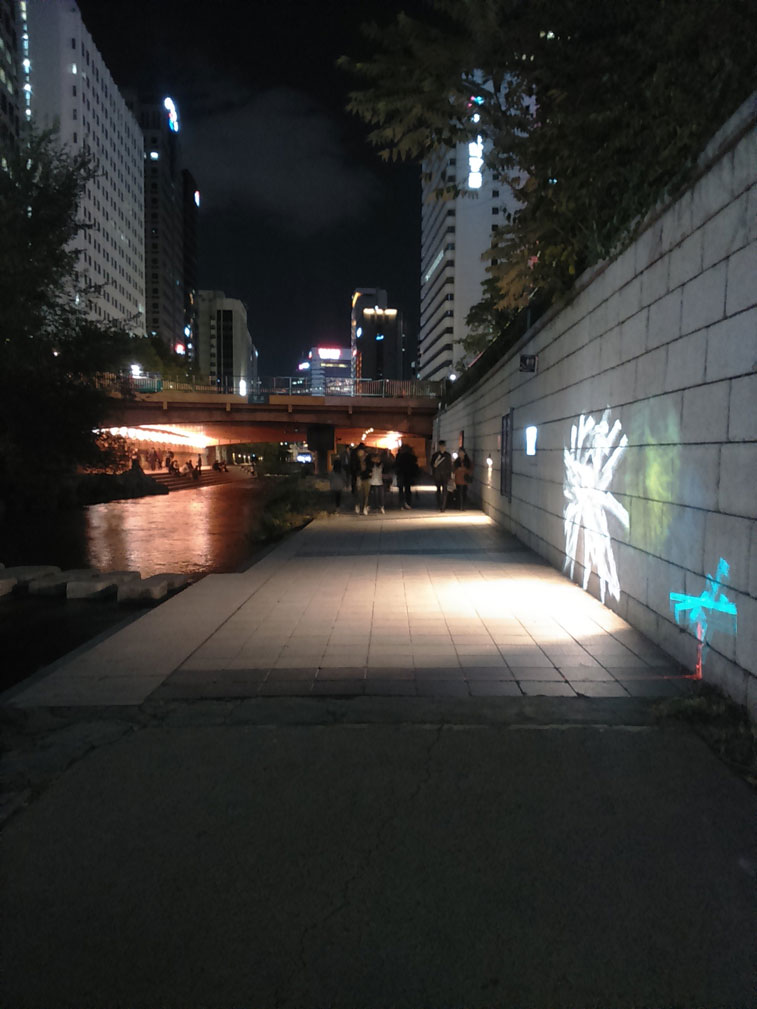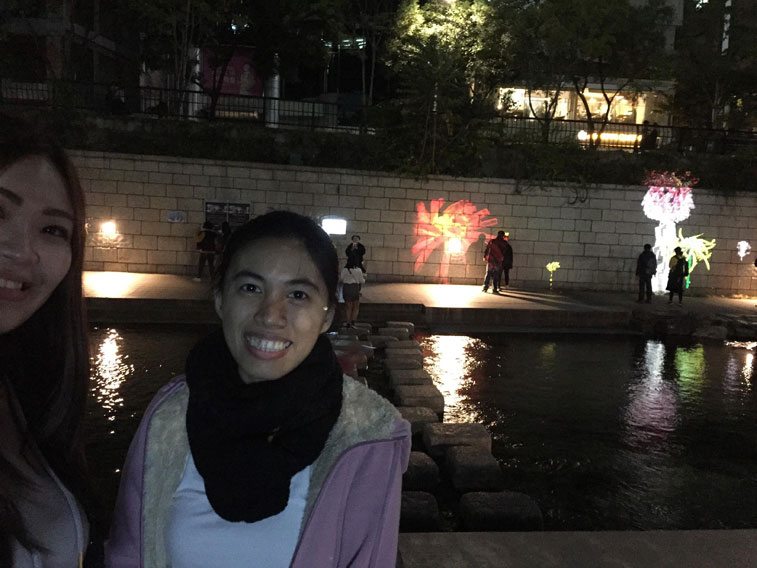 ---
Day 1: TRAVEL GUIDE: 6 DAYS AND 5 NIGHTS IN SEOUL KOREA
Day 2: SM TOWN DANCE WORKSHOP + KPOP STAR ROAD
Day 4: VISIT HISTORICAL PLACES, SHOP AT LOTTE MART AND HIKE AT NAMSAN TOWER
Day 5: PETITE FRANCE & NAMI ISLAND