Hello Everyone! (안녕하세요 여러분!) I finally had the time to sit down and work on my Korea Trip that I went with my friend last May 20. It's been days since I last came back yet I missed it already.
As most of you know, we planned this Korea Trip only within a month and we still made it enjoyable. So without further ado, let me take your eyes to Korea.
Let's Go to Korea
My parents drove me to NAIA Terminal 3 at around 3:00am. Yes, that early because there's always traffic going to the airport and I don't want to be late for our flight. Debby and I met at the entrance and proceeded inside for check-in. Gates for check-in opens 3 hours before the scheduled time of our departure 7:10am. Since we arrived early, we've decided to eat breakfast at Tapa King before boarding.
When we board inside Airasia airplane, I prepared myself to sleep for the entire flight. I needed it to catch up for a tour when we arrived to Korea. I'm glad that our flight wasn't delayed though! Wieee…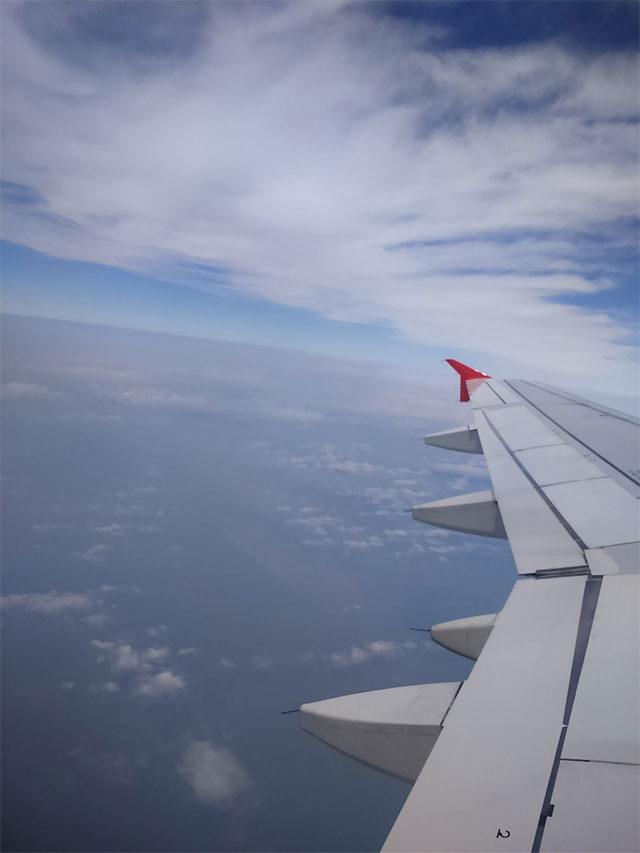 Incheon Airport South Korea
We've arrived in South Korea!!!
I can't help but smile from ear to ear the moment I stepped at Incheon Airport. I'm sooo giddy and speechless. I can't believe that I'm in South Korea. I actually pinched my hand from time to time, to make sure that I'm not dreaming. haha Everything was so surreal. If you saw me that time you'll think I'm crazy. 🙂
We've followed other passengers and went down to the underground level to ride on the train before we can check out of the custom.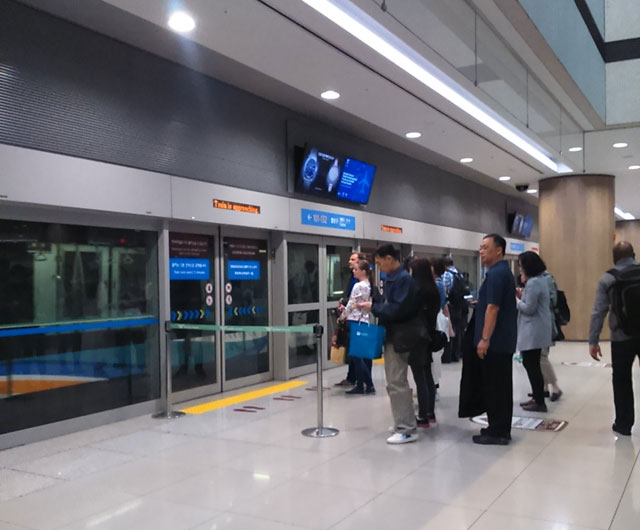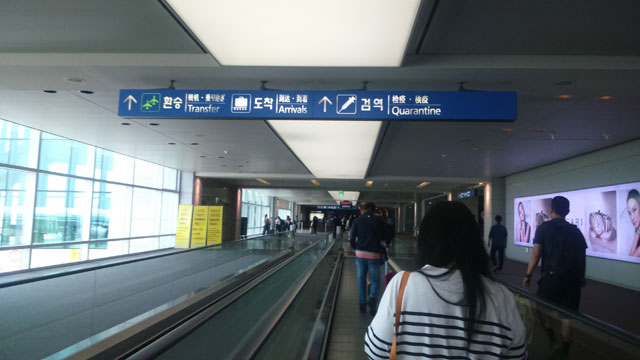 By the time we got our passport stamped at customs and got our luggage, we proceeded at the Hanjin Express Counter to get our unlimited data pocket wifi  that we'll be using throughout our stay in Seoul. After that, we headed to the money exchange area to have our pocket money changed to Korean Won (KRW). You can change Philippine Peso to Korean Won or US Dollar to Korean Won. But we recommend the latter for everyone travelling to Korea as US Dollars have bigger Korean Won conversion than Philippine Peso. So, before leaving Philippines to Seoul, have your money changed from Philippine Peso to US Dollar in either banks, malls or trusted money changer.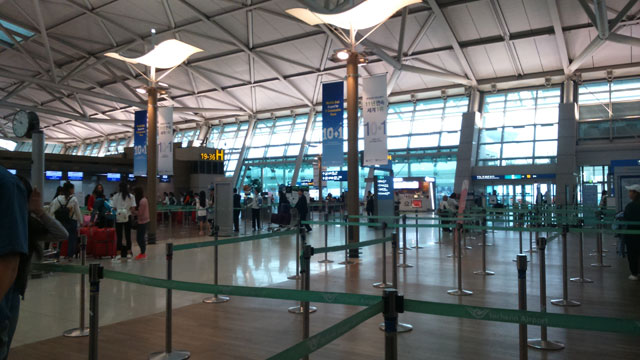 Once we've completed our agenda at the airport, we walked through the exit to find the bus station. We've decided to take the airport bus instead of the subway because it's more convenient as we have big luggages. Plus, it will be hard to carry it on the subway stairs.
Side note: I said this joke to Debby as we looked for the bus station "what if I try to walk here with my airport fashion clothes, eyeglasses, and mask and then I'll try to hide my face from the crowd just like what KPOP IDOLS were doing whenever they're at the airport. Would they think I'm an idol? XD" But don't worry I didn't do it. Maybe next year! hahaha
Airport Bus (Incheon – Dongdaemun Station)
The airport bus ticket booth was located outside the airport. We bought two Standard bus tickets for KRW 20,000 (KRW 10,000 each) from Incheon Airport  to Dongdaemun Station since our hotel was near there.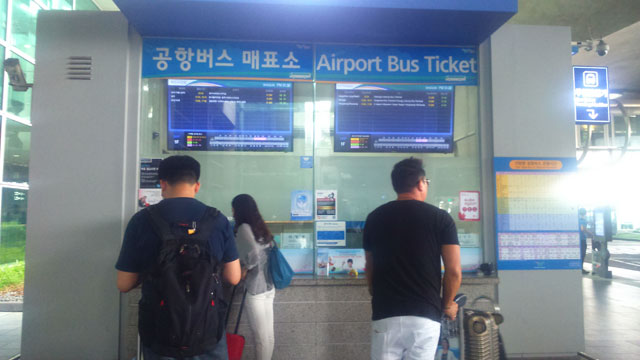 We rode on a 6002 Cheongnyangni Standard Bus.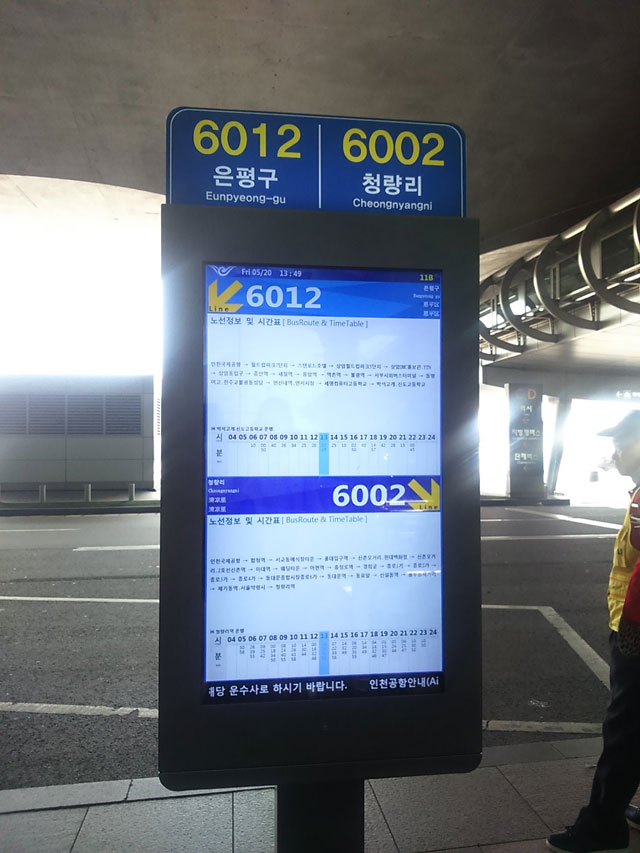 The airport bus system really amuses me because it's nothing like the usual bus ride I've experienced before. I felt like I'm inside the airplane but I'm actually on a bus. When we got inside the bus, we dropped our tickets at the transparent box in front then went to our seat. After everyone went in, the bus driver advised us to wear our seat belts which we abide. Don't try thinking of not following it, because the airport bus driver himself really checks every passenger if all our seat belts were on before he drives. And wait, there's more, there's CCTVs inside the bus for security reasons and each bus stops were being announced just like how it was announced on mrt stations. 좋은!
Seoul Dalbit Guesthouse
It was almost 1hour and 30minute ride from Incheon Airport to Dongdaemun. The Funny thing was we actually got lost. Haha So there were two Dongdaemun bus stops on the 6002 route: first was Dongdaemun Market and the second was Dongdaemun Station. By the time Dongdaemun was announced, we dropped off and grabbed our luggages at the compartment not thinking whether it was the correct bus stop or not. Then we started walking. As we look around to find 7 eleven (our hotel's landmark), we realized that we got off from the wrong bus stop. Haha
We roam around the streets of Dongdaemun following the GPS to find our hotel. It's a bit tiring as the sun gives off heat so much. But it was fun though as we were like touring Seoul already. We stopped by an alley where there were a lot of street food vendors and bought bread for our lunch. Unknowingly, the 7 eleven we're looking for was just around the corner.
We head to the hotel and talk to the receptionist to get our room key. The receptionist instructed us that the main door will be closed at 10pm and we will be needing the key to open it. They also gave us a separate slippers to use in our room since shoes cannot be brought inside.  But we can leave it to the locker that was assigned to us so we can still change when we go out.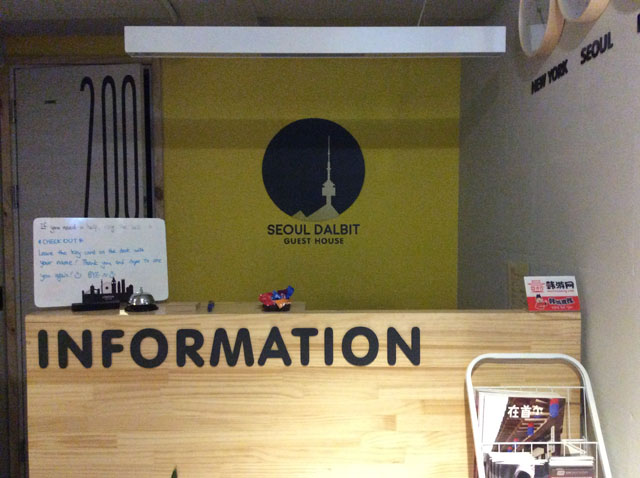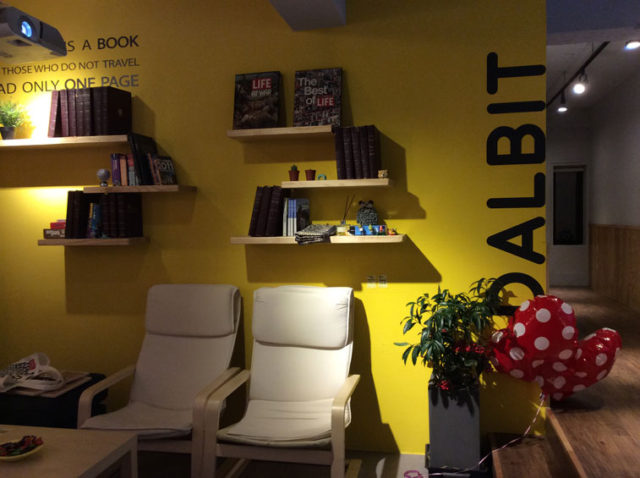 After the short brief, we proceeded to our room. It was a bit small but enough to fit two people. The bed was so comfortable that we're able to relax after the long walk, air conditioning was good, and the bathroom was super clean and white, I was happy that they've met my expectations.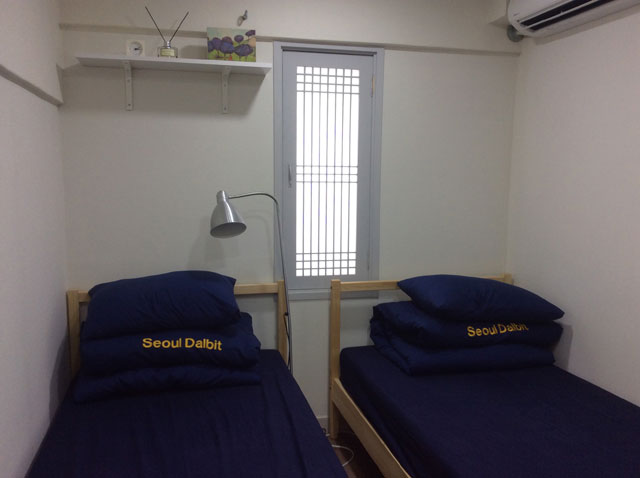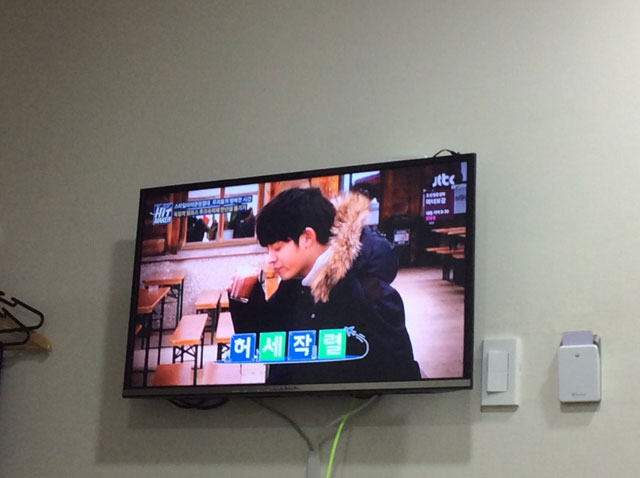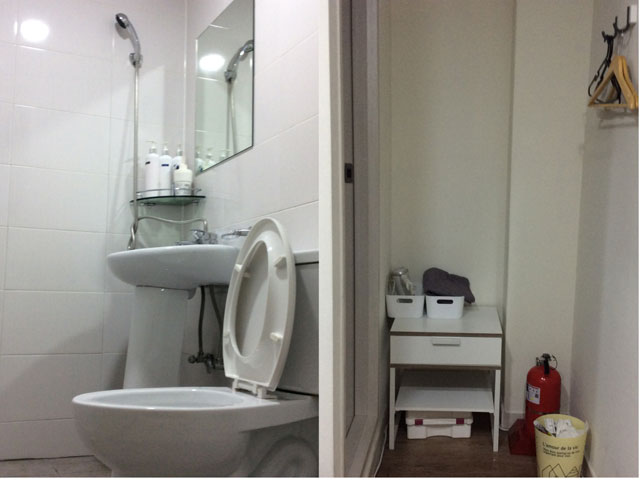 If I'm going to rate Seoul Dalbit Guest House, its going to be as follows:
| | |
| --- | --- |
| Criteria | Grade |
| Accommodation | 5 |
| Ventilation | 5 |
| Cleanliness | 5 |
| Convenience | 4.5 |
| Friendly Staff | 5 |
| Sound Proof | 5 |
| Breakfast | 5 |
| Wifi | 5 |
Note: Rate Grade 5 being the highest and 1 being the lowest
You may ask why I rated Convenience as "4.5" instead of 5.  It's because the Guest House has no elevator. Our room was on third floor so it was quite a struggle getting to our room with our luggages. Debby and I helped each other carry our luggages going up and down.
However, I still recommend this Guest House for anyone travelling to Seoul on a budget.
Love Locks at N Seoul Tower
It was around 4pm, when we head down to 7 eleven to buy our T-money card, which works the same as our MRT card but theirs was thicker and cuter in terms of card design. I can't actually remember how much the card was, but I initially paid KRW 10,000 for the card and the load. T-money card can be used to pay for transportation and food from convenient store. It can be loaded at the convenient store or the subway stations.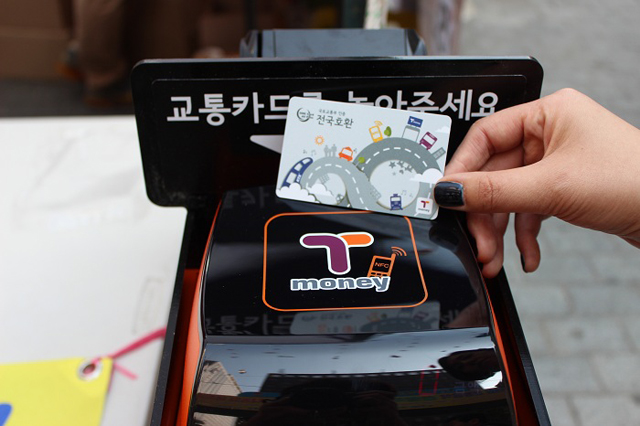 We had our first ride on Seoul Subway as we go to our first itinerary: Namsan Tower.
Namsan Tower was the first tower-type tourism spot in Korea. It was a famous location for Kdramas and Kpop Idols Reality Shows. It was located near Myeongdong, so if ever you wish to go there, do it the same day as your tour to Myeongdong, but it was still up to you. 🙂
There were two ways to go to the tower. It's either you climb on the elevated slope or ride on an Ohreumi Elevator. We climbed at the elevated slope as we didn't know that there's an Ohreumi Elevator . We only noticed it when we were already half way through our climb. Actually, most people who rides on the Ohreumi Elevator were elderly so I'm not sure if there's a guideline for it.  We were panting as we climbed because it was steep, but the view going up was amazing. You can see the city as you climbed up. Bring lots of water! You'll need it! 🙂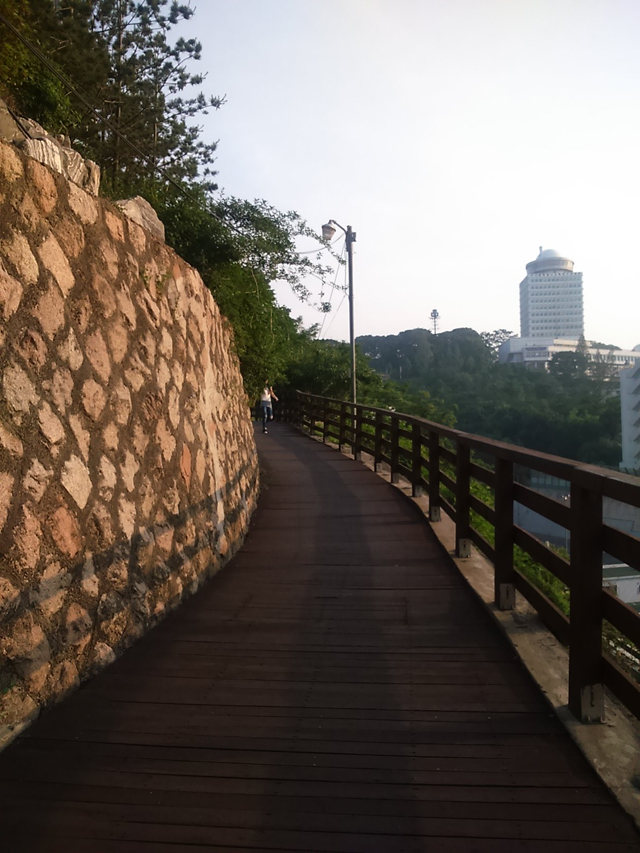 Finally, we reached the place where we can ride a cable car. It takes passengers all the way up to the place where the Namsan Tower (N Seoul Tower) was located. We bought one way cable car ticket for KRW 6,000. We only paid one way because we will walk towards the park and ride a bus going back to our hotel.
When we reached N Seoul Tower, I was amazed by the locks and the place itself. It's really like what I saw on EXO Showtime.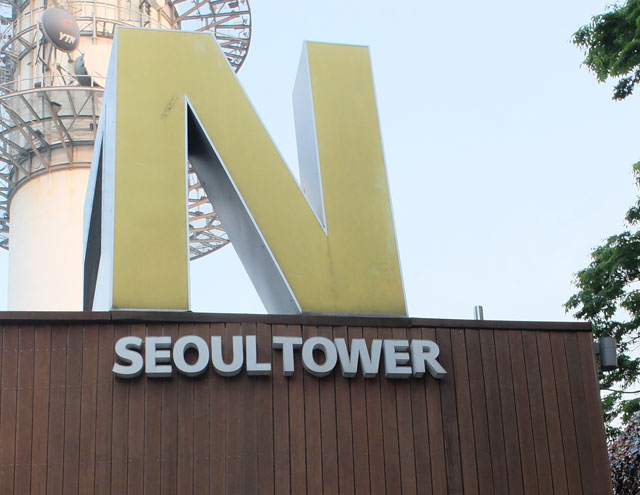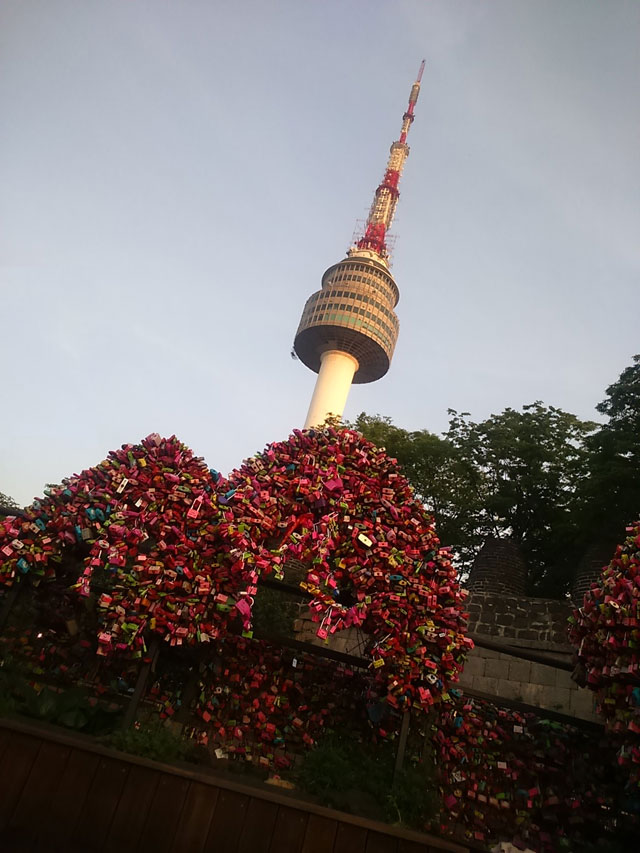 We bought 2 padlocks for me and for our friend Dana as a gift for their anniversary costing KRW 18,000.
Tip: To save up, I suggest to bring along with you padlocks instead of buying here.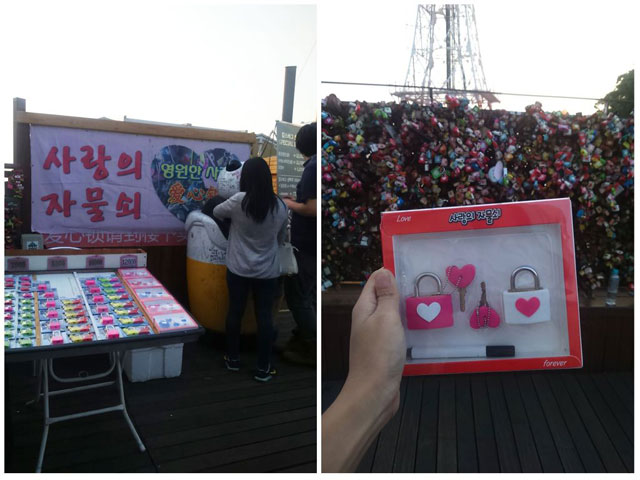 Then we tour around a bit on the place and wrote our wishes to the padlocks and lock it through the walls.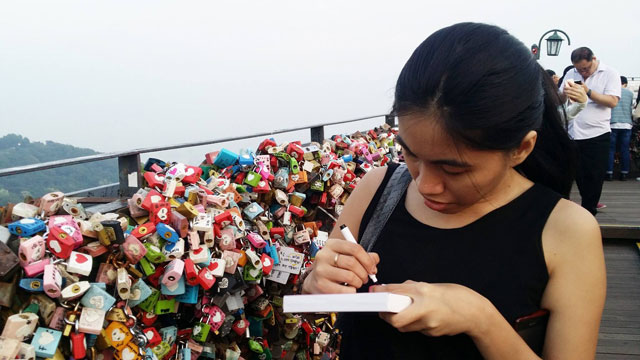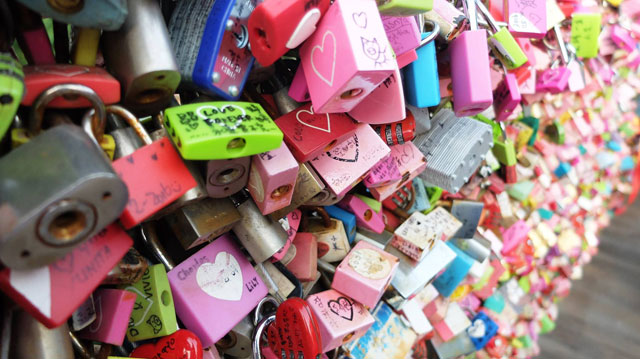 After we've finished writing, we dropped the key to the red metallic box.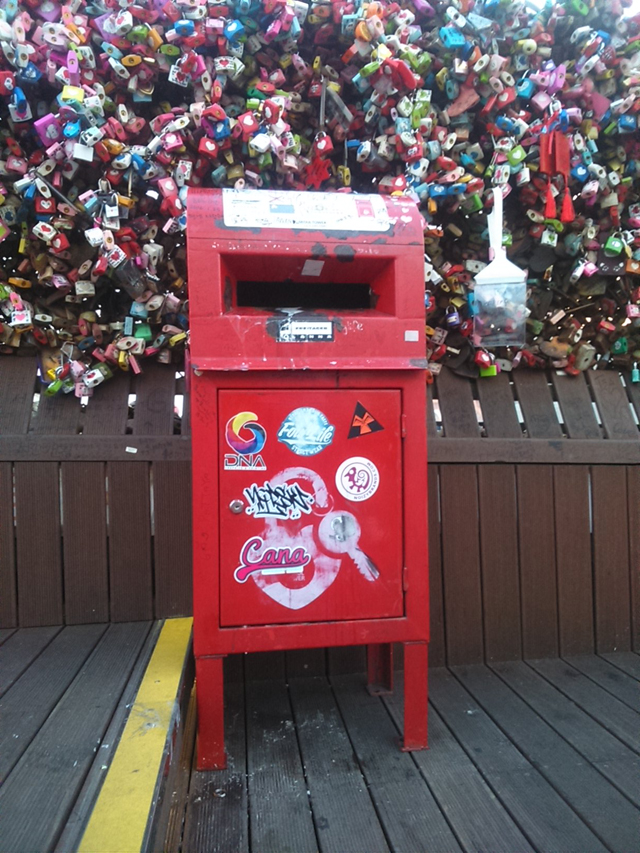 We walked to the park of Namsan going to the bus station. The night view of N Seoul Tower was good. It's actually lighted with different colors.
However, we didn't actually go inside the N Seoul Tower coz it had a separate fee and I think you can see the view of the whole city from up there (which I think was great) But since we already saw some cityscapes while climbing up. It's all good for me at least.
We rode a bus going back to Dongdaemun Station. The bus was quite different from the Airport Bus. It has a button beside each chair where you push to signal the bus driver to stop, still seat belt was required and this time we need to tap our T Money card on the entrance/exit door.
You may actually laugh at me on this as it was quite embarrassing: When we reached Dongdaemun Bus Stop, everything went fast and I panicked going down that I forgot to tap my T Money card. The cards needs to be tapped going in and out of the bus. I knew there were CCTVs within each bus and I knew that they know that I forgot to tap my T Money card. I felt worried sick that I will be punished for that. I kept talking to Debby like "OMG Debby! Will they make me go back to the Philippines and not let me continue the tour because I forgot to tap my card on the bus" . But thankfully, after researching its just normal. Whew! I'm saved! Wieeee! 🙂 It says there that if that happens to you, you will be charged to your next tap whether it'll be train, taxi, or bus. To ensure that it will not happen again, I told Debby that next time, we'll just ride a taxi or train but not a bus. Haha It's a funny but fearful experience.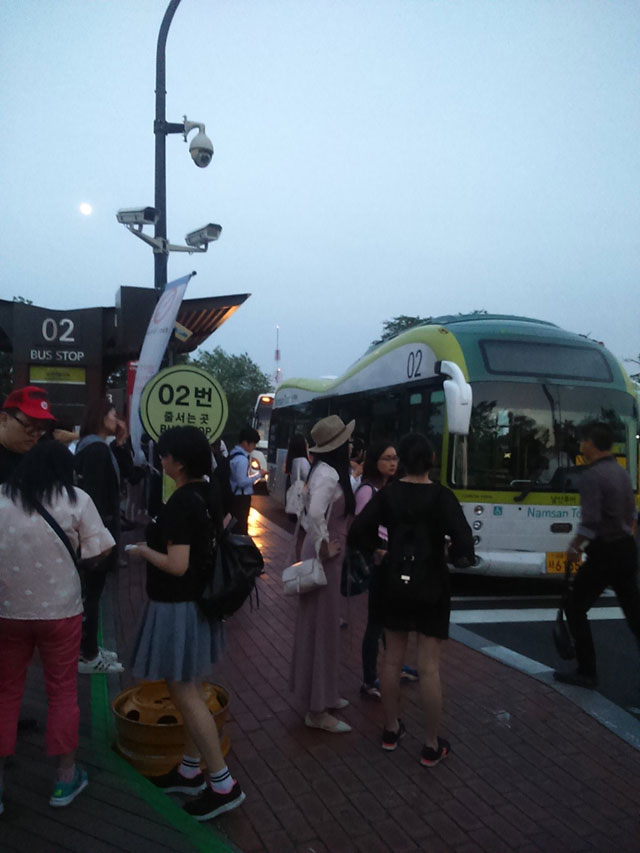 A Delicious Dinner
As we walk back to our hostel. We saw a chicken stand named "Gamaro Chicken" of course being it known in Korea we bought Sweet Flavored Chicken. The Ahjussi was very nice and even gave us Twice poster as it handed the chicken (A must try!). The take out was so many that it's already good for two days. It cost KRW 10,000. Looking so tasty. You need rice to eat it. We bought a small pack of cooked rice at 7 eleven. And eat it altogether!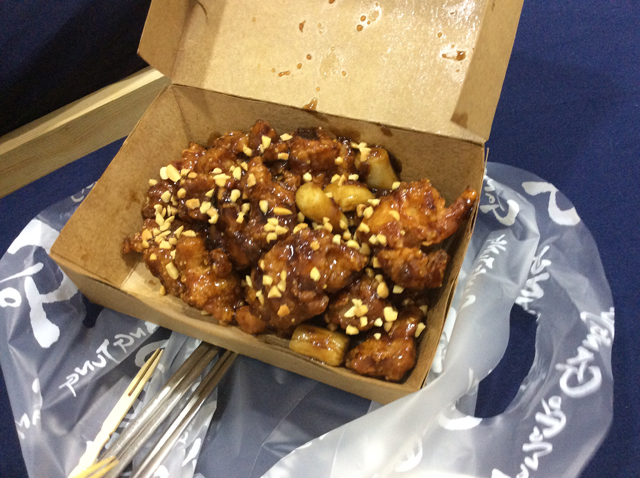 And that ends our first day in Seoul! 🙂
Some Photos are from Debby Vivo
—
Day 1: Visit Seoul, Hello Korea
Day 2: Touring Seoul-O at Hongdae
Day 3: JYP, SM, FNC, and YG Entertainment Buildings Tour
Day 4: Gyeongbokgung Palace, Insadong, and Myeongdong