We had our first breakfast at the hostel on our Day 2 in Seoul before we headed to our respective agendas.
Debby and I toured separately on that day because she had to attend "Boyfriend" Anniversary Fan Meeting.
I'm actually afraid of taking a tour alone at an unfamiliar place as I don't know what I might face there. On the other hand, I don't want to waste a day just staying inside the hostel so I decided to visit Hongdae instead. Good thing, it's just a two subway ride from our place.
Discover Art and Music at Hongdae
I walked around to look for the Tourist Information and get a map of Hongdae.  I also asked for directions of the places I'll be visiting which they nicely marked on the map so it will be easier for me to roam around.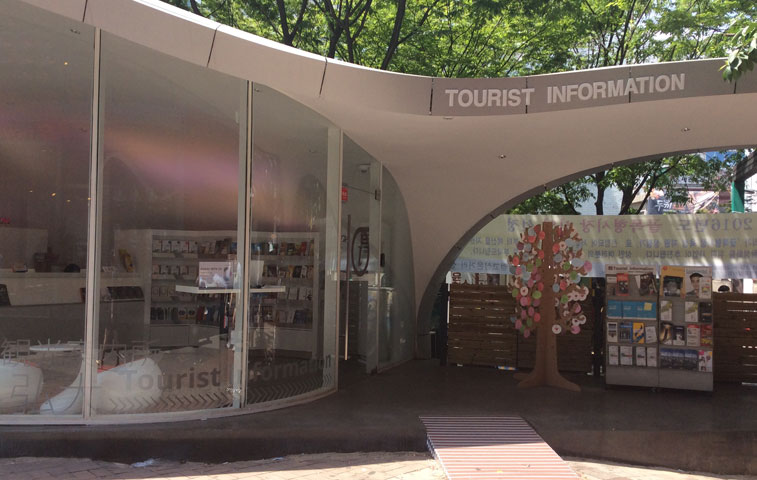 First thing on my list was to look for the art walls where Dream High 2 performed their song 'Superstar'. I'm a super fan of that Kdrama that staying here made reminisce those scenes. Here's a photo of the place. Isn't it instagram worthy? (just excuse my selfie. hihi).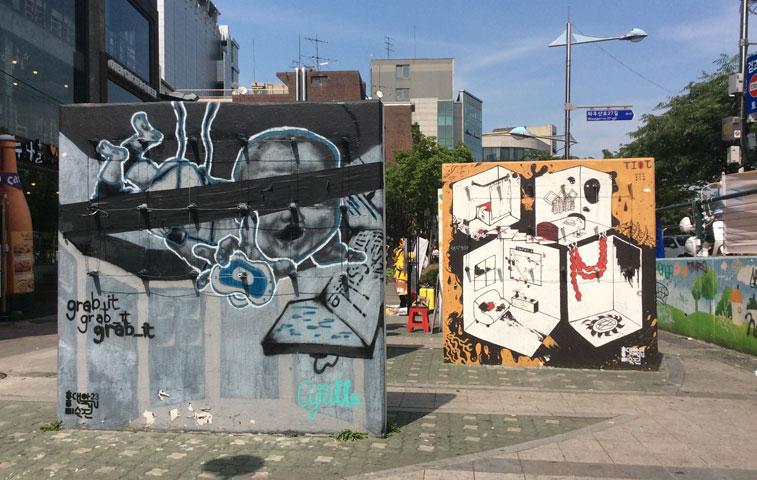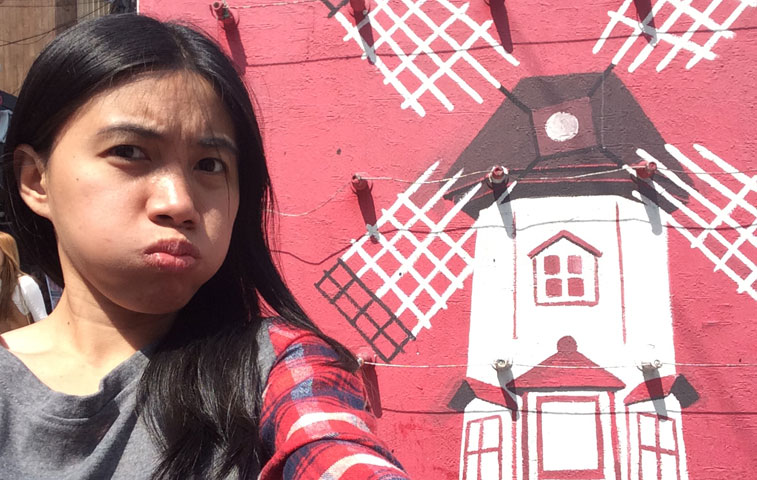 I saw this man at the corner and he offered me a taxi tour within Hongdae but I refused since I prefer walking.
I told him "(아니요) 괜찮아요" [(a-ni-yo) gwen-chan-a-yo] which means no thanks. I practiced my basic Korean so I can converse with the locals. It actually helps as they were more at ease speaking with you too.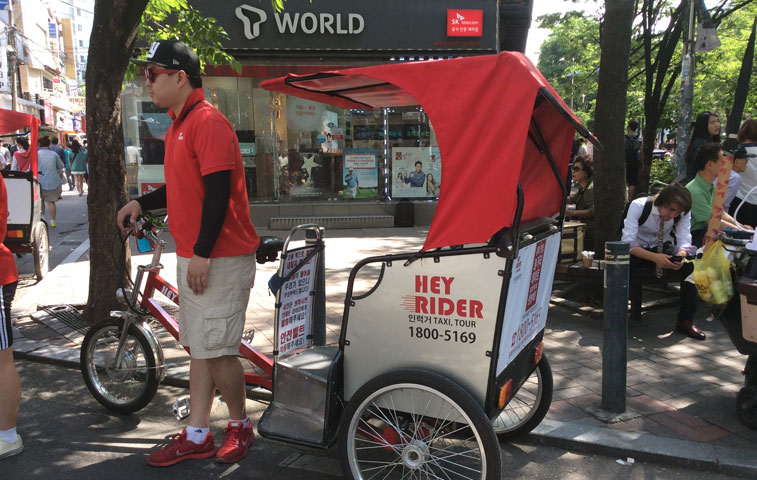 I felt hungry in the middle of my tour to Hongdae and decided to stopped at KFC for lunch. You might be asking why I ate at KFC when we already have it in the Philippines.
As you know, Korean Restaurants serve food in huge plates. And with that huge, there's no way I can finish it all. KFC burger meal was enough for my stomach. Though their regular burger was like the big ones' we have here in our country but a bit spicy and their chicken meals have no rice at all.
Tip: If you have low tolerance on spicy food, I prefer you buying lots of water or choose restaurants where you can request the staff to make it less spicy.
After I ate, I continue with my tour. Here's a video of the shops which I walked pass by:
Performances at the Street of Hongdae
You know you're at Hongdae when you see Music Street Performances. Idols like Day6, CNBLUE, Ju Kwon, and etc. usually busk here during their early debut days. When I was there I saw Korean teenagers dancing to BTS Fire. There's also a man playing his guitar and the other one was doing his magic trick. Here's a video of it.
Hongik University
When I heard that Hongik University, one of the most prestigious Fine Arts Universities in Korea was in Hongdae area. I told myself I should visit it.  The small campus was surrounded with arts and exhibits. It also have trees and parks inside making the students to be inspired in creating their masterpiece. If you are an Art lover like me, you will really appreciate walking inside this University.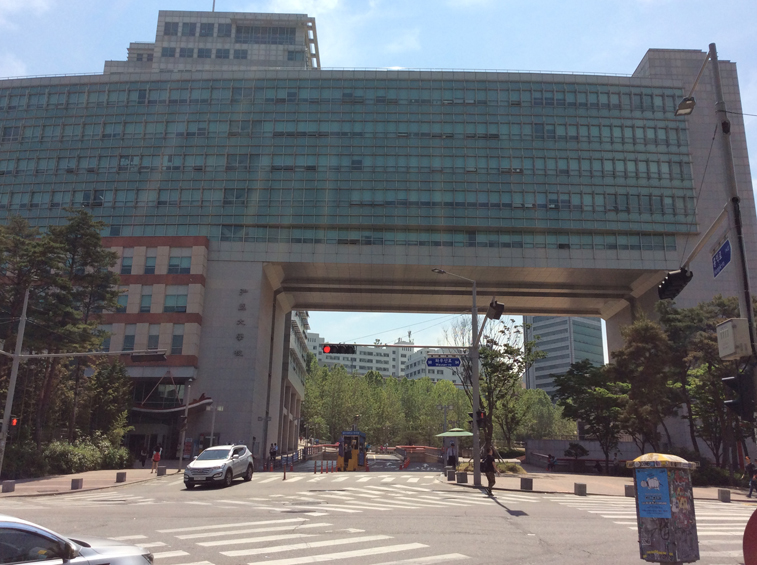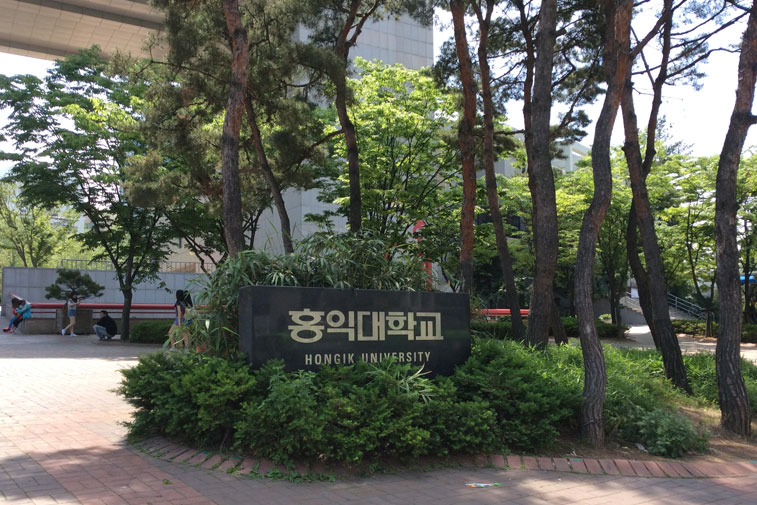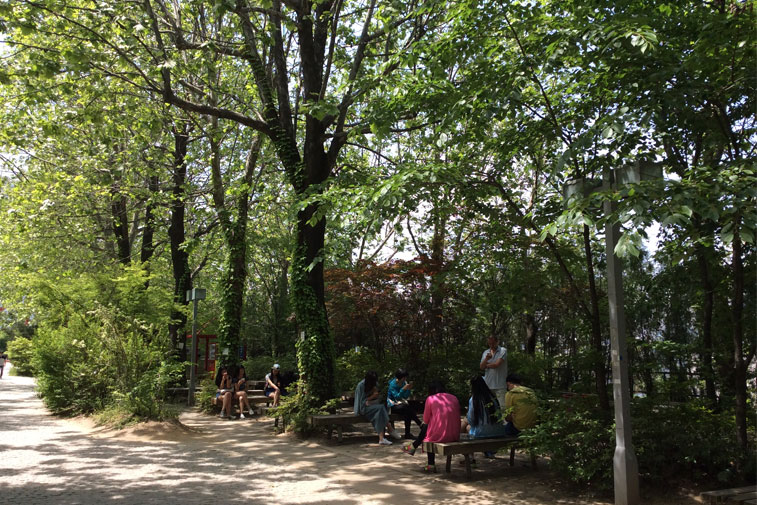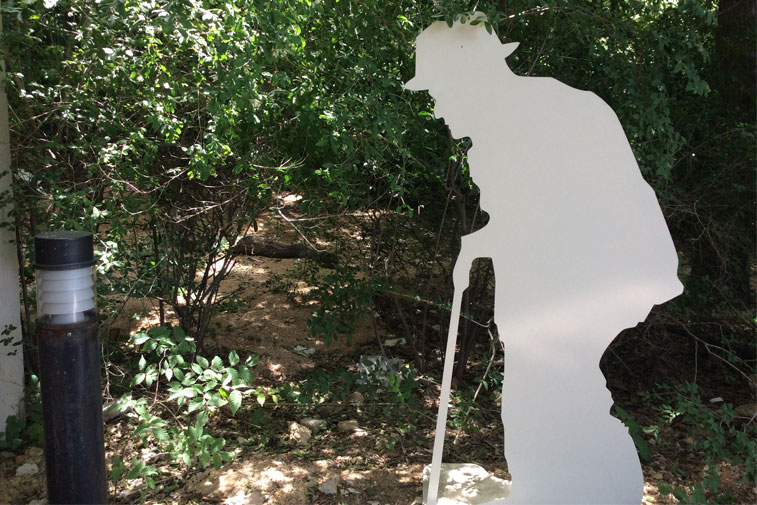 Line Friends
After I visited Hongik University, I looked for other places to go to as it's still too early to go back to the hostel. I saw a group of young tourist going inside a pink shop. I got curious so I followed them. Only to realized that it was Line Friends Shop. If you're using line you will be in awe seeing those cute emoticons in goods.
From inside you will be welcomed by this big sized  line friend. I really wanted to take picture with her, so I removed my shyness and asked a group of tourist to take pictures of me and in exchange I'll take pictures with them too.  🙂 I haven't got the chance to buy any goods but I'll definitely buy the next time I will visit the store.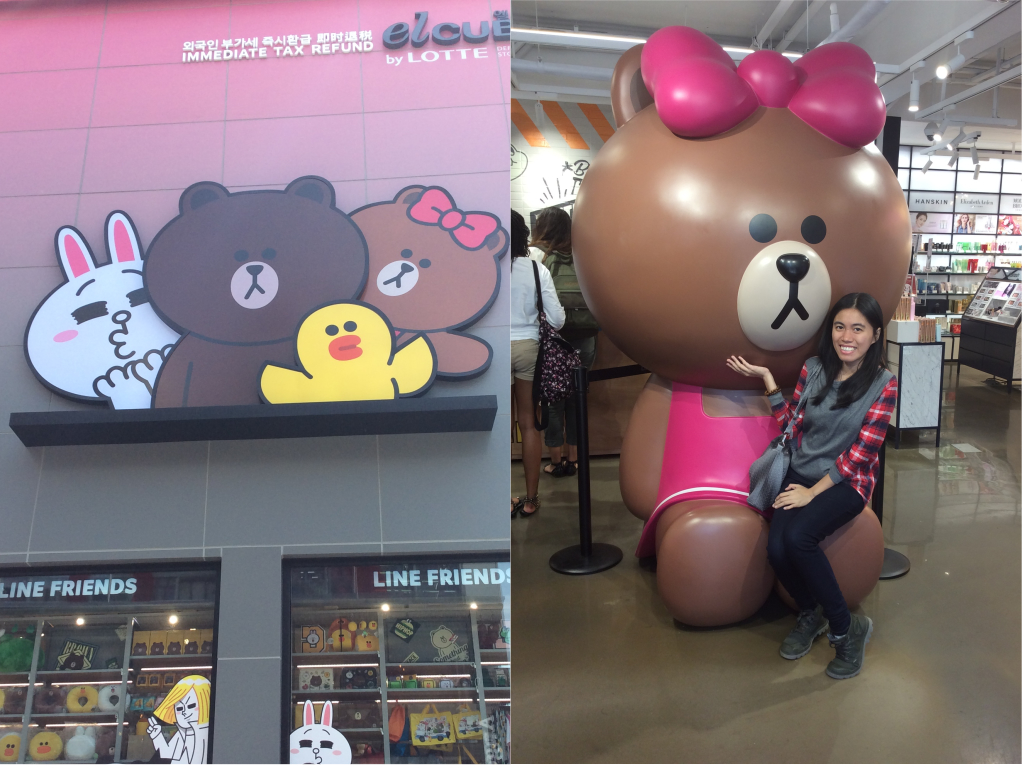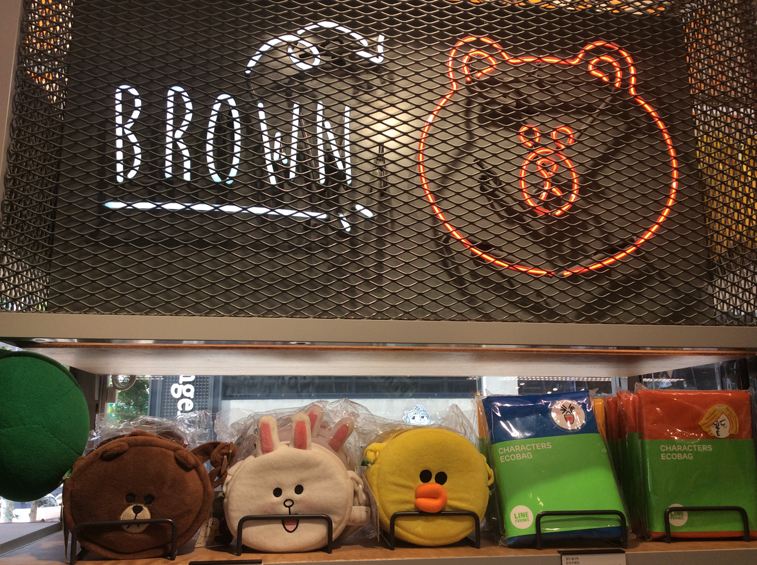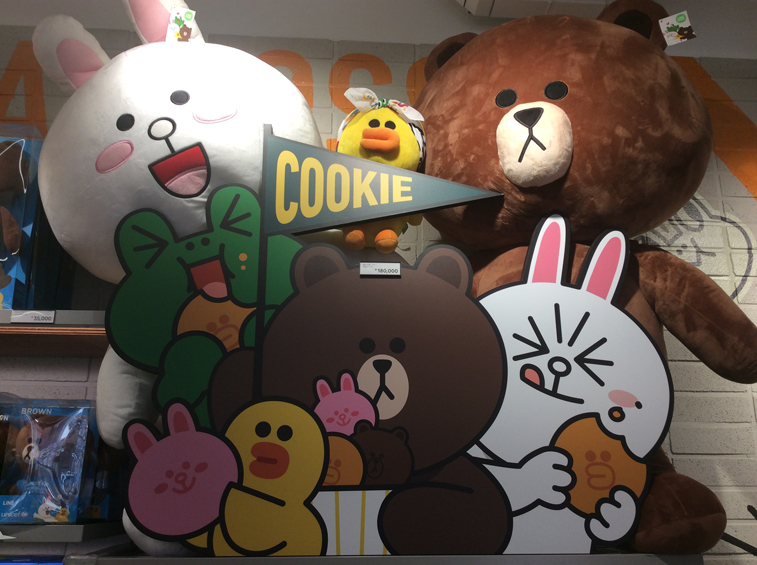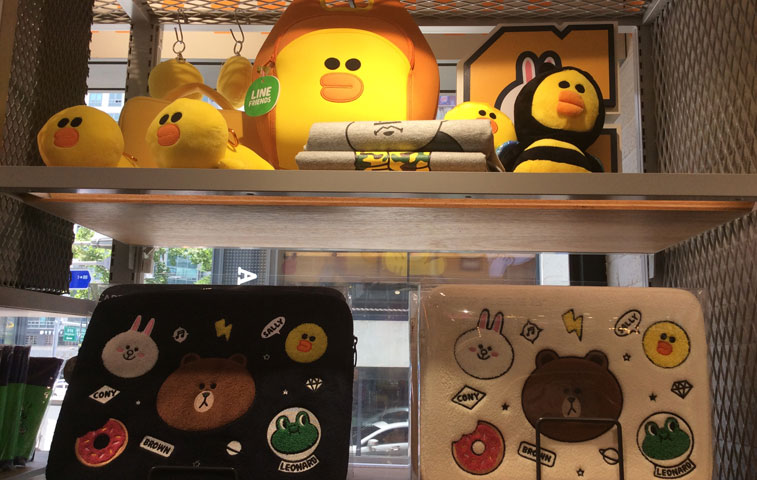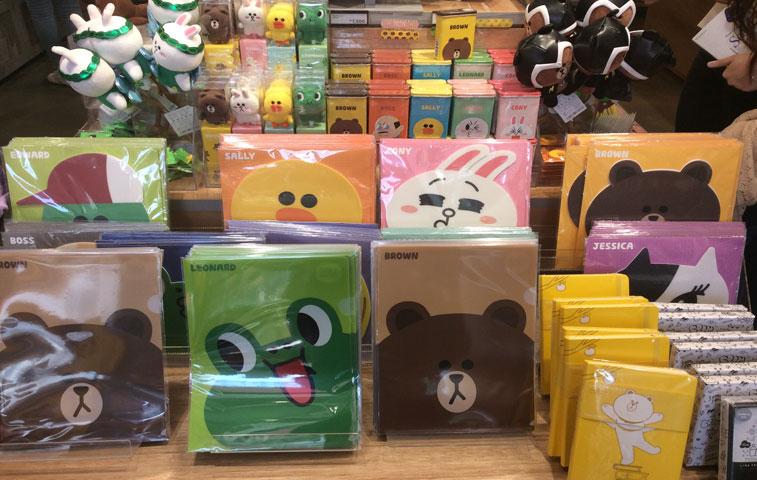 Totoro Shop
Another shop I saw on my way to the subway station was this Totoro Shop. I'm not a fan of Totoro but its cuteness has got me to enter his shop. There's cute notebooks, stationeries, washy tapes, and memopads that's perfect for students and working girls. Aren't you inspired yet to use this as your study / working partner?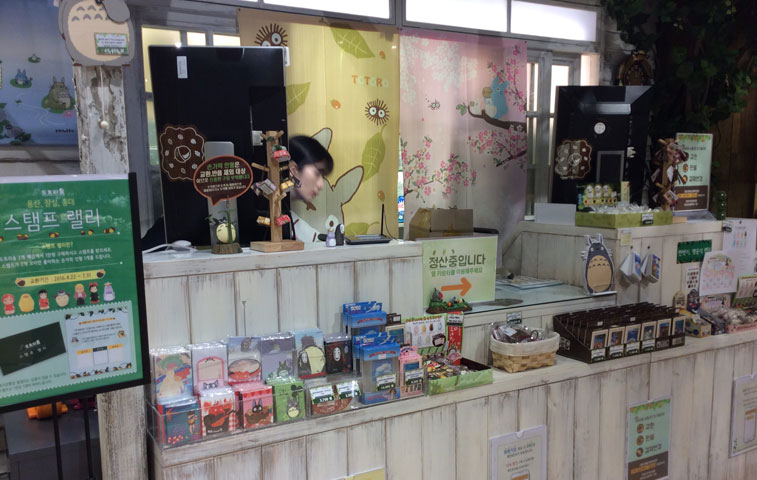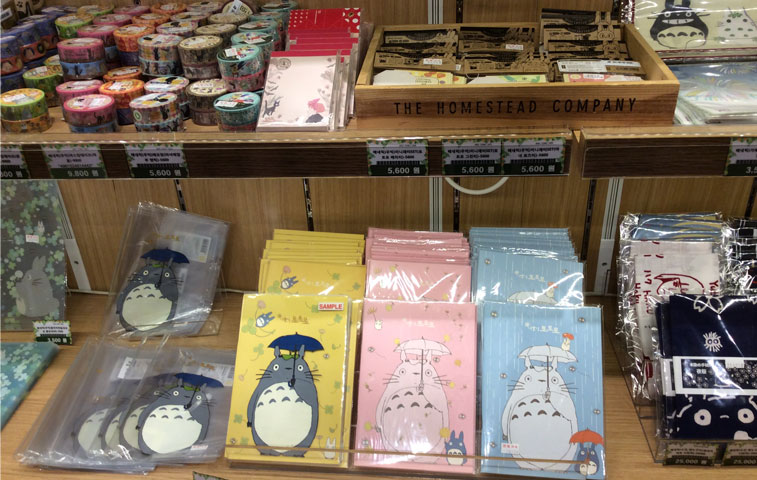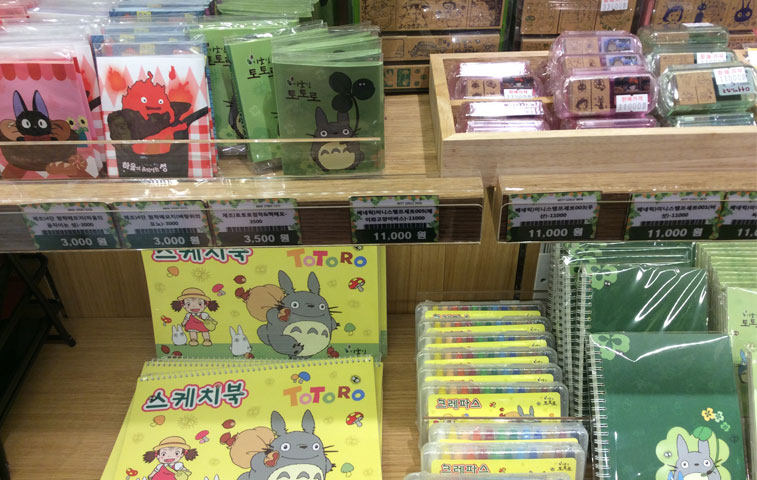 It was already 6:30pm when I decided to go back to the hostel. On my way, I got confused inside the subway station so I asked a halmoni (grandma) working there on my way out. She was very nice to lead me the way and explain to me my route in Korean of course. I only understand a few but still it helps me find my way. I also met an OFW inside the train, we talked about her life in Korea and how she admire me from touring alone.
I dropped by Dongdaemun station and headed to the hostel to have my snack.
We celebrated Debby's birthday late evening. She brought an ice cream cake from Baskin Robins which was a gift from her Korean friends and ate different variants of Korean chicken.
That's the end of our second day in Korea! 🙂
—
Day 1: Visit Seoul, Hello Korea
Day 2: Touring Seoul-O at Hongdae
Day 3: JYP, SM, FNC, and YG Entertainment Buildings Tour
Day 4: Gyeongbokgung Palace, Insadong, and Myeongdong